Today we're winding down our coverage of J. Michael Straczynski's The Twelve with the second to last hero in the story.  He's the suave, playboy, telekinetic spy catcher for the United States Navy: Mastermind Excello.
Origin and career:
Like so many of his Golden Age compatriots Excello only lasted a couple of issues.  His first appearance was in Mystic Comics #3 in April of 1940,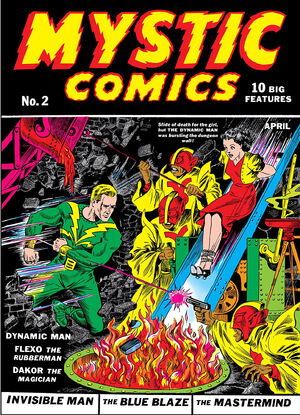 where he would uncover and defeat a Nazi spy ring.
His character was simple.  His real name was Early Everett and he was a wealthy playboy (because there aren't enough of those in comic books) who possessed great physical and mental powers which he used to fight for America.
The man was sort of like an American James Bond but with superpowers as well as cool gadgets (this was a time when a pocket transmitter was a big deal).
So what happened?
Sadly "James Bond with superpowers" was as far as they were going to go with the character so it was up to Straczynski to expand the character and give him a more meaningful existence.
Judging from this picture they were off to a very good start.  The character looks badass, although to be fair anyone can look badass when holding a Tommy gun like that.
In The Twelve it is elaborated that Everett's father is a brilliant scientist, so brilliant that he was actually pen pals with Einstein.  While his father was busy developing a special radioactive bullet for the Allies,
Earl Everett was determined to waste as much time and money as possible the only way a wealthy playboy with no concept of the value of money can.
It should be noted that for some reason Earl seemed to win more often than he lost.  This would later be revealed to stem from latent psychic abilities that wouldn't be fully realized until a fateful trip to Britain where he was shot in the head by a Nazi spy while saving his father.
However, while the doctors managed to save his life they weren't able to get all the bullet fragments out.  Several of these highly radioactive fragments would remain in his skull threatening to kill him.
After turning a new leaf Earl Everett decided to work on behalf of the United States government and was given the code name "Mastermind Excello".
He would use his powers to great effect during the war, even helping the Allies retrieve occult items that the Nazis might have used to win the war.
In 1945 he joined the Twelve on their ill fated assault on Berlin.
They were captured, placed into stasis, and re discovered in 2008.
Like many of his compatriots Mastermind Excello had a difficult time fitting in.  It wasn't for lack of money, his trust fund from 1940 had amassed millions, but it was more due to the continued noise and interference from this new world that played havoc on his psychic senses.
Excello separated himself from the group for most of the story and bought a house that he was able to soundproof and line with lead, which allowed him to enjoy a quiet peaceful life.  Gradually his future senses returned and he began interacting with his former teammates again.  While he couldn't see the future clearly he could get glimpses and snippets of what was about to happen, enough to warn his friends and prepare them as best he could for the coming danger.
It would later be revealed that one of their own, the hero Dynamic Man, had turned evil and was ready to embark on a homicidal rampage.  Although Excello didn't play a direct part in the ensuing fight he did help prepare the Phantom Reporter to take on the Fiery Mask's powers and was able to help the team cope with the apparent death of Rockman.
After the fight was over Excello used his powers to ensure that The Phantom Reporter and Black Widow became a couple,
it worked.
It was also revealed that the shrapnel in his brain would kill him (kind like Iron Man only in his brain instead of his heart) if he used his powers to much.
Not willing to go quietly Excello decided to continue being a hero and used his vast fortune to purchase a large private investigator firm which he renamed E.X.C enterprises.  The Phantom Reporter and Black Widow were two of his first hires.
Like so many heroes in this series Mastermind Excello had tremendous potential as a hero.  He had the looks, superpowers, and motivation to be an interesting hero but sadly he was a drop in a very large bucket of "one and done" heroes.  Thankfully he was given a better ending and a new purpose on life with The Twelve.