Today I would like to talk about the original super hero trinity.
No, not that one.
Back when Marvel Comics was known as Timely Comics the company had their own Trinity of superheroes: Captain America, the robotic Human Torch, and the hero we're going to talk about today: Namor the Submariner.
Origin and Career
Namor was supposed to premiere in a magazine called Motion Pictures Funny Weekly in April of 1939.
It was supposed to be a giveaway promotional project that would be handed out to movie theater owners.  Unfortunately the idea fell through so Namor's creator, the legendary Bill Everett,
decided to send the project to another client, Timely Comics.  Timely liked the idea and in December of 1939 they published Namor as a part of their first ever comic book Marvel Comics #1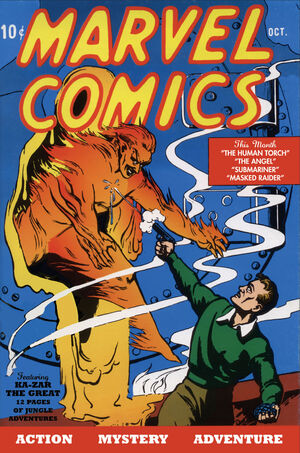 Fun side note: Bill Everett would later go on to help create the modern day Daredevil for Marvel Comics so…there's that.
Namor is an important part of comic book history due to the fact that he was the industry's first anti hero.  In his very first appearance Namor was actually a bad guy who had a short temper and decided to declare war on the surface world of man.
Namor was the child of a human father named Leonard Mckenzie and a princess named Fen who was the daughter of the king of Atlantis.
the man grew up as the heir to the throne of Atlantis and had a rather nasty temper.  Things would come to a head when he battled the Golden Age Human Torch in 1940 while threatening to sink New York under a tidal wave.
In another historical first this was the first fight between superheroes in all of comic books.
Despite his hostility towards the surface world and his seemingly villainous behavior Namor was well received by comic book fans in the 1940's.
Despite everything Namor did, no matter how cruel or vicious, he did it in the name of protecting his people.  He was viewed as less of a savage villain and more as a noble anti hero and in February of 1940 he made his first cover appearance in Marvel Mystery Comics #3.
I think it's pretty obvious whose side Namor was on during the Second World War.
From 1941 to 1949 Namor would remain one of the biggest heroes in Timely Comics' lineup.  He kicked his fair share of Nazi butt during WW2 (it should be noted that during the Golden Age he was much more of a solo act and only during the 1970's was it revealed that he had worked with Captain America and the Human Torch),
and like all superheroes he suffered from a lack of interest after the war had ended.
However, unlike many superheroes Namor actually survived the 195o's and experienced something of a revival.  However, his home would be destroyed and his family killed when a villain named Paul Destiny,
used a magical helmet to destroy Atlantis and give Namor amnesia.
So what happened?
Namor was too popular and too important to the Timely Comics Universe to disappear for long.  After Stan Lee revived the superhero genre for the newly named Marvel Comics with his 1961 comic The Fantastic Four,
the new Human Torch discovered Namor the Submariner living as a homeless man in the middle of New York.
Namor would regain his memory and return to his home of Atlantis, only to discover that it had been destroyed by nuclear testing.  Naturally the man was a bit…upset and attempted to conquer the surface world with a giant worm named Giganto.
Thankfully the Fantastic Four were able to defeat him and it even turned out that Atlantis hadn't been completely destroyed.
Over the next several decades Namor would continue to play a major role in the Marvel Comics Universe.  Despite the attempts of his people to bring him back as their king Namor would continue to wage war on the surface.  This led him to several team ups with some pretty shady characters like Doctor Doom, Magneto, and the early Hulk.  All of them ended poorly.
In a rather interesting bit of history, Namor's adventure with the Hulk led him to discovering the frozen body of Captain America, who was being worshiped as a god by a group of Inuit.
Over time the Submariner would abandon his villainous ways and become a true hero, using his vast wealth and power to help create the superhero team The Defenders,
and became heavily involved in the business of superheroics with his self funded company Oracle Inc.
Namor is still going strong as a superhero and is an integral part of the Marvel Comic Book Universe.  He's so prolific that to describe his entire history would take way more space and time than we have here.
Namor is one of the most fascinating and enduring characters in all of comic books.  As the industry's first anti hero and literal King of the Seas he is interesting, complex, and a definite force to be reckoned with.