WARNING: Mild spoilers for Captain America: Civil War.  This article doesn't reveal any major plot points to the film, it just name drops the villain.
So this little movie just came out.
My opinion?  It's pretty gosh darn awesome and you should totally go see it right now!
That being said if I were to be nit picky about it I would say there are two slight critiques of the film.  First, Civil War sacrifices a lot of the focus and plot that made Captain America: Winter Soldier so good in the name of world building and introducing new characters.
When you have that many characters who need a chance to have the spotlight you're going to lose something, even if the movie is two and a half hours long.  It actually bears a striking resemblance to another very long super hero film that wasn't as well received because it spent a lot of time setting things up for the future.
The difference is that Marvel has EARNED the right to spend so much time world building and setting up future events because it gave us twelve other films to get to know the characters so that's not really a problem for me.
The second very small issue I had with Civil War is an issue that is more systemic to Marvel films as a whole: the villain.
The villain for this movie is a man named Helmut Zemo and here he is:
Without me getting into spoilers let me just say that Zemo is a good villain for the movie, he does his job and he sets up one of the most devastating emotional payoffs I've ever seen.  That being said, as a comic book villain Zemo is pretty boring, and in a cinematic universe that has only really managed to produce one great villain,
it's unfortunately par for the course.
Don't get me wrong, I still adore Civil War, but when the bad guy is changed to this,
from this,
then I feel the need to step in and talk about.
Today we are going to look at one of Captain America's oldest and greatest foes and one of Marvel's powerhouse villains: Baron Heinrich Zemo.
Origin and Career:
Within the Marvel Comics Universe, Baron Zemo was an old enemy of Captain America and made his first appearance as a flashback in The Avengers #4 in 1964.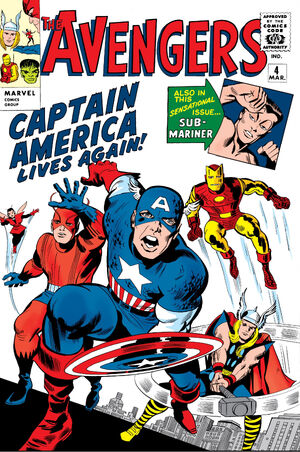 The issue was written and drawn by the legendary creator team of Stan Lee and Jack Kirby and was the issue where Captain America was thawed out of his ice nap and decides to join the Avengers, it's a pretty important issue in comic book history.
Baron Heinrich Zemo was one of Nazi Germany's greatest and most dangerous scientists.  It should be noted that while he knew Captain America's other enemy the Red Skull, they didn't get along very well and they were more allies of convenience against Captain America.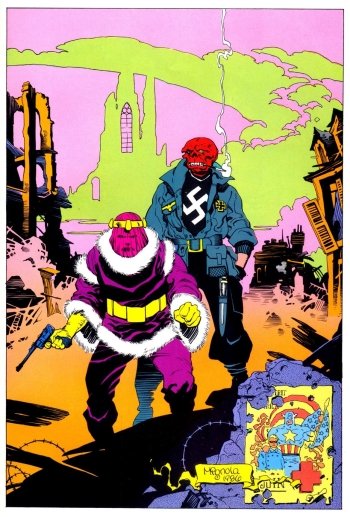 Baron Zemo was the twelfth person to carry that name.  He was brilliant scientist,
an expert combatant,
and a sadistic bastard who was so evil he was hated by everyone, even his fellow Germans.
During his first appearance it was revealed that he was actually the one who sabotaged the plane that would throw Captain America into the sea and place him into a state of suspended animation and apparently kill his sidekick Bucky Barnes.
When I said Zemo is an important part of Captain America's history I meant it.
Now you're probably wondering about the mask.  Well, there's a pretty cool backstory behind it.
Back in WW2 Zemo decided to wear a purple face mask in order hide his identity.  It turns out that testing weapons on your own people insures you aren't going to make a whole lot of friends.
Unfortunately for Zemo he was doused in one of his experiments, a super strong glue known as Adhesive X, by an errant throw from Captain America which permanently bonded his mask to his face.
Zemo would spend his post war years doing what a lot of real Nazis did after the war, hiding out in South America.  Zemo continued his super villain ways, at one point he attempted to spread Adhesive X over the island of Manhattan but was stopped, when he learned of Captain America's revival.
Naturally Zemo was a bit upset and he attempted to lure the Captain into a trap to defeat him once and for all.  Unfortunately, Captain America was too good for him and Zemo was killed in a rock slide.
So what happened?
Heinrich had a son, a gifted and brilliant boy named Helmut Zemo, who would take his father's place and become one of the most dangerous and well known villains in the entire Marvel cannon.
Like his father Helmut was a scientific genius and was soon capable of duplicating many of his father's inventions and schemes.
Helmut idolized his father despite a shady and abusive past.  When Captain America tried to convince Helmut that his father was evil Helmut didn't take it very well.
Also like his father, Helmut would fall victim to Adhesive X.  In 1973's Captain America #168 Helmut disguised himself as a villain named the Phoenix, kidnapped Captain America, and attempted to drown him in a vat of the chemical.
Fortunately Cap was rescued by the Falcon and Zemo fell into the boiling vat and was presumed dead.  However, Zemo survived and while he was able to find a solvent that could dissolve Adhesive X he was permanently scarred.
I could go on to list the many schemes and accomplishments of Baron Zemo but there simply isn't enough time.
Baron Helmut Zemo and his father were, and still are, two of the most dangerous super villains in the entire Marvel Universe.  Cunning, brilliant, and sadistic, the Zemo name is one that gives Captain America and the heroes of Marvel nightmares and while Zemoe is the most memorable villain in the Marvel Cinematic Universe, he deserves a place as one of the most capable and tortured villains to face the Avengers.