So I'm a big fan of Captain America: Civil War and the comic book series it sprang from.
One of the big themes of the movie and the comic book series is how so many of the superheroes fight on Captain America's side simply because he's Captain freaking America.
I mean who wouldn't want to charge the gates of Hell itself if you knew it was with this guy?
The reason I bring this up is because even back in the 1940's Captain America was an inspiration to countless other heroes and even ordinary people.  I bring this up because sometimes even ordinary people can rise to do great things if they have the proper motivation and inspiration and that is something that comic books are great at showing.
Unfortunately, the person we're talking about today is NOT one of those great people but dammit, he deserves some respect for trying.  Ladies and gentlemen: Archie the Gruesome.
Origin and Career
We've covered some pretty obscure old timey superheroes in this blog series but I think this guy takes the cake.  Archie the Gruesome had one Golden Age appearance as the cover character in 1942's Comedy Comics #10.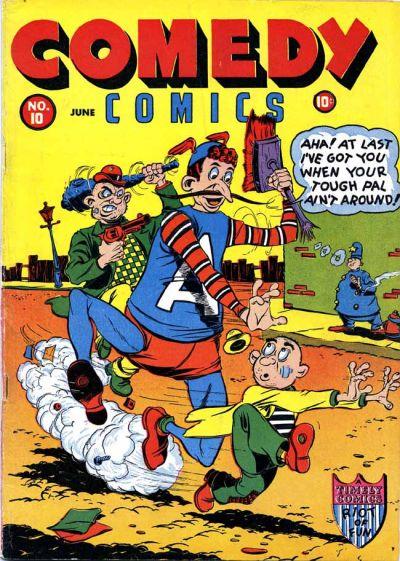 Nobody really know who wrote him, nobody really knows who drew him, and he was relegated to a single five page origin story in the comic.
Archie was a street sweeper who was inspired to become a costumed hero after seeing his idol, Captain America.
He didn't have any powers, he wasn't part of some secret experiment, he wasn't blessed/cursed by some sort of magic, he didn't lose his parents in a tragic accident, he just wanted to do good and I'm going to show the same cover picture again because that is the only image I can find of him.
As you can see, his costume is a parody of Captain America's, he's using his broom as a weapon (clearly in an attempt to "clean up the streets"), and the way he's drawn and presented is clearly meant to not be taken seriously.  His opponent was a fellow street sweeper named Big Joe who was Archie's polar opposite, preferring to turn to a life of crime rather than a life of heroics.
So what happened?
Shockingly, Archie the Gruesome did not go on to wild fame and success and he disappeared after his first appearance.
However, he would go on to have a role in a limited comic book series published by Marvel in 2011 called All Winners Squad: Band of Heroes.
The comic book series was a World War 2 comic about a group of old school super powered humans who were drafted into the Allied war effort and were placed into a squad known as "Special Unit, Enhanced Humans" but wound up calling themselves "The Crazy Sues"
They were led by Captain America (obviously) and Archie was their medic.
They didn't give him much to do in the comic.  He was a capable medic, there was actually one point in the book where he was asked to pump a dying soldier full of morphine while another soldier finished him off, and it was widely assumed that he was killed in battle because the comic book series was cancelled after five issues out of the proposed eight were published and that is why we can't have nice things.
Archie the Gruesome can easily be thought of as a joke character and most of that thinking would be correct.  However, Archie is a special character in comics and deserves way more credit than he gets.  He saw the world around him, he saw his favorite superheroes doing great things, and not only did he think that was awesome, he actively tried to emulate his heroes and make the world a better place.  He had no powers, no gadgets, and no money but he managed to be one of the truest and greatest heroes around.