Happy Memorial Day everyone!
For the non American readers of this blog Memorial Day is a day where Americans recognize and celebrate the lives of those who served and died in military service, usually by eating a lot of meat and drinking a lot of booze.
The reason I bring this up is because comic books have a pretty long and storied history when in comes to honoring and talking about American men and women in uniform.  After all, the early days of the modern comic book industry were smack dab in the middle of the biggest conflict in human history and it shows.
Books like these were fantastic wish fulfillment, where writers and artists could end the war with a stroke of a pen and make sure that the Axis powers got what was coming to them.
But comic books didn't just tell stories about impossible men and women with amazing powers and flashy costumes, they told stories about the actual men and women in uniform as well, and a lot of them weren't so happy and carefree with their subject matter.
This fascination with actual military exploits and stories about real life soldiers make sense when you consider that some of the greatest comic book creators who ever lived served in the military, including the legendary duo of Stan Lee and Jack Kirby.
Author's note: It should be noted that while Stan Lee served in the Army Signal Corps and din't see much combat, Kirby was a Private in the U.S Third Army and was awarded the Regimental Bronze Star.
While I don't know how their military experience influenced their later work I do know that Lee and Kirby would go on to create one of the greatest groups of ordinary soldiers who would go toe to toe with some of the greatest villains the budding Marvel Universe had to offer: Sargent Nick Fury and his Howling Commandos.
Origin and Career
According to Stan Lee himself the idea for the Howling Commandos came about on a bet that Lee and Kirby couldn't create a successful comic book title with a terrible name.  Lee would go on to state that the inspiration for the name "Howling Commandos" would come from the real life 101st Airborne Division, which called itself the "Screaming Eagles".
Sgt. Fury and the Howling Commandos first premiered in May 1963, making it a Silver Age comic book created at the height of Lee and Kirby's creative partnership.
Lee and Kirby would go on to write and pencil the first seven issues until the series was taken over by writer Roy Tomas (who would go on to introduce Conan the Barbarian to the comic book world)
and artist Dick Ayers, who would go on to pencil and ink 95 issues of Sgt. Fury and his squad.
Now, the Howling Commandos would go on to have a pretty successful run.  They appeared in over 150 issues so it's somewhat difficult to describe everything they did.  So instead, we're going to have a quick list of some of the most important exploits of the team and some of their biggest contributions to Marvel and comics as a whole.
The group was a multi cultural and multi ethnic.  It even included an Asian American during a time when Japanese Americans were being interned in camps and an African American during a war where the United States Army was still segregated (the U.S Army wouldn't fully integrate until 1948).  It fact, this was so rare in the 1960's that Lee had to remind the colorist that one of the Commandos named Gabriel Jones was actually black.
Besides their commitment to diversity the writers weren't afraid to kill people off in a time when comic book characters just didn't die.  Nick Fury joined the US Army with his best friend Red Hardgrove, who would later perish in the Japanese attack on Pearl Harbor in 1941.
Fury would go on to form the Howling Commandos and be stationed in Britain where he fell in love with a nurse named Pamela Hawley in Issue #4
only to have her die in a bombing raid before he could propose to her in Issue #18.
Also, despite being a "kid's book" the adventures of Sgt. Fury and his squad did not shy away from dealing with some pretty complex themes.  Issue #51 was called The Assassin and told the tragic story of a man who was forced to become an assassin when the Gestapo held his family hostage.
And issue #75, titled The Deserter, was an allusion to the real life trial and execution of an American G.I named Eddie Slovik.
And then there are the cameo appearances by other famous Marvel characters.  During their time in the second World War the Howling Commandos would work with the likes of Reed Richards, the future Mr. Fantastic,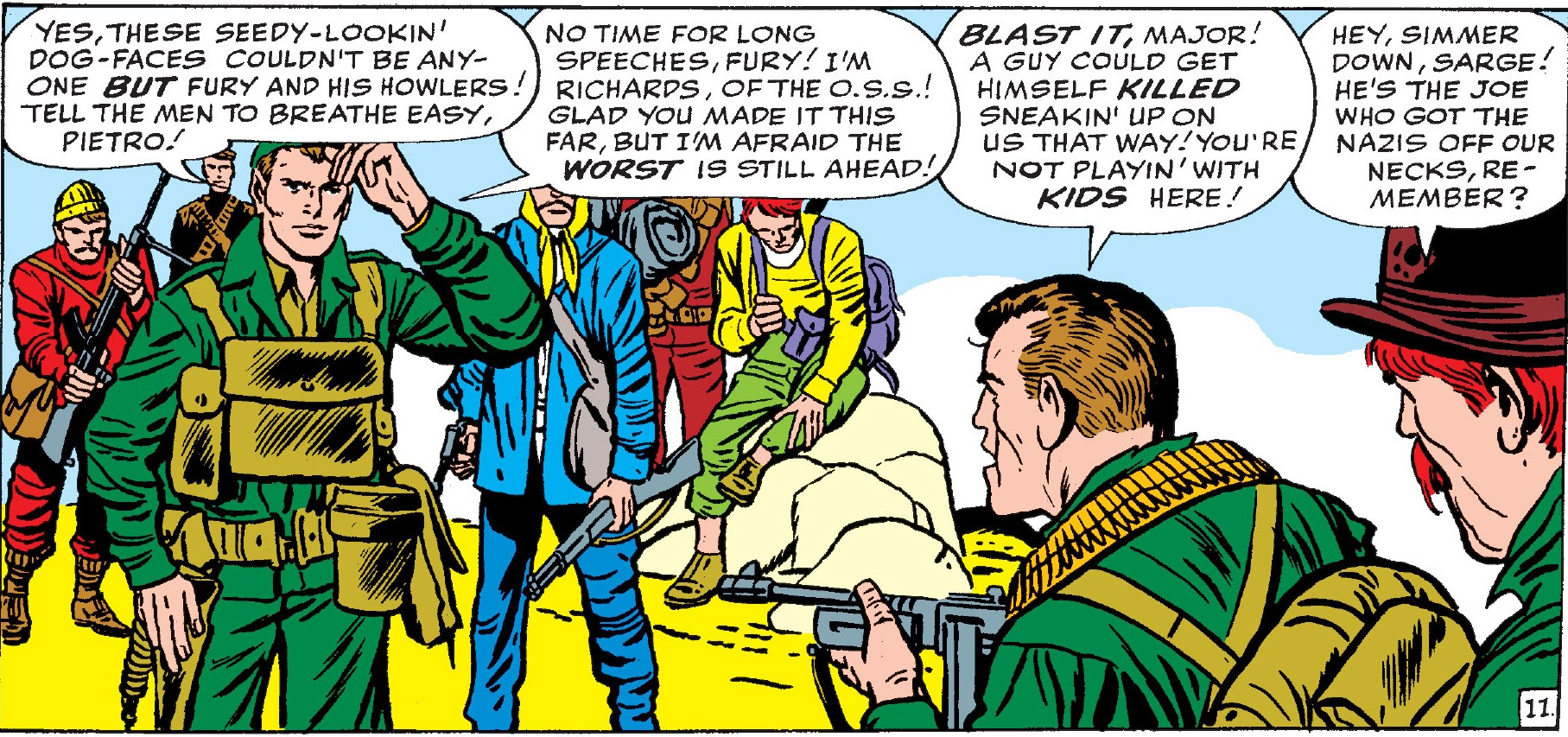 and their most famous partner, Captain America and his side kick Bucky.
During their adventures they would also face several of Marvel's greatest villains, including Baron Strucker,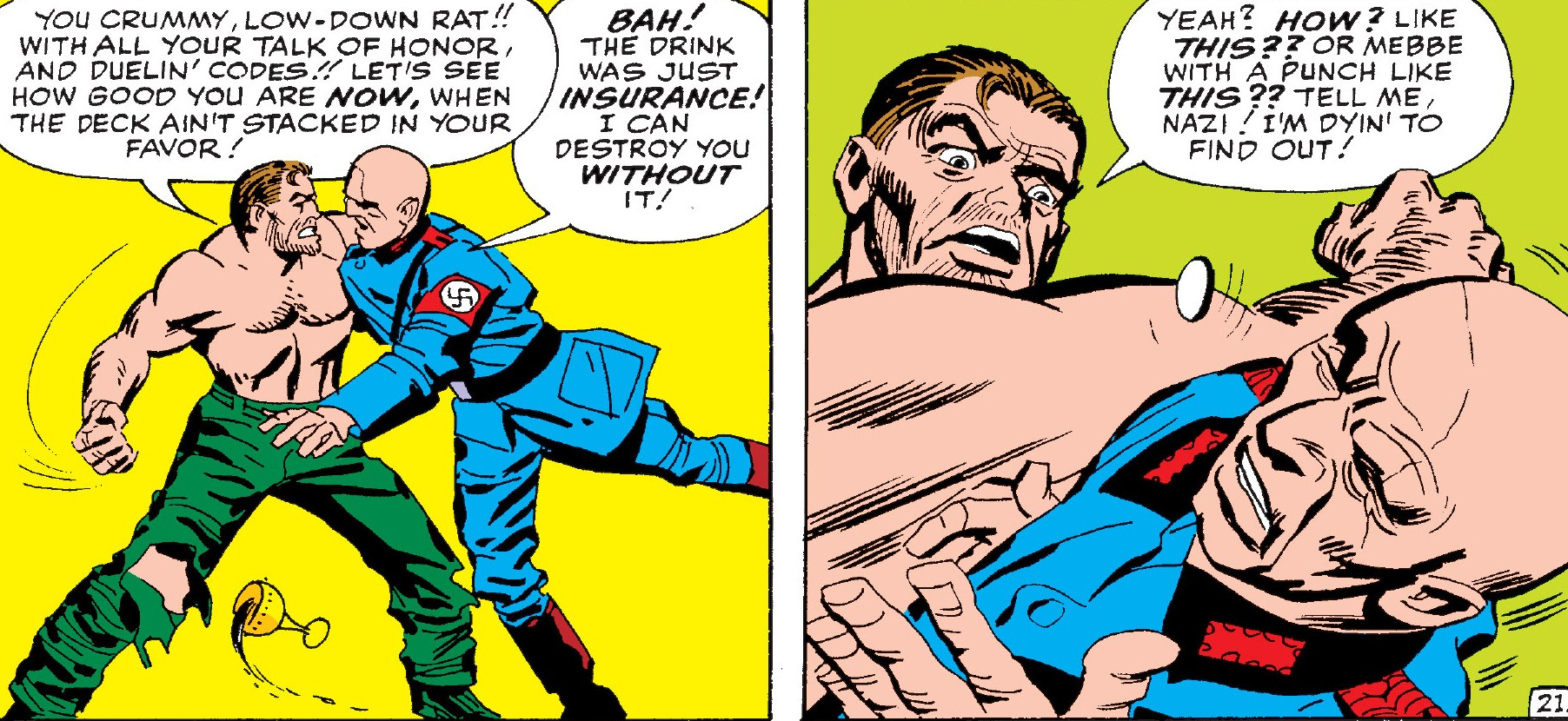 Helmut Zemo (before his unfortunate accident gave him his trademark mask),
and the Red Skull himself.
So what happened?
The Howling Commandos would have a successful career in the 1960's and early 70's, producing 167 individual issues and reprints which started in 1974.  While the group would reunite to carry out missions in Korea and Vietnam the series was cancelled in 1981.
Nick Fury would go on to become a Colonel and a James Bond type spy in 1965's Strange Tales #135 for a little known organization called S.H.I.E.L.D.
An artist named Jim Steranko would make his name working on Nick Fury's comics and become one of the greatest artists of the 1960's and a pioneer in what a comic book could do.
Fury would later undergo a pretty dramatic change in appearance in Marvel's Ultimate series, an alternate universe continuity to Marvel comics designed to allow new readers to jump on board without having to worry about decades of continuity.
Ironically, this Nick Fury would go on to become the more famous one.
As for the Howling Commandos themselves, they're still kicking around as a group.  While they're probably too old to do much in the modern day they're still very much a part of the Marvel mythology.  They made an appearance in the first Captain America movie,
and they had a cameo appearance in the Agent Carter tv show.
While Nick Fury and his squad of badass commandos performed nearly impossible feats of bravery and valor and were soldiers of mythic skill and ability they were still ordinary humans thrust into a chaotic world of death and destruction.  They are a reminder that sometimes you don't need a hero, you just need group of ordinary men and women to perform the impossible and can rise to the occasion to be heroes.
Happy Memorial Day everyone.