The Golden Age of Comics gave us our first modern superheroes and established the idea of the modern day origin story as an important part of any superhero's lore.  There were plenty of ways for someone to decide to become a superhero.  He/she could be naturally endowed with great power,
He/she could have suffered a great personal tragedy,
or a person could have gained powers from some sort of magical incantation/device or scientific experiment.
But one of the most popular ways for a superhero to gain powers was a little known plot device called radiation.
It should be noted that while radiation can kill you in real life, a lot of comic books saw the wonders of the real life Atomic Age and decided that this,
could give you superpowers.
The list of superheroes who gained their powers from some form of radiation is extensive and makes up some of comic's greatest heroes.
Most of these characters were products of the Silver Age of Comics, a time period between 1956 and 1970 where comics became heavily influenced by science fiction and the brave new world that gave us the Space Race and Tang.
However, the heroes of the Silver Age were not the first superheroes to gain powers from strange radiation.  Comic book writers had known about atomic energy since the end of World War 2 and responded accordingly.
Today I present the first hero of the Atomic Age, a man known simply as…Atomic Man.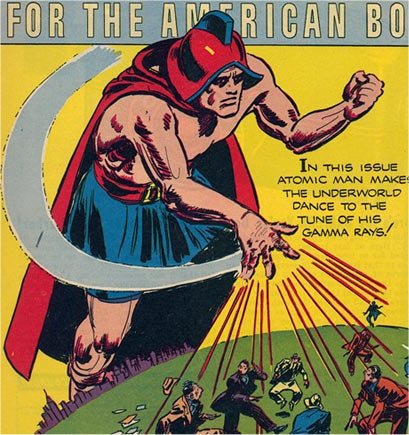 Origin and Career
Atomic Man first appeared in Headline Comics #16 in November 1945.
There are two things worth mentioning here.  First, while the Atomic Man doesn't appear on the cover he is used in its advertising and second, this comic would have been published mere months after the bombing of Hiroshima and Nagasaki at the end of World War 2.
The character was created by comic strip artist Charles A. Voight,
who began work as a cartoonist in 1908 and was most famous for a strip called "Betty".
Voight created the Atomic Man as a scientist named Dr. Adam Mann, a scientist who made it his life's work to study this strange new nuclear science.
Sadly, Dr. Mann fell victim to a lab explosion while experimenting with uranium 235, the type of uranium which makes atom bombs go boom.   The explosion embedded radioactive shrapnel into his right hand.  However, instead of killing him the shrapnel gave him incredible powers including super strength, flight, the ability to manipulate minds (somehow), and energy blasts.
Naturally, Dr. Mann was somewhat terrified of his newfound power, not just because he had the ability to do great damage to the people he cared about, but because of the damage it could cause if it fell into the wrong hands.  As a result the doctor would wear a lead lined glove on his right hand while in his civilian identity and take it off whenever he needed to call upon his powers.
It should also be noted that his costume simply appeared once he took off the glove.
So what happened?
Atomic Man would appear in five more anthology issues and had a pretty good run for a Golden Age hero, even making the cover of Headline Comics three times.  He spent his time fighting various science fiction threats, criminal enterprises, and communists.
His last appearance was in September of 1946, his creator would die in 1947.  Atomic Man himself would be phased out of the Headline Comics title when the comic transitioned away from superhero comics to crime stories that were written by Captain America co creators and comic book legends Joe Simon and Jack Kirby.
While Atomic Man has faded from memory his legacy is an important one for comic books.  I mentioned before just how many superheroes gained their powers from radiation and Atomic Man was the first hero to accomplish this.
But there is something more to the hero than just a cool origin story.  Atomic Man represented a change that wasn't just occurring in comic books, but in our society as well.  We had just witnessed the awesome and terrifying power of atomic energy,
and we had so many questions and concerns.  How dangerous was this thing?  What if it got into the wrong hands?  What were the true effects of radiation on the human body?  Will this new idea elevate us to a new Golden Age or plunge us into the apocalypse?
Yes a comic book hero as silly as Atomic Man got quite a few things wrong about radiation and yes, maybe a children's comic book wasn't the best place to be asking these sorts of questions.  But whether its audience knew it or not, Atomic Man did ask these questions, putting it at the forefront of some of the most important issues of our time.