We've covered a lot of stupid on this blog post from insect controlling lawyers to bird politicians but today we're going to talk about a hero that beats them all when in comes to sheer lunacy.  I present, the Human Top.
Origin and career
While he may not look like much, the Human Top's career started off with a literal bang.  He first appeared in Red Raven Comics #1 in August of 1940.  His story was written by comic book writer and artist Dick Briefer.
Interestingly enough, this issue also held the first appearance of another super hero we've talked about on this blog: Mercury.
The Human Top was originally named Bruce Bravelle, a man who volunteered as a human guinea pig for one Dr. Davis.
The good Doctor was attempting to find a way for humans to feed off of electricity (Golden Age science was weird) and naturally the experiment went wrong when Bruce was accidentally struck by lightening.
Since this is a superhero comic, the wrath of God doesn't kill Bruce but gives him the ability to spin up to speeds of 250 miles per hour.
What's really interesting about this Human Top is that his powers weren't based off of something like the Speed Force or divine intervention.  His ability to spin comes from opposing electrical currents which he can create by either crossing his wrists or by getting shocked from an outside electrical source.  While I don't think the writer had a really keen grasp on how electricity works it is interesting to see a Golden Age hero who's powers were based purely off of science instead of magic.
Professor Davis dubbed Bruce "The Top" and suggested that he go out and fight crime, since that's all the motivation a super hero needed back in the 1940's.
In his first adventure the Human Top foiled a bank robbery when it was revealed that the bank's president, a man named Horace Vanderveer,
attempted to frame the Human Top and escape with the money.  Fortunately, the Human Top stopped the greedy bank president and the day was saved.
The hero would go on to have one more adventure in March of 1942, published in Tough Kid Squad Comics.
It is worth mentioning that the Human Top would also get a costume redesign for his second appearance.
In his final adventure the Human Top would defeat a masked train robber named the Red Terror.
The Red Terror had a gang of armed goons, a couple of pet lions, and a rocket powered zeppelin which he used as a getaway vehicle after orchestrating a series of train wrecks.  However, the Human Top stopped him and he was sent plummeting to his death at the end of the story.
So what happened?
Bruce Bravelle would never have another comic book story.  However, he is still treated as mainstream cannon in the Marvel comic book universe and while Bruce is no more the name and idea behind the Human Top would continue.
The first reiteration of the name would be used by a super villain calling himself "The Human Top" and would appear in Tales to Astonish #50 in 1963.
He was a mutant named Darren Cross and he was an Antman villain.  He would later re name himself Whirlwind and he was successful enough to appear in other media as well, including his most recent appearance in the excellent Avengers: Earth's Mightiest Heroes cartoon.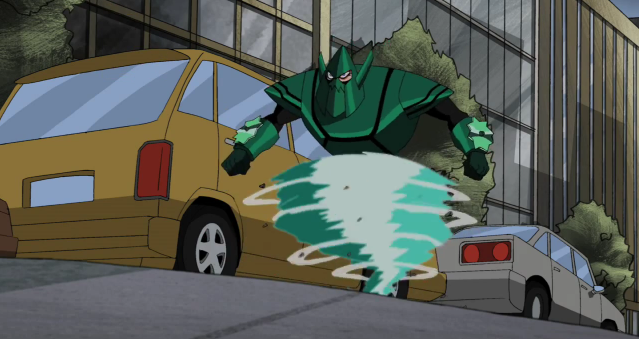 But the Human Top would be reborn yet again in 1978 as part of Marvel's Kid Commandos team that was published under the Invaders title.
His name was David Mitchell and he worked with Toro, the sidekick of the Golden Age Human Torch (who was a cyborg instead of a boy) and Bucky Barnes himself.
They fought Nazis, as almost all Golden Age superheroes fighting in World War 2 were required to do.
The Human Top is one of the more ridiculous ideas to come out of the Golden Age of comics.  The idea that spinning in circles really fast is a super power is less of a cool idea and more something to make you giggle as you imagine the hero/villain having to stop and vomit from the motion sickness.  However, while the super powers of the Human Top may seem a bit ridiculous, it is important to recognize the creative passion and drive behind heroes like these and admire them for the silly and amazing creations they are.