Happy post Father's Day Monday everyone!
For our international readers, Father's Day is an American holiday where we celebrate the role and achievements fathers play in all our lives.
Some would say it's a chance to give dads the recognition they deserve after Mother's Day (Mother's Day was a federally recognized holiday before Father's Day) and some would say that it's a cynical attempt for the card companies and power tool companies to sell more stuff.
Whatever you believe in it's important to recognize that fathers have a huge impact on our personal lives and world view and comic books are a medium that is filled with fatherly influence.
Now, being a dad in a comic book can be rather difficult.  It's even more difficult when you realize that in mainstream American comic books fathers either wind up dead or have to go through hell for their children.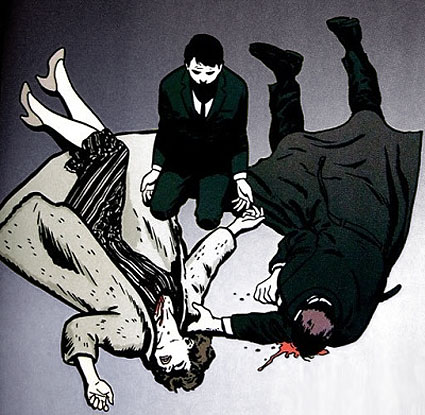 But whether we like it or not, comic book dads fulfill an important role in comic book story telling: they help the main character become the person he/she needs to be in order to become a superhero, and what's really interesting is that more often than not there are many different ways fathers can teach their biological/surrogate offspring to become a hero.
So today we are going to look at two of the greatest father figures in comic book history: Pa Kent and Uncle Ben.
Pa Kent
Within the Superman mythology Ma Kent is usually the one that's portrayed as the principal caretaker of Clark considering that Pa Kent winds up dead in quite a few variations of the story.
With that being said, while Ma Kent is usually the one who gets to be the principal caretaker and moral compass for her adopted son, Pa Kent has the honor of being the wise old man that the world's most powerful being looks up to.
The Kent family has been by Superman's side since the very beginning.
What I find most impressive is just how capable these two are.  In fact, if it wasn't for this guy
I'd say they were the most capable parents in all of comics.
They are kind, dedicated, and somehow they took the strongest being on Earth and not only managed to keep his existence a secret for a very long time, but they managed to install a moral compass on kid who was practically immune to all forms of punishment.  After all, a spanking seems kind of pointless when you have a son who can deflect bullets.
The results speak for themselves and Superman grew up to become one of the most selfless beings on the entire planet instead of the ruler and dictator that so many would expect from a being who possesses such power.
One of the things I like about the Kents is how they've managed to go through so much and still remain the kindly couple they are today.  They have no trouble hosting aliens who actually look like aliens,
to helping their son learn how to fly.
By the way, the page above is from a series called Superman: American Alien by Max Landis.  It is an amazing series and I cannot recommend it enough.
Whether it's dealing with the emotional loss of Jonathan Kent
or dealing with yet another alien invasion that decides to take place on their front doorstep.
The Kents have remained one of the most steadfast and loyal families in all of comics.
Uncle Ben
You know him or more specifically you know his line.
Say it, say it now.
There used to be a famous saying in the comic book industry: "Nobody dies in comics except Jason Todd, Bucky Barnes, and Uncle Ben".
Then 2005 happened.
and it just became "Nobody dies in comics except Uncle Ben."
Uncle Ben has taken a more relaxed attitude towards instilling heroic ideals in his children.  Granted, it's mostly because he's been dead all this time but the results speak for themselves.
In the brief time we get to see Uncle Ben alive in the comics he comes off as a kind, caring, and compassionate person who only wants the best for his adopted son.  In fact, he's so nice and so good that after he dies Peter is wracked with so much guilt that he decides to dedicate the rest of his life to being one of the most helpful and dedicated superheroes in the Marvel Universe.
Which is saying something considering the amount of pain and suffering Peter has gone through over the years.
So which father figure is better?  Honestly I don't think it matters.  Both men provide their adopted sons with the necessary moral guidelines that are needed for being a superhero and both are great father figures.
While Father's Day may be over it is important to recognize the roll that fathers have in our lives and even though we may not live in a comic book universe, they can help all of us become superheroes.