I've been wanting to do this one for a while, but I just couldn't find the right time.
But now, I figured we've gone long enough on this blog without talking about a lady superhero so let's talk about one of the more interesting, and quite frankly more terrifying, lady heroes who donned a mask and kicked some ass in the Golden Age of Comics.
Ladies and Gentlemen: Lady Satan.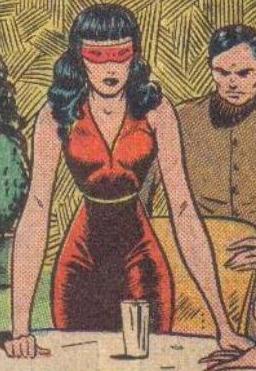 Origin and Career
I've talked time and time again about how this blog was created to showcase the early superheroes who didn't make it past the 1950's and Lady Satan is the textbook definition of that kind of heroine.
One of the most interesting things about her is the story behind her creators.  She was part of one of the earliest comic book producers out there, a man who was actually pretty important to the comic book medium: Henry A. Chesler.
While Chelser got hist start in advertising he is actually something of an important figure to the comic book medium because he is regarded as being one of the first comic book "packagers" in the business, founding a studio which would develop and produce comic book material to sell to publishers.
One of his first publications was Star Comics first published in 1937.
It was a fun, relatively harmless piece of work for kids and Chesler did well as a comic book packager.  Then everything changed in 1938 with the arrival of Seigel and Shuster's Action Comics #1
Being the prudent businessman, Chesler seemed determined to ride the superhero hype train and created his own publishing imprint Dynamic Comics in 1941.
A month later Dynamic would publish their second issue, featuring the debut of the heroine of the hour.
Her backstory was a simple one (one of the great hallmarks of the Golden Age is that someone's backstory didn't need entire issues, they could tell the entire story in a page or less): she was on a cruise with her husband in the middle of the Atlantic ocean and her ship was sunk by soldiers who aren't technically Nazis but come pretty darn close.
Unlike many other heroes we've talked about on this blog, Lady Satan didn't waste a single second guarding the homefront from saboteurs and spies, she went straight to Europe and started spying for the forces of democracy.  She wasn't afraid to use her…feminine wiles to get close to the enemy,
and she was not afraid to get violent either.
Basically, during the war she was the female equivalent of James Bond, only with a much better wardrobe and no chronic alcoholism.
Also, she had a chlorine gun that she could use to incapacitate people, which is funny considering that chlorine gas is actually pretty deadly and was banned from use during the Second World War.
She would make her final appearance in Dynamic Comics #3, fulfilling her Nazi kicking quota and disappearing off the face of the Earth for a couple of years.
So what happened?
The heroes that made it out of the Golden Age are some of most iconic and well loved heroes of our time.  They were trend setters and pioneers in the genre that we all know and love.
Lady Satan was not one of those heroes, despite the fact that she would have a pretty good Golden Age career.
Lady Satan was revived after WW2 ended, only instead of fighting Nazis she took after her name sake and adopted a more…mystical theme.
Chesler Productions had taken a huge hit during the war with much of its staff needed for active duty.  While Chesler would continue producing comic books, even doing work for Marvel in the 1970's, Dynamic Comics was no more and Lady Satan made her second debut in a title called Red Seal Comics in 1946
With that being said, it's safe to say that Lady Satan was more of a trend follower than a trend setter.  Comic books after World War 2 had taken a turn for the grimmer and darker, preferring horror and crime stories over superheroes.
Lady Satan demonstrated this better than almost any other superhero at the time, with her new adventures she would use black magic to fight and punish occult threats such as warewolves.
Sadly she would only last a couple more issues, no doubt falling prey to the rising tide of distrust and paranoia surrounding comic books in the 1950's (well, what would you expect with a name like Satan?)
Since then she hasn't had much of a career.  She's appeared in a couple of reprints of old issues and while she does have something of a reputation as a bad ass super heroine, she doesn't quite cut the mustard when compared to the heavy hitting super heroines like Wonder Woman.
It's worth noting that as far as I can tell she is in the public domain, and she did appear in a low budget action movie called Avenging Force: The Scarab in 2010, so if low budget cheese is your thing feel free to eat your heart out.
Here's a link to the trailer: https://www.youtube.com/watch?v=7QlmKRDYwvM
Lady Satan was an interesting idea with a cool costume and a lot of potential for fun stories.  It's just to bad she doomed to be a trend follower instead of a trend setter.