Stories about metal creatures created to serve the bidding of their masters is nothing new.  The ancient Greek god Hephaestus had two mechanical assistants to help him in his work.
and Jewish folklore talks about the Golem, a mystical man of clay that can be brought to life whenever the Jewish people are threatened.
But the idea of a living creature made out of inanimate material really took off in the 20th century.  We call them robots.
Today we're going to talk about one of the lesser known robots of pop culture: Flexo.
No, not that one.  While I love Futurama, the Flexo we're going to talk about today is a product of the 1940's and boy is he strange.
Yes, that is a real comic book superhero and yes he does look like the bastard lovechild of Gumby and Iron Man, but despite his strange appearance he was actually a pretty important character in the early days of Timely Comics.
Origin and Career
Flexo the robot first appeared in Mystic Comics #1 in March of 1940.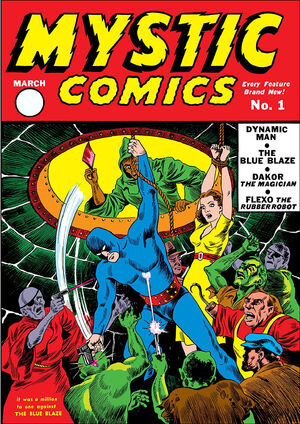 The character was created by writer Will Harr and artist Jack Binder.
While I couldn't find a lot of information on Will Harr, Jack Binder was one of the more successful artists during the Golden Age,
who helped create the original Daredevil,
and who was the older brother of Otto Binder,
the man who created little known characters such as the entire Captain Marvel family and Brainiac.
Harr and Binder's Flexo was created by two brother scientists named Joel and Joshua Williams with the intention of fighting crime and ridding the world of evil.
The robot itself was basically a rubber suit filled with gas and could be controlled remotely by the two men.  Thanks to his stretchy suit and the fact that he wasn't limited by pesky things like a skeleton the robot could perform some pretty amazing feats.
In his first adventure Flexo was summoned by the Williams brothers after they had been robbed while carrying a dangerous sample of radium.  The group eventually traced the sample to the lab of the evil Dr. Murdo
But since this was a short story, and since this was the 1940's, Flexo and his creators manage to defeat the Doctor and his goons in short order.
Flexo would go on to have three more stories where he would continue to rescue his creators from various threats such as foreign spies,
and a wicked insurance fraudster named the Iron Duke,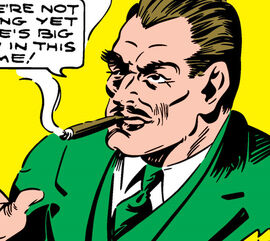 a man who ran a protection racket where he would burn people's houses down and have them split the money with him, or perish in the flames.  Flexo and the Williams brothers stopped the Iron Duke after he burned down a tenement building with children still in it.
Flexo's last adventure was also his biggest.  The Williams brothers snuck the robot into the fictitious nation of Teutonia (it should be noted that while the United States wasn't technically involved in the Second World War at this point it didn't stop comic book heroes from fighting thinly disguised Nazis) to steal back a formula for a deadly weapon.
So what happened?
Flexo fell victim to the same fate that befell almost everyone we talk about on this blog series, people just lost interest in him after World War 2.
But Flexo actually made a comeback not too long ago, and even helped save the universe as we know it.
This is going to require some explaining.  In the Marvel Universe there are various human led government agencies tasked with protecting Earth from various threats.  Most of us know S.H.I.E.L.D
and while they protect the Earth from most super powered threats there are other organizations such as S.W.O.R.D that protect Earth from alien threats,
and A.R.M.O.R, which protect the world from threats from other dimensions.

The reason I bring this up is because in 2012 Marvel ran a series called Marvel Zombies Destroy! where A.R.M.O.R is called upon to stop a Nazi zombie plague from another dimension from destroying our Earth.
It's a cool idea but I don't think it was designed to be taken seriously since they tasked this guy with stopping the invasion.
That's Howard the Duck and to talk about him would take an entire article all to itself but long story short, in order to stop the Nazi zombie menace Howard assembled a team called…The Ducky Dozen.
One of the members of the Ducky Dozen was a new and improved Flexo.
He was upgraded with more autonomy and even gained the ability to speak.
The group would travel to the dimension where the zombies had originated and were almost immediately set upon by the zombified remains of some of Marvel's greatest heroes.
Sadly, Flexo would perish in the final issue of the series.  He was ripped apart by zombie goats and atomized when the surviving members of the team detonated a nuclear bomb to prevent any more zombies from entering other dimensions.
Flexo is an interesting character.  While he only lasted a couple of stories he was a shining example of just how interesting and creative the Golden Age could be and he had the privilege of dying a pretty awesome death.
He is a great hero and a great idea who deserved way more attention and credit than he got.