I love superhero stories, but every now and then I get tired of men and women with impossible powers and I want to read something else.
When I get tired of reading about superheroes like Superman and Spider Man I like to turn to the science fiction category.  Granted, while superheroes and sci fi do share a lot of similarities, some times it's nice to just relax with a book about normal human beings using their intelligence, fists, and cool sci fi gadgets to solve all the world's problems.
Okay, not that one.
Thankfully, this was something that comic book publishers understood as far back as the 1940's and the folks at Standard Comics were more than willing to accommodate the need for non superhero stories with strange and fascinating science fiction stories about space men and aliens from the future.
Let's talk about the detective from the 22nd century: Lance Lewis.
Origin and Career
Lance Lewis first appeared in Standard Comics' Mystery Comics #3 in 1944 during the post war boom in non superhero comics.
Although is first appearance didn't credit the author or artist, later issues revealed that the character was written by Bob Oskner,
who had done some early work for Timely Comics and made his name in humor comics but would later find steady work at DC in the 1970's,
and was drawn by Graham Ingels, a man who would become famous for his work on EC Comics' Tales from the Crypt.
Anyway, back to Lance Lewis.
Our hero was a detective from the distant future tasked with keeping the solar system free from bandits, brigands, and other criminals.
In his first adventure Lance was tasked with overseeing a race between two space ships that belonged to two rival companies who were vying for a lucrative delivery contract.
Sadly, the race did not go well and Lance was tasked with solving the murder of one of the pilots.
What's rather interesting is that this story did present a genuine mystery for the reader, who was left with no idea how a pilot could have been killed in the middle of space without a mark on him or without any apparent sabotage to the ship.
It turned out that the ship was sabotaged by the competition.  The rival company hired a saboteur to drill microscopic holes into the ship's engine which led to all the air escaping from the ship.
There are a couple of things that are pretty noteworthy about this comic.  First, the art style is pure "ray gun gothic", which was an art style that was very popular in early science fiction of the 1940's and 1950's.
What I'm saying here is that the art is awesome and I personally think there should be more of it.
Second, you'll notice small lines of war time propaganda on the bottom of the page.
Such were the times I guess.
Lance would get a girlfriend named Marna in the following issue after rescuing her from a group of evil blobs from Saturn who were bent on total domination of the Solar System.
Then he took a three year hiatus and would return as the cover character on Standard's Startling Comics #44 in March of 1947 to capitalize on the boom of non superhero themed comic books.
The rest of his appearances were pretty standard "sci fi detective" affairs, where he would solve a case that involved some strange technology or evil alien race with his girlfriend.
His last appearance was in Startling Mystery Comics #53 in September of 1948.
His last case deserves special mention because it is an honest to goodness clever bit of writing.
Lance and Marna are on Jupiter watching a broadcast of the Planetary Music Festival, a music competition that has a huge cash prize for the winner.  Lance brings Marna's attention to a little boy who is incredibly skilled with the violin.
However, Lance is interrupted by his superiors ordering him to investigate a mysterious accident in space where a cargo ship was destroyed, which was strange considering that it wasn't carrying explosives. 
Things get weirder when Lance finds out that the boy's manager, an evil looking Mr. Gorman and his associate Namar, placed a stack of greeting cards onto the ship that exploded.
Long story short, it turned out that Mr. Goman and Namar were blackmailing shipping companies into paying protection money and would blow up the ships of people who refused to pay with specially treated cards that were coated with an atomic explosive that was set off when a certain tone was played over the radio.  The person who set the tone off was the boy who was playing the violin.
The comic has a happy ending, in turned out they boy wasn't in on the plot and was only playing to support his mother, and the criminals are all brought to justice in one of the best written Golden Age stories I have ever read.
So what happened?
Lance Lewis was actually published by one of Standard Comics' imprints, Nedor Comics.  Nedor and its sister company Better Publications were folded into Standard Comics in 1949, a few months after Lance Lewis stories stopped being published.  While I can't say for sure why these stories stopped being published (mostly because everyone involved either isn't talking or is dead) I'd like to speculate and say that this merging was due to financial troubles at Standard Comics and Lance and company got lost in the shuffle.
That being said, Lance Lewis would have a brief revival in the early 2000's thanks to one of the greatest modern comic book writers alive today: Alan Moore.
Alan Moore started a company called America's Best Comics in 1999.
One of the series he created was about a "science hero" named Tom Strong,
The series proved popular enough to warrant a spin off series known as Terra Obscura in 2003.  It was a series about an alternate Earth on the other side of the universe and utilized a lot of the old Standard Comics heroes that had fallen into public domain.
Lance Lewis made an appearance Tom Strong #12 as a time traveling scientist who sent himself back to World War 2 so he could fight in "The last good war".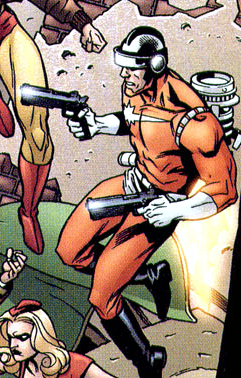 He would die three years later when he was killed by a villain named Mystico who needed to obtain the heart of a time traveler.
Lance Lewis was an interesting case study of the Golden Age.  While many people, including myself, dedicate most of our time and effort into studying the old superheroes we tend to forget that there were comic books that told other types of stories as ell.
Lance Lewis may not have had super powers, but he was definitely a hero using his brains, fists, and toys to deal out justice to the criminals of the future.