This blog is brought to you by the Cambrian Comics Patreon page.  If you are feeling generous please click the link above and feel free to donate and help us deliver even more awesome content.
You know what we need to talk about more on this blog?  Female superheroes.
The way I see it, if we're going to talk about female superheroes we should go all the way with it.  We need something daring, something obscure, something so original and new that it has stood the test of time and has never shared any background or history with any other established character.
Huh, that's a woman swinging from a thread, in a strange costume, and calling herself "Spider Queen".
This sounds familiar, but I just can't quite place it.
Origin and career
Spider Queen was published by Fox Features Syndicate, the same company that gave us the original Blue Beetle.
The Spider Queen first appeared as a back up story in a comic book called The Eagle in September of 1941.
The story names a person called Elsa Lesau as the creator.  It would be fantastic if this character was actually created by a woman, but sadly I can't find any pictures of her.  Also, Elsa may have been a pen name for a writer/artist duo named Louis and Artuo Cazeneuve who were two brothers from Argentina who did a lot of work for Fox and would go on to successful careers as comic book artists.
And this is where I would have a photo of them but alas, Google is a cruel mistress.
It's worth mentioning that the Golden Age of comics wasn't very good with things like creators' rights and giving credit to the people who deserved it so it's all very up in the air.
Anyway, the Spider Queen was a mild mannered assistant named Sharon Kane.  She worked as an assistant for her husband, a chemist who designed weapons until he was killed by "enemies of the country".
While sifting through the stuff in the lab, Sharon uncovers a formula for a super strong, super sticky thread like substance similar to spider silk.
Once she realizes that with great power comes great responsibility, Sharon takes the formula, crafts her own wrist mounted spray guns that she can use to swing across buildings, and dons a costume to become a "sworn enemy to all wrongdoers".
Isn't it amazing how "scientist with a fascination with bugs" is such a common trope, especially in comics?  It's not like anyone's turned this idea into anything successful.
Anyway, over the course of her career The Spider Queen simply contented herself with punching out goons and other small time criminals.  There may have been a budding romance with a detective named Mike O'Bell, but that didn't pan out because…
So what happened?
She only lasted three issues, and since she was only a backup character she didn't get a chance to develop as a hero or as a person.
The character would have been doomed to comic book purgatory if it wasn't for the folks at Marvel resurrecting her in a 1993 mini series starring a superhero team known as the Invaders.
In a rather interesting twist, Spider Queen was actually a villain.  In fact she wasn't just a villain but a Nazi as well.
To be fair, they give her some justification by explaining that she's only with the Nazis because they're fighting the same group of people that killed her husband, but still…nazis.
Plus they gave her costume the 90's comic book treatment.
Eh, personally I'm on the fence about it.
So that's the history of the original Spider Queen, but you're probably wondering if Spider Queen has any thing to do with Marvel's flagship hero, Spider man.  After all, I have been dropping subtle hints about it throughout the article.
The answer is yes, Spider Queen and Spiderman did meet.  That being said, it got a bit…weird.
Long story short, this new Spider Queen was a woman named Adriana Soria who was a failed S.H.I.E.L.D experiment in 1945.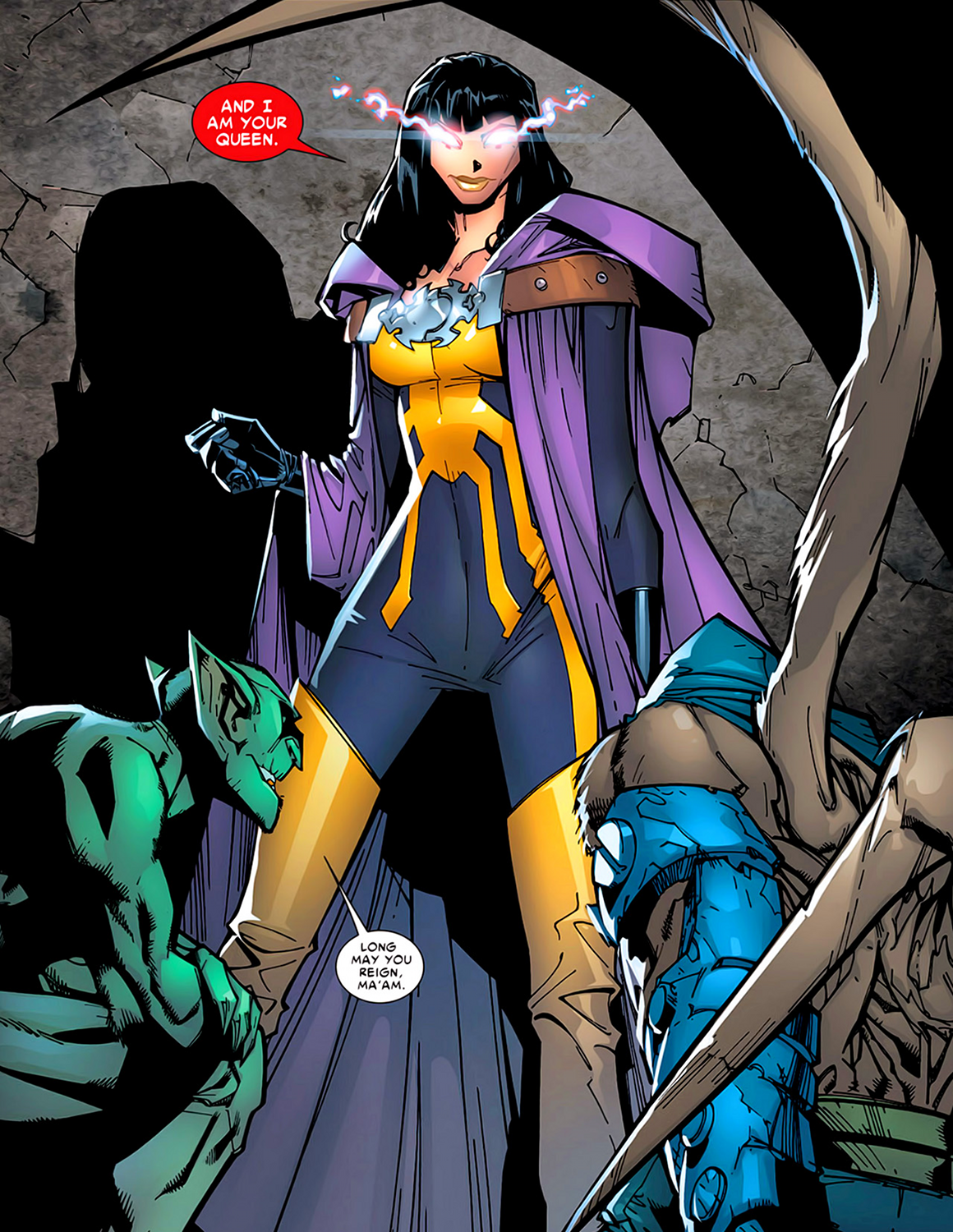 She has super strength, a sonic scream, and the ability to control people with an "insect gene" which allows her to turn people into spider monsters.  One of her victims is Peter Parker.
We'll ignore the "spiders are not insects" thing and focus on the fact that Peter actually becomes pregnant while in his spider form, dies, and is reborn as a new Spider Man with organic web shooters instead of mechanical ones.
ew.
This version of the Spider Queen would come back as a semi regular Spider Man villain in a couple more stories but other than the fact that this new villain was more of a body horror, all powerful lady spider that's really all you need to know.
The Spider Queen was an interesting super heroine.  Sure she didn't have a very long career as a hero, and her time as a villain was both short and very weird, but I like to think she was a real trailblazer.  She was the first super hero to utilize web shooters as a gimmick and would have one of the most interesting transitional careers as a super villain.