Happy Holidays everyone!
Since it is the week before Christmas, and since we plan on taking Christmas week off from the blog, I thought it would be nice to talk about one of the most powerful superheroes in all of comic books.
He's big, he's red, he knows if you've been naughty or nice, and he's listed as one of the most powerful mutants in the entire X-Men franchise…it's SANTA CLAUS!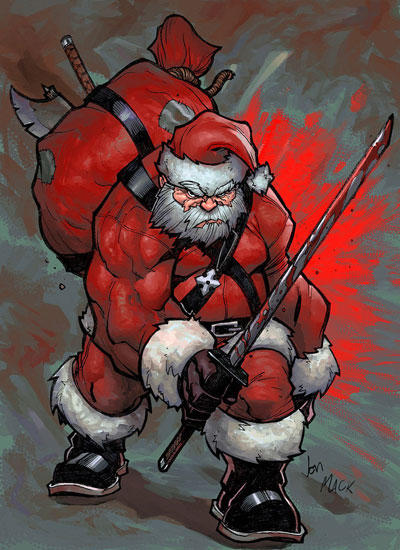 Origin and Career
Unlike most of the characters we talk about on this blog, this guy has had a long and illustrious career, and he didn't even start off in comic books.
If you want to learn about the history of Santa, there are a couple of things you have to understand.  For starters, many people use the names "Santa Claus", "St. Nick", "Kris Kringle", and "Father Christmas" interchangeably.
All those names are actually talking about different people throughout history.
The Santa Claus that we know was made popular in the 1930's as a figure who was used to sell Coca Cola.  This was where we get the idea of a jolly man dressed in red with a big white beard and a red nose.

But that image was based off of an earlier drawing by famed political cartoonist Thomas Nast for Harper's Weekly in 1881, who drew an incredibly popular illustration of the famous poem "A Night Before Christmas".
This is where we get the idea of Santa with his reindeer and his fascination with giving out toys.
But THAT image was taken from old European Dutch traditions about a jolly old man named "Sinterklaas", a jolly old man who travels around on Christmas dressed in red and giving out candy to good little boys and girls.
This is where we get the idea of Santa and his elves, since this version of Santa was accompanied by two beings called "Zwarte Piet" who help Santa hand out candy to the children.
It's worth mentioning that this version of Santa has his origins with the Norse god Wotan, who would ride around on his eight legged horse Sleipnir around this time of year.
It's also worth mentioning that "Santa" and "Father Christmas" are actually two different people because Father Christmas looks like this.
He's still a pre Christian figure, just a bit different from the tradition of Santa.
But the real origin of Santa comes from the early Christian St. Nicholas.
St. Nicholas was originally Nicholas, a 4th century Christian bishop of Myra in what is now known as Turkey.
In the Eastern Orthodox tradition he is the patron saint of children, the falsely accused, repentant thieves, barrel makers, and a whole bunch of cities and nations that are too numerous to count.  He's a pretty popular saint.
The legend goes that the bishop had a friend who had the bad luck of only having daughters.  Back then, the family of the bride was required to provide a payment to the family of the groom called a dowry as a sign of good faith and friendship.
Unfortunately, if the bride couldn't provide a dowry the bride couldn't be married, and the life of an unmarried woman back then was a very difficult one.
When Nicholas heard this he decided to do something about it and late one night he baked a bunch of gold coins into a loaf of bread, climbed up to the chimney of his friend's house, and threw the loaf down the chimney.
and that is where we get the origin of Santa sending presents via chimney.
So what happened?
Oh, Santa Claus is still around, giving gifts and spreading good cheer.
In fact, he has been so good at it that during WW2, Adolf Hitler had Santa captured in an effort to strike at the morale of America.
Thankfully, Roosevelt had Captain America and Nick Fury of the Howling Commandos rescue Santa.
It was later revealed that Santa is actually the most powerful mutant/superhero ever created.  His abilities are widely varied from longevity, to super speed, to the ability to manipulate his size in order to fit down a chimney of any size.
Santa has appeared in several adventures with famous Marvel and DC superheroes,
but it's worth mentioning that he hasn't always been a source of good cheer over the years.
Probably the best example of this was when he sold his entire gift making operation to Hydra because he was fed up with all the anger and lack of faith, although it did give us this.
Despite all the misadventures and silly stories, Santa has remained a force for good in comic books and the world in general  His friendliness, kindness, and generosity have inspired people to live better lives and to be kind to each other during the Christmas season,
something that is sorely needed in times like these.
Merry Christmas everyone, and see you all next year.