Happy New Years everyone!
After a week long break to celebrate the holidays we're back and ready for another year of obscure comic book characters you've never heard of!
Now, since it's a new year I thought it might be fun to do some branching out and try some new things.  So this year I thought I might focus more on the villains of the Golden Age.
Now, over the course of researching a lot of Golden Age superheroes, I've learned that the early comic book scene wasn't a very big fan of putting a lot of thought into their bad guys.  Usually the hero fought off hoards of gangsters enacting some sort of scheme
or the Nazis trying to pull off some evil plot.
Most of the time the villain that the hero would be fighting would often get his/her just comeuppance at the end of the story and be killed off.
The point is that the bad guys don't get a whole lot of attention in the Golden Age of Comics, but every now and then there is a villain who proves to be a long lasting and memorable threat.
Anyway, I thought we could start with a villain who managed to give an entire team of some of the most powerful superheroes a run for their money: Isbisa.
Origin and Career
Isbisa made his first and only Golden Age appearance in All Winners #19 in 1946.
What's interesting is that while many of the comic books at this time were anthologies that told a series of short, unrelated stories about a whole cast of super heroes, this book was a complete story where a team of some of Timely's greatest heroes would work together to defeat Isbisa as a common foe.
The book itself was written by comic book legend, and a man who deserves way more credit than he's been getting, Bill Finger.
Bill Finger is the man who is responsible for creating most of the Batman mythos, although for the purposes of this article let's just say he's the guy who created the Joker.
So it's safe to say Mr. Finger knew how to create a pretty good villain.
Isbisa started out as a humble museum assistant named Simon Meke.
His goal was simple (as was most of the motivations for villains at the time): world domination, which he planned to accomplish by stealing a nuclear weapon.  In order to do this he adopted the super villain identity of "Isbisa", which was an acronym for the six "Ages of Man" (Ice Age, Stone Age, Bronze Age, Iron Age, Steel Age, Atomic Age).
Despite his lowly status, and the fact that he probably had no idea how to properly handle and manage a nuke, Meke was a smart man and realized that the superheroes of the All Winners Squad would be his greatest threat.
He developed a plan to keep the team of Captain America, Bucky, the Sub Mariner, The Whizzer, The Human Torch, Toro, and Miss America busy while he could make off with the bomb.
His plan was actually pretty devious.  It involved hiring a group of gangsters and two small time super villains named "The Calcium Master"
(Drink your milk kids),
and Black Patch
to distract the heroes by committing various crimes while he robbed the place storing the bomb with his own special sleeping gas.
In typical super villain fashion each of the crimes was committed with a certain theme and with plenty of clues for the heroes to use in order to figure it out.  Also, in typical comic book fashion the heroes were able to come together and save the day, capturing Isbisa and placing him into police custody.
So what happened?
Isbisa's battle against the All Winners squad was his first and only Golden Age appearance.  However, this was not the last time he would appear to challenge his old foes.
His next appearance was in the 1970's in Giant Sized Avengers #1 as a flashback.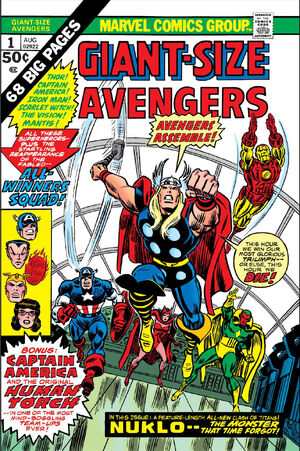 It turned out that two of the old members of the squad, the Whizzer and Miss America, had left the group after defeating Isbisa and were married.  They wound up joining the CIA and were placed on body guard duty at a nuclear test site.  Unfortunately, during one of the tests they were both exposed to a large amount of radiation and when Miss America gave birth to their first child they discovered that their son was lethally radioactive.
The two were forced to place their son in stasis, but unfortunately their son escaped and became the villain Nuklo.
Nuklo was eventually defeated and contained, but not before being brought to the attention of Isbisa.
The now released super villain learned about Nuklo's powers and conspired to use them to give himself nuclear powers.
He disguised himself as a psychiatrist, infiltrated the facility holding Nuklo, and managed to hook both of them up to a device that would transfer Nuklo's power to himself.  The device worked and when the Whizzer confronted his old nemesis, Ibisia killed him.
He was defeated by Vision and the Scarlet Witch and sent back to prison.
His final appearance was in a battle with She Hulk.
Isbisa had managed to escape prison again and was disguised as a physics teacher named Doctor Sandeson.  He discovered a way to move super villains in and out of time and space and used this same energy to rejuvenate himself (it's worth mentioning that She Hulk comics played fast and loose with things like time and space and breaking the fourth wall).
She Hulk eventually triumphed and Isbisa managed to escape.  He hasn't been heard from since.
Isbisa is something of a rarity in Golden Age Comics.  While there were plenty of capable superheroes in the Golden Age, and plenty of them were much deadlier and scarier than Isbisa, there weren't a whole lot of consistent threats.  Usually a bad guy would last anywhere between a single issue or a couple, but Isbisa did manage to last and plague his mortal enemies for a terrifyingly long amount of time.