Happy post Super Bowl everyone!
Last night was one of the greatest games I have ever seen and I am so happy that my favorite team won their fifth championship.
Full disclosure, I am a huge fan of the New England Patriots so I would like to apologize for anyone reading this who isn't a football fan and has to put up with yet another half crazed fan talking about something that's not that interesting.  As for anyone who was hoping for the Patriots to lose, I'm not sorry in the slightest.
The game was one of the greatest things I have ever seen, so I thought it might be fitting to talk about an old school hero named The Patriot.
Look, it was either this guy or Sportsmaster and I chose him.
Origin and Career
The Patriot was a second string character created by writer Ray Gill and artist Bill Everett,
who was also the man who created Namor the Submariner.
The character first appeared in The Human Torch #4 in April of 1941.
Fun fact: the issue is rather famous for a printing error that stated it was issue #3 instead of #4.
Anyway, the Patriot's actual name was Jeffery Mace and his first appearance was in a ten page backup story titled "The Yellowshirts turn Yellow!" where the Patriot defeated a group of people looking to subvert the United States war effort by overthrowing the United States government.
The character proved to be pretty popular for a backup character and would go on to have a successful, if not a bit standard and cliche, career as a secondary character in The Human Torch comics and Marvel Mystery Comics as well.
I like to think that if Captain America didn't turn out to be as popular, the Patriot would have been able to become a much more established superhero.  He wasn't flashy, he didn't have any special powers or particularly noteworthy stories, but he did his job and was popular enough to have a pretty long and storied career in the 1940's.
So what happened?
Life tip: if you want to survive through trying times, you have to be able to stand out so people notice you.  The Patriot did not have that chance and as a result died out with the superhero fad in the late 1940's.
With that being said, his previous popularity gave him something that a lot of his colleagues never had: a second chance.
His first appearance was in The Avengers #97 along with his colleague in arms The Fin (the same guy we talked about last week) as a mental projection of Rick Jones in order to wage war on the Kree and Skrull.
He wound up joining the retconned superhero group known as The Liberty Legion and was given a much more fleshed out backstory in the 1970's.
They gave the man a much more fleshed out backstory that gave him some much deeper connections to the Marvel Universe as a whole.
In the new reality Jeffery Mace was a reporter for the Daily Bugle (Spiderman!) who was inspired by his idol Captain America.
He even got to BE Captain America for a little bit when Marvel published a "What if?" story where he got to don the uniform of Captain America for a bit in order to explain how the hero could have continued to work after being frozen in ice.
He was actually the third person to don the costume.  That's him carrying the previous Captain America stand in, a hero called "The Spirit of '76".
Jeffery had a couple of guest appearances after that and was killed off in main continuity in 1983.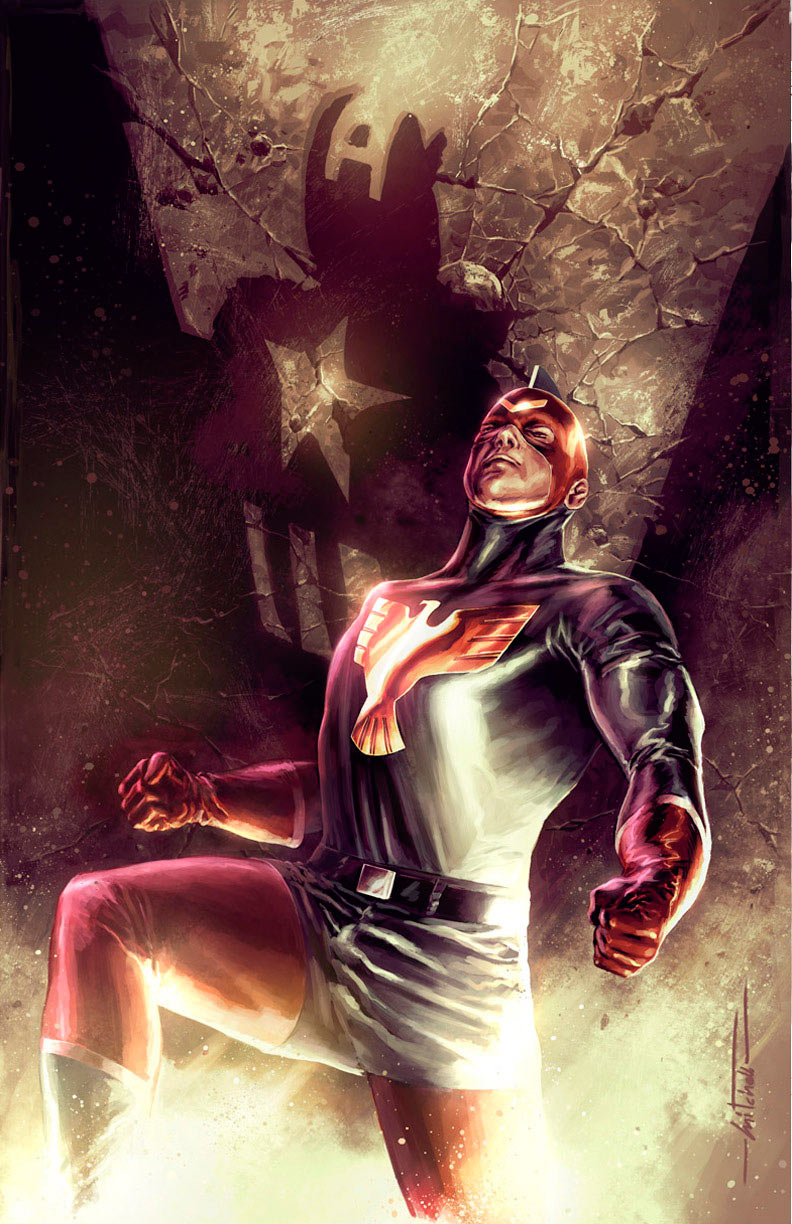 But for some wonderful reason, the Patriot still had some juice left in the tank.
In the modern day Jeffery's story was retold in a comic book series called Captain America: Patriot that took a closer look at McCarthy era America and superheroes who wear the red, white, and blue.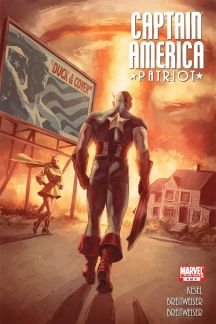 His legacy lives on with a kid named Eli Bradley (the son of Isaiah Bradley from the excellent Truth: Red, White, and Black) working with the Young Avengers.
Also, for the first time in this entire blog, I can say that we have a superhero who actually made it outside of comics and into the movies!
Jeffery Mace made it onto the Marvel tv show Agents of S.H.E.I.L.D and was played by Jason O'Mara.
I won't go into any further details for fear of spoiling the show, but I can say that he is one of the good guys and a friend to Coulson.
The Patriot is as big, bright, and as dumb as they come.  He wasn't meant to be all that interesting, he was written to punch Nazis and fight during the war.  What Marvel created was a patriotic mascot, what they got was one of the best and most sincere attempts to replicate Captain America, one of their greatest icons.