Happy President's Day everyone!
For our non American readers, President's Day is an American holiday held on the third Monday of every month.  It was originally made a legal holiday in order to honor George Washington and Abraham Lincoln,
but depending on what state you live in it can either celebrate one of them, both, or every President who has been elected into office.
Now, I'm going to go out on a limb here and say that the position of President of the United States of America is probably not the most popular position of leadership in the world right now,
but let me make my position on the matter perfectly clear.
While it is important to realize that the position of President of the United States is a difficult one, and that we should honor the people who sacrifice their time and health to the job, the truth of the matter is that at the end of the day the President is an elected official who can, and should, only do so much.
At the end of the day the problems that we face as a society can only be solved when ordinary people come together to fix them and take action.  Solutions are almost never the work of one great individual, but rather a collection of ordinary people.
Sadly, the slow and tedious work of millions is difficult to comprehend.  So in order to make sense of it all we do two things.  We celebrate the lives and achievements of a few men and women and we craft symbols and signs that we can rally around.
That is part of the reason why I like superheroes so much.  They're colorful, larger than life, and an easy way for people to relate to things and events that are much bigger than themselves.
In an increasingly complex and chaotic world, they are the walking solutions to many of our problems.
So let's take a look at a Golden Age superhero who wasn't just a superhero who represented the millions of men and women who fought in WW2, but a walking symbol of America as well: Uncle Sam.
Origin and Career
Uncle Sam became the personification of the American people and government during the War of 1812, although you probably recognize him more from his World War 1 recruitment poster.
According to legend, the character of Uncle Sam was based off of the real life Samuel Wilson, who was a meat packer from New York and a fervent American patriot.
Uncle Sam is up there with the bald eagle, baseball, and the flag as great American symbols and since he has such a violent history and is often associated with war it only makes sense that when America decided to get involved during World War 2, they co opt the ever loving crap out of him.
Naturally he found a home in comic books and in July of 1940, Quality Comics published National Comics #1 hit the stands with Uncle Sam leading the charge against the Axis.
I don't know what I like more, the fact that Uncle Sam's hat hasn't blown away in the wind, or that they have a LITTLE KID RUNNING ACROSS AN AIRPLANE WING ATTACKING A FULLY GROWN MAN ARMED WITH A PISTOL!
Boy, child safety laws were pretty lax back then.
Like every hero, Uncle Sam needed an origin story.  It turned out that the folks at National Comics were content to keep him as a vague symbol of American government and way of life, only this time he was going to get his hands dirty and join the fight against crime and injustice.  It turned out that Uncle Sam was the spirit of a fallen soldier from the American Revolution and continued to appear whenever his country needed him to fight.
With any other company or creator this probably would have turned into a silly little farce, but this version of Uncle Sam was written by Will Eisner.
If you don't know who Will Eisner is, all you need to understand is that the comic book industry's version of the Oscars is named after him.
Anyway, this version of Uncle Sam did his patriotic duty and fought off, what else, the forces of evil and tyranny that just so happened to look like the Nazis.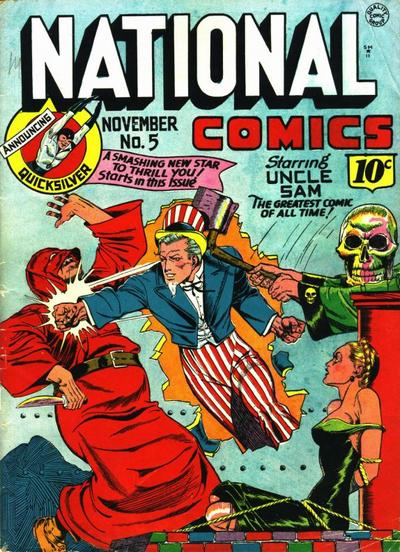 His superpowers were whatever the story needed and he had a kid sidekick named Buddy Smith who accompanied Uncle Sam on his many dangerous adventures.
So what happened?
He spent 45 issues beating the enemies of America, and freedom loving people everywhere, to a pulp.
Then Quality Comics went belly up in 1956 and was bought out by DC.
DC's Uncle Sam would go on to be a pretty big supporting character in the DC universe.  He became the leader of the Freedom Fighters, a group of old Quality Comics characters that were brought together in a Justice League type of arrangement.
His origin was retooled a bit.  Now he was a spiritual entity that was summoned by the Founding Fathers in an occult ritual that bound the "Spirit of America" to the body of a dying patriot.
He's had a steady presence in the DC universe ever since the 1970's.
In 1997 DC's greatest imprint, Vertigo Comics, gave Uncle Sam a two issue mini series written by Steve Darnell and drawn by Alex Ross.
My hat is off to Vertigo for taking a pretty goofy character and treating him with respect and giving him a meaningful story.
He appeared in the DC event comic Blackest Night.
and was dramatically revamped as a mortal black man in the New 52 reboot.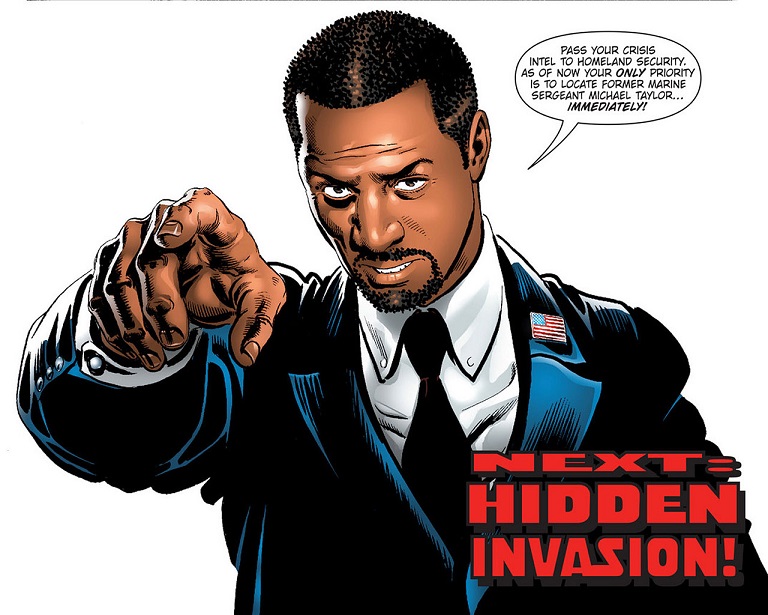 Uncle Sam is an interesting character.  On one hand he's goofy, colorful, and the kind of un ironic display of patriotism that would make a lot of people cringe.  On the other hand he's a symbol of a violent and destructive superpower that has a nasty habit of sticking its nose in business that it has no right to be in.
Personally, I'm more inclined towards the first interpretation.  Whether you love him or hate him, there is no denying that the man is pure Americana and I can't think of a better symbol of the effort and determination of the American people.
Sure, you can call me corny and cheesy but you know what?  I'm okay with that.