I'll be honest folks.  Today's hero showcase barely qualifies as a Golden Age superhero.  In fact, if you look at his only comic book appearance he barely qualifies as a superhero in general.
But this is a blog dedicated to the obscure and silly aspects of the early days of the comic book industry and they don't get much more obscure than this character's single appearance in a superhero anthology title surrounded by much more popular and successful heroes.
With that being said, while today's hero didn't make much of a splash in the 1940's, he was reworked in the modern era to become one of the most important characters in the thriving Marvel Universe.
Today we're talking about the superbly named John Steele.
ORIGIN AND CAREER
John Steele made his first and only Golden Age appearance in Daring Mystery Comics #1 in January of 1940.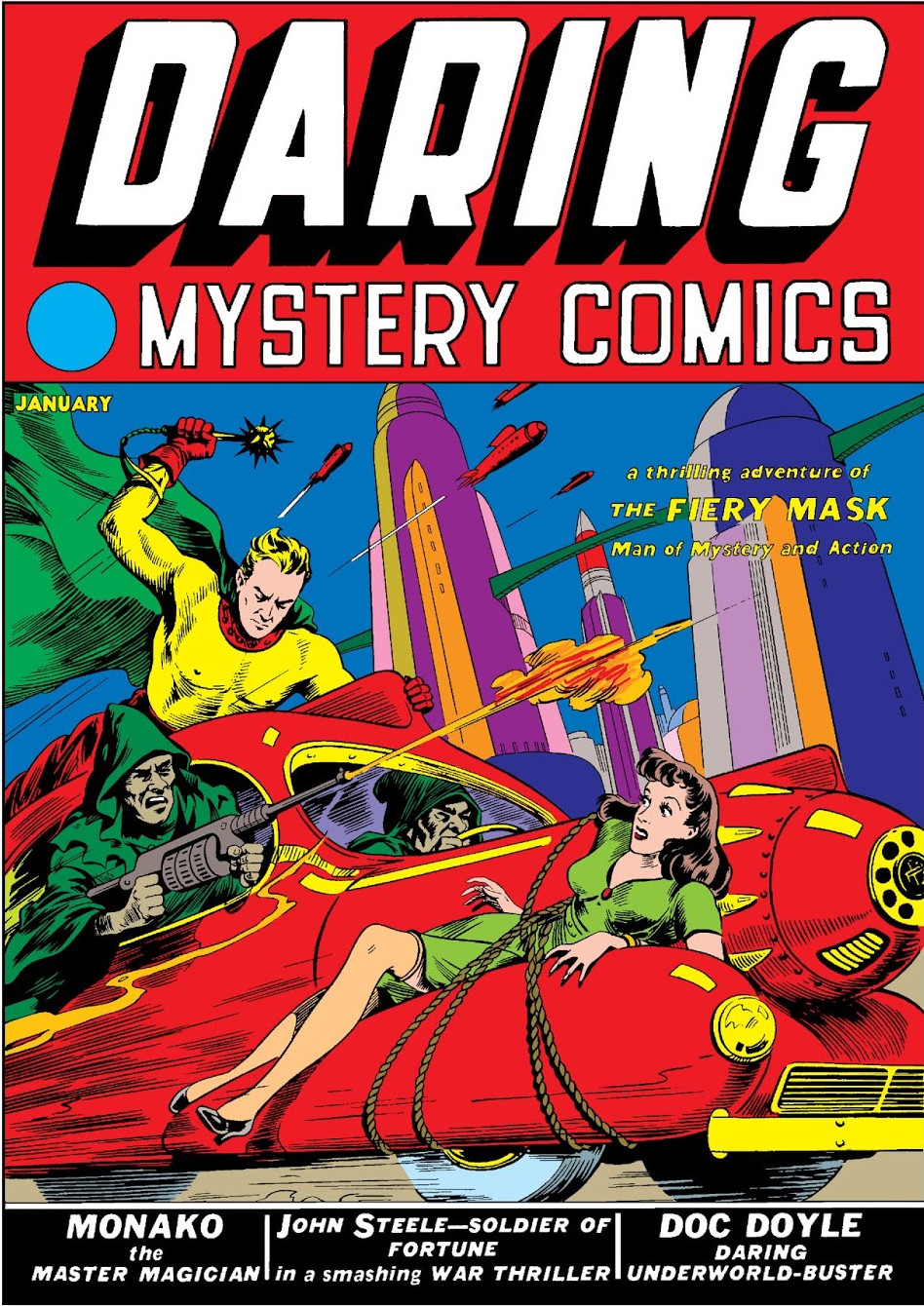 He was created by legendary artist Dan Barry,
Who was one of the premier artists of his time and one of the main creators and practitioners of an art style known as "New York slick".
I could try to list all of the stories and characters that used this particular style of art, but all you need to know is that this was the dominant art styles of the time and would only be replaced by the legendary Jack Kirby's career at the new Marvel Comics.
Barry created John Steele as a soldier fighting in World War 1, which just goes to show you that even though the United States wasn't officially at war with Germany yet there were plenty of people who were happy enough to dig up the violence of the past to get a head start on the violence of the future.
The story was pretty straightforward.  Steele gets trapped behind enemy lines, discovers an Allied spy who needs to get back to headquarters, and the two make their way back home.
Pretty straightforward, pretty direct, kind of boring.
So what happened?
John Steele would have faded into the deepest, darkest pit of obscurity if it wasn't for comic book creator Ed Brubaker turning him into one of the most important characters in the entire Marvel Universe.
In Mr. Brubaker's limited series The Marvels Project it was revealed that John Steele was actually a superhuman with increased strength, durability, and longevity.
Apparantly, this small time obscure character from a single story in the 1940's, was America's first super soldier.
While that's pretty cool it gets even better.  Brubaker's story explains that, during the First World War, Steele was actually captured by the Germans and placed in suspended animation for years.
The Germans discoverd his mysterious powers and were determined to duplicate them for their own uses.
One of these scientists was Abraham Erskine, the man who developed the serum that gave Captain America his powers.
It's a pretty bold claim to make, and Brubaker would go on to give Steele one hell of a story to go with it.
In 1940, the laboratory holding Steele was destroyed in a bombing and Steele was brought out of suspended animation.
Being a red blooded American with a penchant for war and a hatred of all things German he did what all comic book superheroes do best: kill Nazis.
He teamed up with Nick Fury and several other World War 2 superhero teams to fight the Red Skull, but refused to come home with his countrymen due to his anger at the atrocities committed by the Red Skull and his understandable desire to not be experimented on.
He continued to act behind enemy lines and actually uncovered an Axis plot that would have prevented the Japanese attack on Pearl Harbor, but sadly his fellow superheroes could only lessen the damage.  He disappeared after the invasion of Normandy three years later.
He would make his final appearance in the Secret Avengers comic books, this time as a member of a mysterious organization known as the Shadow Council,
Where it was revealed that he had actually been alive for an unkown amount of time and had fought in the American Civil War.
Being a super soldier working for an evil organization John inevitably came into contact with Captain America.  
The two developed something of a fierce rivalry until Captain America captured him and managed to convince him to switch sides and spy on the Shadow Council on the inside.
Unfortunately, the Shadow Council learned about Steele's new alliance and had him tortured and killed.  His last act was to warn the Avengers about the Council's plans and he wound up dying as a hero.
Hey everyone!  If you enjoyed this article you might enjoy some of the other stuff we do.  Besides weekly articles like this we publish a bi weekly web comic about a family of super villains known as "The Secret Lives of Villains".  We even have a book out and you can support us by picking up a copy here.