You know what they say…comedy comes in threes.
And I like to think that today's superhero group took that lesson to heart, even though I'm willing to bet any comedy was unintentional.
Today we're talking about the rather humorously named Target and the Targeteers.
Origin and Career
This trio of superheroes was published by a company called Novelty Press, which was created in 1940 by Curtis Publishing.  If that name isn't familiar all you need to know is that they publish the Saturday Evening Post.  If that name isn't familiar then you probably recognize this cover.
Novelty Press was created as a comic book imprint in order to take advantage of the comic book craze.  They were able to draw a lot of great Golden Age talent such as Joe Simon, Jack Kirby, and Basil Wolverton and their two most famous publications were the superhero series Blue Bolt,
and the anthology series Target Comics.
Despite sharing the name of the title, the superhero we're talking about today didn't appear until issue #10 in November of 1940.
Yes that is him on the cover and I have to admit I don't know what's funnier: the testicular fortitude of a man who is willing to get shot by painting a giant target on his chest or how stupid the gangsters are for not aiming at the knees or face.
The hero was created by artist Dick Briefer under the pseudonym of Dick Hamilton. 
Briefer's most famous work was with the Frankenstein character and is widely considered to be the first modern comic book artist to work with horror stories.
 Back to Dick's most famous superhero, Target's first adventure had him sending an ominous message to criminals everywhere: "Live your life on the straight and narrow or I'll find you".  He does this by buying up advertising space on nationwide newspapers, radio space, and even hijacking the phone service.
You know how in modern movies the bad guy can mysteriously deliver a message to every computer, television, and phone around the world?  It's nice to know that this particular cliche isn't so modern.
The Target's ominous message doesn't deter a group of gangsters from kidnapping a scientist who is developing a new explosive that other countries want.
The gangsters reach the professor's house, only to find that the Target is already there.
On the face of it, it would appear that the hero has a very poorly designed costume for dealing with guns, but the comic explains that while the suit protects his chest and arms (thus leaving the face and legs unprotected) the target is there to draw enemy fire to the places where the bullets can't harm him.
I would commend the comic for attempting to use "Batman psychology" to explain why the hero made the decisions he made but no, in real life that man is dead.
The adventure ends in typical fashion.  The bad guys are stopped, the hero saves the day, and the reader is left wondering what's next.
The next issue not only delves into the Target's backstory, it also reveals that he has two friends who share a similar death wish by dressing in similar costumes.
The Target's civilian identity is Niles Reed.  He was an athletic prodigy who decided to become a metallurgist had a brother named Bill, who decided to become a lawyer.
Unfortunately, Bill was framed for murder and arrested.  In his rage, Niles decided to rescue his brother while disguised as a masked vigilante.
While it's a bit unclear it would appear that the cops accidentally shot Bill as he was trying to escape with his brother.  So in an interesting twist, Niles was responsible for his brother's death.
Later that evening Niles happens to stumble across two orphaned boys who were in a lot trouble with some gangsters for not paying protection money.  The three become friends and decide to dress up like superheroes using the same bulletproof costumes of Niles' design.
The origin story ended with the reveal that Bill had been framed by a crime boss named Hammerfist, who would become something of a recurring villain for the trio.
I'll admit, there are some interesting points to this story.  The fact that the hero is actually responsible for his brother's death coupled with him taking in two orphans who share similar tragic stories draw a lot of similarities to more popular heroes like Spider Man and Batman.
The rest of the trio's adventures were all one shots with a very patriotic bent them.  The three did their duty and fought against America's enemies, both at home and abroad.
The post war years saw a return to form for the trio where they went back to waging war against criminals in the United States.
So what happened?
The trio of crime fighters had a pretty long shelf life for the Golden Age heroes.  They lasted until issue #95 of Target Comics where their last adventure had them foiling criminals who were sabotaging advertising signs in order to extort an advertising firm.
Yeah, maybe it was a good thing that they got cancelled.
The trio would disappear for a while until the Target made an appearance in AC Comics' Men of Mystery series in 1999.
The trio itself made a comeback in Dynamite Entertainment's Project Superpowers series in 2008.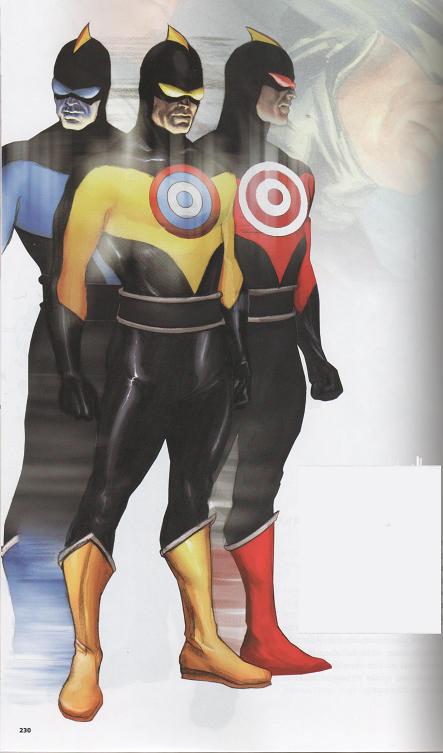 Their backstories remained the same, only this time they all had super speed on top of their indestructible suits.
The Target and the Targeteers embodied everything that worked and didn't work about the Golden Age of Comics.  On one hand they were goofy, wore silly costumes, and relied on some pretty bad science in order to survive and function.  On the other hand, they had one of the better origin stories I've read, they had a long run, and a lot of the things that made it into their stories such as the use of psychology to fight criminals would be use to great effect in other, more popular comic hero stories.
All in all, they weren't that bad.