Let's talk about Batman.
We all know Batman, we all love Batman.  Why?  Because he's Batman!
The reason I bring this up is because like his blue Boy Scout friend, the Golden Age Batman was incredibly popular.  And as we all know, with popularity comes a host of imitators, knock offs, and copies just different enough to avoid copyright lawsuits.
Today we're going to look at one of the more successful Batman imitators and a hero with one of the most bizarre legacies in comic books: The Owl.
Origin and Career
The Owl was one of the few original characters created by a company called Dell Comics.
The character was created by comic book artist Frank Tomas and made his first appearance in Crackajack Funnies in July of 1940.
No, I don't know why they spelled "Crackerjack" wrong.
The hero's secret identity is Nick Terry, world famous private detective.  In his first adventure he learns about a notorious criminal who has escaped from prison.
You'll notice that he's rich enough to hire a butler, keeps strange hours at night, and has a fiancee named Bella Wayne.
As if we needed any more proof that he was a ripoff of Batman.
With that being said, I will admit that the Owl has one thing on the Caped Crusader.  His costume is much more terrifying.
In fact, the costume is so terrifying that the adventure ends with the criminal dying from a heart attack out of fear.
The Owl got a costume redesign the next issue and continued his campaign of fear and intimidation across the city.
It's worth mentioning that Belle Wayne was no meager damsel in distress either.  She was a fairly competent reporter and actually learned her fiancee's identity early in the series.
Oh, by the way, the Owl was rich enough to afford his own plane as well.
It's worth mentioning that Belle actually managed to save the Owl as well.  After being kidnapped and imprisoned by a villain called Pantherman (hey, there are worse names), Belle pops out of nowhere wearing…
When the Owl asks about the costume her response is pure gold.
The two would continue their adventures for a couple more issues.  While they were popular, the rest of their adventures during the 1940's were nothing really special.
So what happened?
The Owl and Owl Girl had a pretty good run but Dell Comics stopped publishing new stories for them in 1943.
Despite the character's popularity, Dell wasn't the best place for a hero like this.  You see, Dell didn't spend a lot of time with original characters, they were making too much money off of licensed comic books like Mickey Mouse.
In fact, they were doing so well that Dell was able to survive the comic book scares of the 1950's relatively intact and without having to bend to the will of the Comics Code Authority.
Sadly, internal struggles and split business partnerships meant that Dell folded in 1962 but their successor company, a publisher called Gold Key Comics, continued and even revived the Owl.
As if the similarities between the Owl and Batman weren't obvious enough, the entire reason why the Owl was revived was to cash in on the success of a certain tv show.
Like the Adam West classic, the new Owl comic was campy, silly, and didn't last very long.
Since then he has made three appearances in the modern day.  The first in AC Comics' Men of Mystery in 1999,
Dynamite's Project Superpowers in 2008,
and Dynamite actually gave him his own limited series in 2013.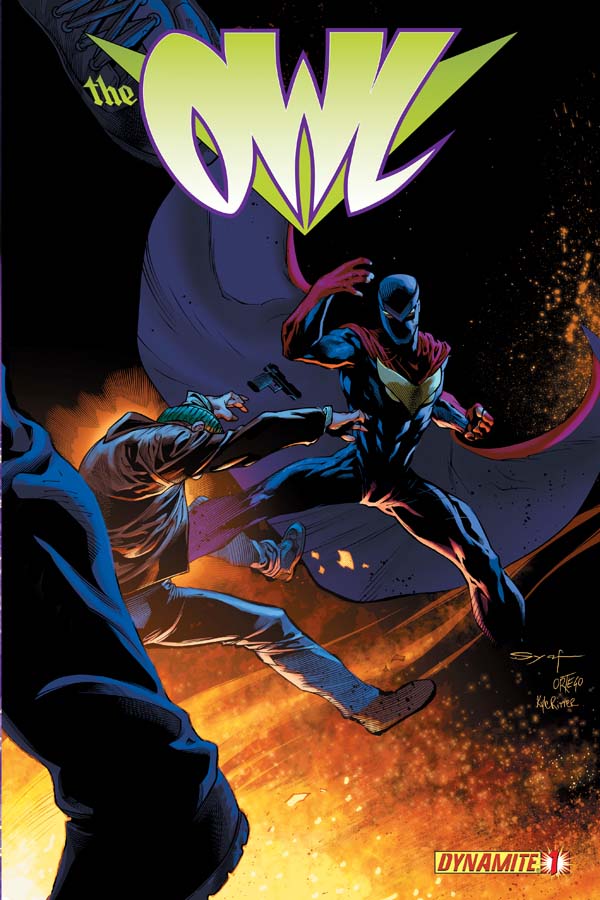 So the Owl's legacy is a successful one.  As a Golden Age hero he's lasted a lot longer than many of his contemporaries and was just different enough from the crowd to stand apart from the source material he was ripping off.  But, I think it's safe to say that his greatest legacy are all the other heroes who have adopted the owl as their symbol.
Granted, I'm sure comic book greats like Alan Moore weren't thinking of this particular hero when they created heroes like Nite Owl,
or several villains who go by that name,
but the Owl was the first hero to use that name and that deserves credit and respect.