WARNING!  THIS ARTICLE CONTAINS FOUL LANGUAGE USED FOR COMEDIC EFFECT!  YOU HAVE BEEN WARNED!
Today is the third day in our coverage of the new Wonder Woman movie, which comes out this Friday!
I am so goddamned pumped for this movie!
Now, while it would probably make sense for us to talk about Wonder Woman this week we're not going to.  Don't worry, an in depth discussion of Wonder Woman is coming next week but for now I want to talk about a member of our heroine's supporting cast.  She's a redheaded (sometimes blonde) powerhouse who takes no lip from anyone and if this was any other comic book movie she would probably be the focus instead of the heroine.
Today we're talking about Etta Candy.
Origin and Career
So remember when I said there would be foul language in this article?  It's mostly here.
The character was conceived by Wonder Woman's original creator, William Moulton Marston.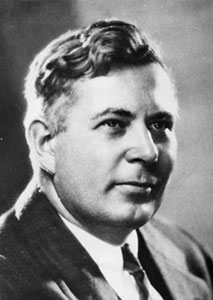 She made her first appearance in Sensation Comics #2,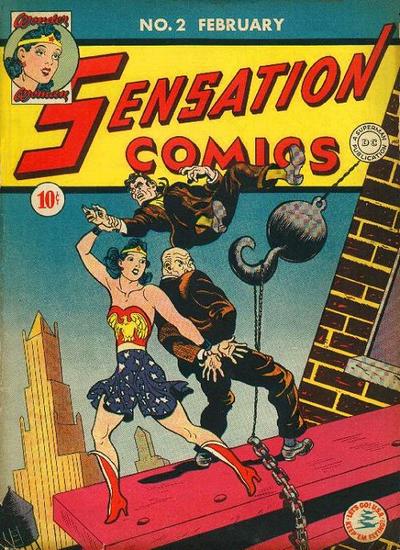 the issue that also gave us Dr. Poison who we talked about last week.
Her backstory is pretty simple.  She was  skinny, scrawny girl who Wonder Woman met in a hospital, waiting to get her appendix removed.  When she was cured she put on a few pounds.
How do I describe Etta as a character?  Simple.
Etta Candy gives no fucks.
Etta Candy takes no shit.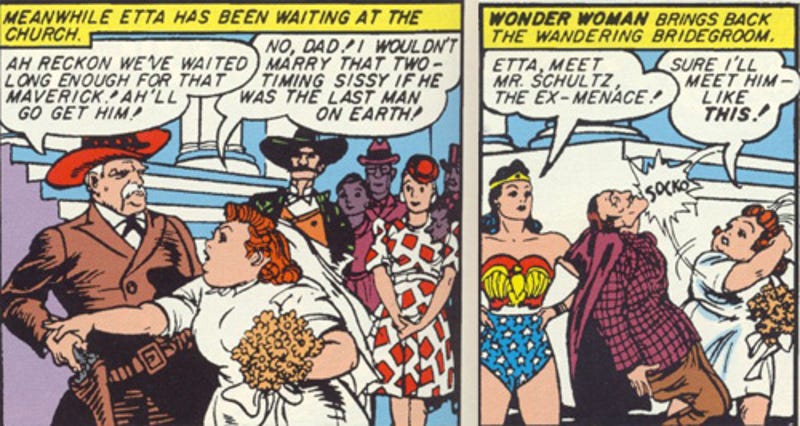 Etta Candy once helped defeat an ENTIRE NAZI CONCENTRATION CAMP with nothing but a box of chocolates because she heard there were starving children being held there.
Etta Candy is amazing.
Some of the more eagle eyed readers might observe that Etta Candy is a rather large women, some might even say she isn't all that attractive.
Etta hears your comments and doesn't give two shits about what you think.  She's large and damn proud of it.
You will also notice that Etta has something of an…unhealthy obsession with sweets.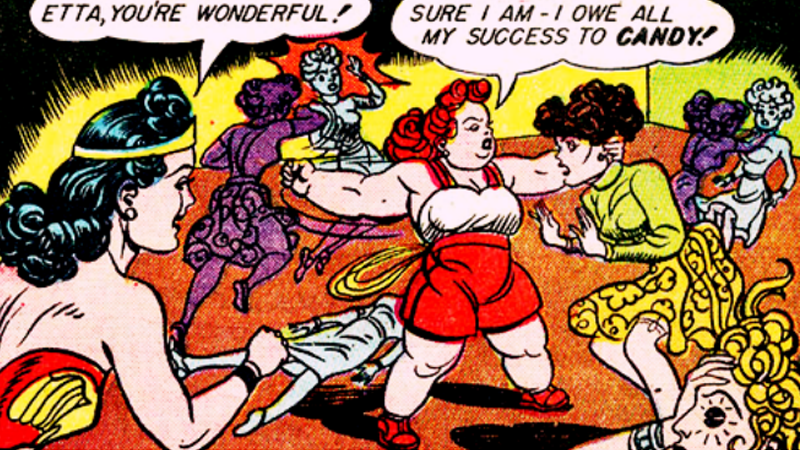 I love how in this universe filled with super humans, monsters, and legitimate gods that walk the Earth, Etta takes it all in stride and treats it just like nothing is out of the ordinary.
She needs no gods or men,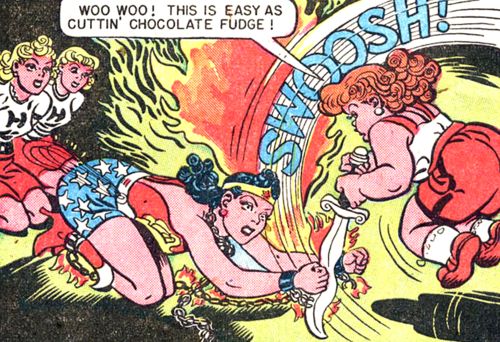 chocolate is the only god she needs.
Despite her awesomeness, even Etta realized that she can't take on the entire Nazi war machine alone, so she brought along some help in the form of her sisters from the fictional Beta Lambda sorority of Holliday College.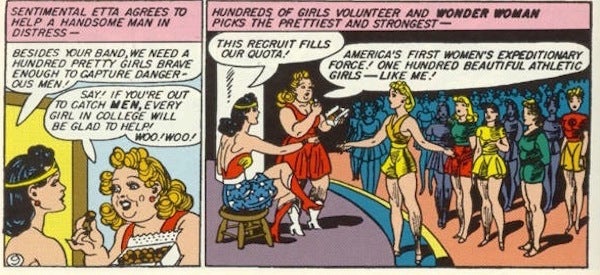 Naturally, Etta was their leader.
The girls proved to be incredibly helpful to Wonder Woman's mission and kicked all sorts of ass.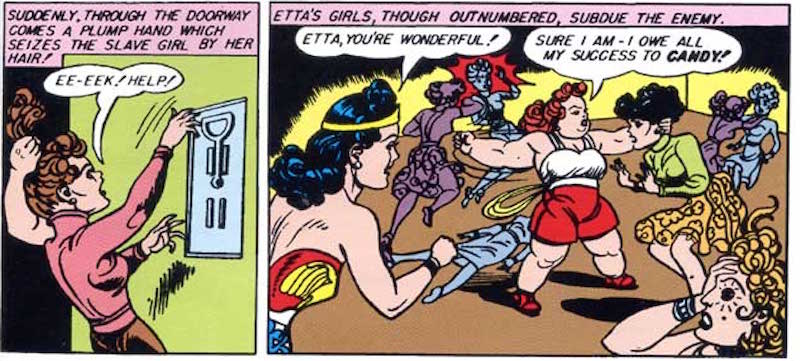 They would have given Nick Fury and the Howling Commandos a run for their money.  Why the Allied war effort even bothered to send regular troops to Europe is completely beyond me.
We even got to learn a bit more about Etta's life after the war.  It turned out she had a family who lived on a Texas Ranch.  She even had a boyfriend.  His name was Oscar Sweetgulper.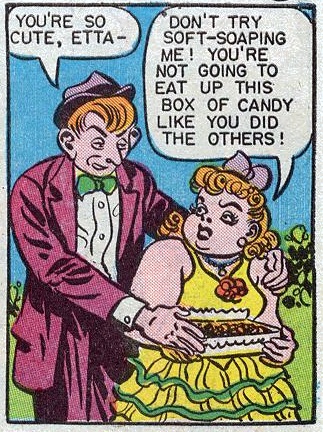 Are you picturing these two getting it on?  Because that is what I've been imagining for the past week.
Naturally, Wonder Woman brought Etta back to her home, where she was adored by her sister Amazons.  Also, she had no trouble going up against the more mythological creatures and villains of the comic series.
In short (pun not intended) Etta was one of the greatest sidekicks in the early days of comics and remains one of Marston's most fantastic creations.
So what happened?
You see this man?  The one smoking the pipe?
That's Robert Kanigher, a comic book writer who took over writing the Wonder Woman comic from Marston when he died in 1947.
Now, Kanigher is pretty well known and did some cool stuff over his career.  He wrote some of the early Blue Beetle adventures and he wrote what is widely considered to be the first Silver Age comic, which saw the introduction of Barry Allen as the Flash.
However, when Kanigher took over Wonder Woman not only did he barley use Etta, he changed the character to the point where she was no longer the leader of her sorority and she was insecure about her weight.
To make things even worse, she was relegated to the position of idiot secretary in the Wonder Woman tv show, where she was played by actress Beatrice Cohen.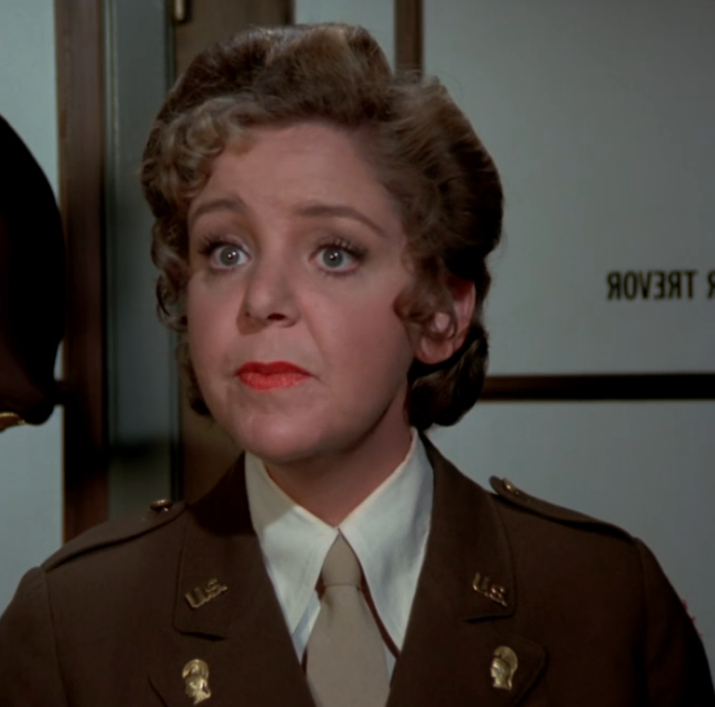 BOOOOOOOO!!!
POOR FORM!
WHAT THE SHIT DC?!
She became so obscure that I can't find a picture of her from the 1950's all the way to the 1980's.
Thankfully, the writers and creators at DC realized what they had done and managed to bring Wonder Woman's best friend back from the grave…sort of.
In 1987 artist writer/artist duo Greg Potter and George Perez revamped Wonder Woman for the modern age and brought Etta back.
She was no longer a large woman, but she was a capable Air Force officer and an aid to Steve Trevor, Wonder Woman's former love interest.
I say former, because Etta and Steve wound up getting married.
She still had reservations about her weight and even developed an eating disorder.
During the New 52 revamp, DC brought Etta back again.  This time she was a black lady who was Steve's secretary and close personal friend.
She would also make a comeback in DC's Rebirth series, where she's still Steve's secretary.
That's how she's appeared in the main continuity of DC comics.  Some of it was good, most of it made it seem like DC was embarrassed of the character which is just…a crying shame.
Thankfully there were plenty of spin offs and interpretations of Wonder Woman that brought Etta back into her original role.
For example, here she is in the non continuity of DC's Earth One timeline.
and more recently the comic series The Legend of Wonder Woman brought her back to her original Golden Age appearance.
She will be portrayed by British actress Lucy Davis in the Wonder Woman film,
and if the trailer is any indication, I think she'll be amazing at it and do the character justice.
Etta is an amazing character and a good friend to Wonder Woman.  In an industry that gets a lot of flak for not being very friendly to women, especially large women, Etta takes those critiques and smashes them over the head.  All with grace, poise, and a box of chocolates in hand.