So before we begin talking about the ridiculous old school hero of the week I feel obligated to bring up the passing of the great Adam West.
The man was a fantastic actor, a great human being, and for the longest time he WAS Batman.
The reason I created this blog was to showcase some of the crazier and goofier aspects of the early comic book industry.  Granted, many of these heroes were blatant cash grabs and lazy copies of other popular heroes but there was a crazy energy to those early comic books that was so captivating that it demands your attention and respect.
I bring this up because the 1960's Batman show was one of the first attempts to bring that crazy energy to mainstream audiences and holy crap did it succeed.
Sure the show was campy, sure the show was goofy, sure the show is the antithesis of everything that modern comic book audiences think Batman should be, but underneath the camp and celebrity appearances was a show that had razor sharp wit and writing, awesomely cheesy effects and fight scenes, and acting so gloriously hammy that you could put it between two slices of bread and make a sandwich.
Hell, the show won a freaking Emmy and is the reason why the Riddler is my favorite Batman villain!
If you want to check it out for yourself the show is available on Blu Ray, the Batman movie is on Netflix, and you can read the modern take on the show in the DC comics series Batman '66
Okay, so that's enough mainstream acceptability for one week.  Let's dive right back into another crazy Golden Age hero.
Hydroman seems nice.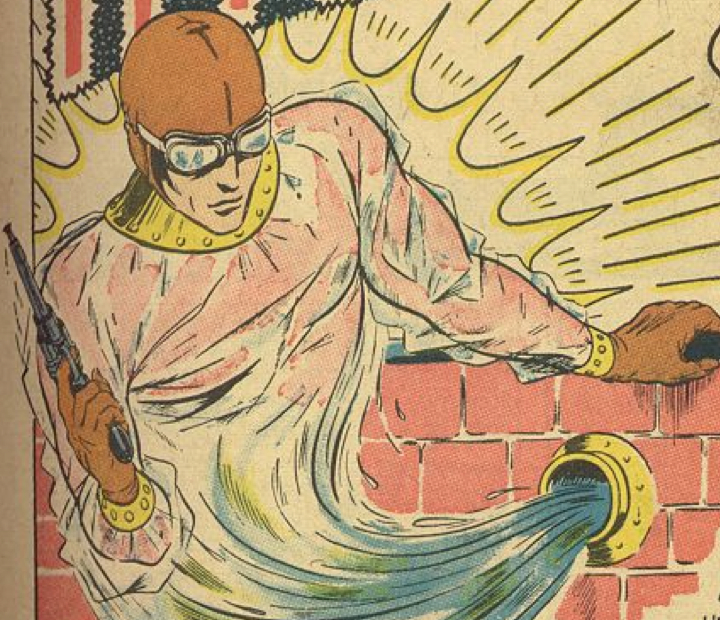 Origin and Career
Hyrdo Man was one of the first characters created by Eastern Color Printing in 1940.
What's interesting is that Eastern Color Printing was a well established publisher by the 1940's.  In fact, they were the first company to produce what we would call a comic book in 1933,
In an attempt to cash in on the Superman craze of the late 1930's and early 1940's Eastern created the title Reg'lar Fellers Heroic Comics.  This was cover of the first issue published in August of 1940.
Yes, that is actually how it was spelled and yes, Hydro Man was their main hero deemed worthy to be placed on the cover of the title.
The hero was created by comic book creator Bill Everett,
who co created Marvel's Daredevil,
and Timely Comics' Namor the Sub Mariner.
The origin story for Hydro Man combines elements from Everett's two most famous heroes: water and chemical spills.
The story begins when an unassuming scientist named Harry Thurston accidentally spills a harmless mixture of water, alcohol, and "a little sulfuric acid" onto his hand.
Why did he do this?  Because he wanted to see what happened.
At this point I have to ask.  Where would superheroes be without a near casual disregard for lab safety and basic human caution?  Nowhere, that's where.
Surprisingly (or unsurprisingly since this is a comic) the explosion doesn't kill Harry.  Instead it turns his hand into a waterfall.
So what does he do?  Does he call the hospital?  The police?  The Nobel Committee?
Nope!  He calls his best friend Bob Blake.
In another stunning display of stupidity, another man named Tom trips, and spills the same chemical all over Bob.
Thankfully Tom has a gallon of a counteractive chemical (somehow) and manages to return Bob to human form.
Naturally the men decide to abandon all safety and common sense and decide to inject the chemical directly into Bob's veins.  Then they decide to dress Bob up in a costume, give him weapons, and go and fight off a group known as "The Oriental Invaders".
Oh right, did you know about the Oriental Invaders?  They mentioned it in a couple of panels.
Bob's girlfriend has a point, he is a nut.
It turns out  that the Oriental Invaders are a real threat to our country and way of life.  Complete with ridiculous costumes and almost all of the offensive stereotypes that 1940's America can muster towards Asians.
Thankfully, Hydro Man is there to over compensate like a true American hero and responds by drowning one of them.
In the next issue he gets a see through suit made out of a fictional bulletproof material similar to cellophane in order to go after this mysterious enemy organization.
It should be noted that while Pearl Harbor was still over a year away from pushing America into the war, it was still a time where comic book publishers could get away with calling Asians "a Mongrel Race".
He was able to find out more information by spying on the guys in charge by dissolving himself into a glass of water.
All silliness and casual racism aside, that's actually pretty clever.
The rest of his adventures were pretty similar.  He fought against so called "Fifth Column" enemies, secret agents who were working for the Nazis and Japanese in the United States in an attempt to sabotage and otherwise subvert the war effort.
He would later get a kid sidekick in 1942 named "Rainbow Boy",
Sweet Jesus that costume is terrible.
Rainbow Boy could transform himself into a rainbow, create brilliant flashes that disoriented enemies, and could travel at the speed of light.
Seriously, that costume is just the worst.
So what happened?
Hydro Man and Rainbow Boy were actually one of the most successful comic book superheroes of the 1940's.  If he had continued we probably would have gotten to see a gritty reboot (although we did get a Spider Man villain named Hydro Man in the 1980's)
Unfortunately, our hero fell victim to forces outside his control when his publisher got butchered in the 1950's with the rise of the Comics Code.
Eastern Color Publishing would hobble on until the 1970's until they stopped creating original work and existed by printing books from other companies.  They finally closed their doors in 2002 when they couldn't keep up with advances in modern printing technology.
The Golden Age Hydro Man would go on to have a single modern day appearance in Dynamite's Project Superpowers series in 2008.
That's him on the far top left of the drawing.  His name was shortened to "Hydro" in order to avoid a copyright lawsuit with Marvel.
Hydro Man was a popular hero of the 1940's and it's easy to see why.  Despite the ridiculous appearance he had a pretty cool power set and a halfway decent artistic team that did their damnedest to keep his stories and powers interesting.
He's actually available in the public domain, so if anyone wanted to use him in a story, there would be nothing stopping you.