Happy post Father's Day everyone!
For the non American readers of this blog, Father's day is a holiday where we celebrate our fathers, and if marketing campaigns are to be believed it's usually with MANLY gifts like ties and power tools.
Last year I did an article comparing and contrasting two of comics' greatest deceased father figures: Superman's dad Jor-El and Spiderman's Uncle Ben.
This time I thought it would be time to break out the big guns and celebrate the career and achievements of the greatest living father figure in comic book history: Batman's butler, Alfred.
Side note: if you disagree with the above statement please write a well crafted and polite rebuttal in the comments.
Origin and Career
Alfred Thaddeus Crane Pennyworth made his first appearance in Batman #16 in April of 1943.
On the cover of the comic it says he was created by artist Bob Kane.
Although it is much more likely that actual creator was writer, and the man who got royally screwed out of getting the credit that he justly deserves, Bill Finger.
Artist Jerry Robinson was also heavily involved, since he was busy doing the actual drawing of the issues at this point in Batman's career.
Alfred made his first appearance on the cover of the issue, and he looked like this:
The original Alfred was a bit of an idiot.  At this point in the story Batman and Robin had been doing their thing fighting crime in Gotham when Alfred showed up fresh off the boat and claiming that he was fulfilling the wish of his dying father Jarvis in serving the Wayne family as their butler.
Naturally, Batman and Robin were not very keen on having a near total stranger snooping around the house with their secret identities at stake.
Despite his background as an intelligence officer Alfred was…kind of an idiot.
I only say "kind of" because he was actually a very good butler.  He did his job, he was loyal to Bruce and Dick, and when it came time to defend the Manor he wound up discovering who he was really working for by pure accident.
My favorite part of this scene is the dialogue that the two men exchange during the fight.
Of course Alfred reveals what he knows to Batman and Robin and the two gain a new ally in their fight against criminals.
You may notice that the original Alfred doesn't look a thing like the way we normally picture Alfred.
For that we can actually thank the silver screen.
See, the idea that comic books could be adapted to the silver screen is nothing new.  In fact, Hollywood was quick to jump on the wave of superhero popularity and started churning out short little movie serials staring the two most popular heroes at the time: Superman and Batman.
In 1943 Columbia Pictures began releasing short Batman serial movies with creative titles such as "Batman and the Electrical Brain",
The effects and costumes were…not the best.
but one of its lasting impacts was hiring actor English character actor William Austin to play the Batman's butler.
The serials were so popular that the comics adapted and changed Alfred's appearance to reflect the show.
So what happened?
Jesus, to describe everything that Alfred has done since his original appearance would take an entire book.
Wherever Batman has gone, Alfred has followed.  He's an integral part of the Batman mythos, and I would personally argue that he the most important supporting figure in any Batman story.  And yes, that includes figures like Robin and Batgirl.
He has fulfilled the role of a caretaker, a guiding moral compass to a whole host of emotionally crippled children and warriors, and most importantly an eternally patient father figure.
So, in an effort to keep this short, I'm going to break his long and storied career down into some of the more prominent highlights.
In 1964 Alfred was killed in Detective Comics #328 after heroically saving the Dynamic Duo from a falling boulder.
He would be reborn as a mysterious villain known as "The Outsider" and fought the heroes off panel, usually using other villains as pawns and working behind the scenes.
His identity and appearance would be revealed two years later in Detective Comics #356.
It…wasn't the best look for him and I can see why they kept him out of the way.
In terms of backstory, Alfred's has remained pretty consistent.  The comics have always given him some sort of military and/or intelligence background and in the 1960's he worked as an intelligence agent during World War 2.  We know this because he had a daughter named Julia with a French co worker.
In 1985 DC reorganized its comic books with the even "Crisis on Infinite Earths" and reworked the backstories of many of their most famous characters.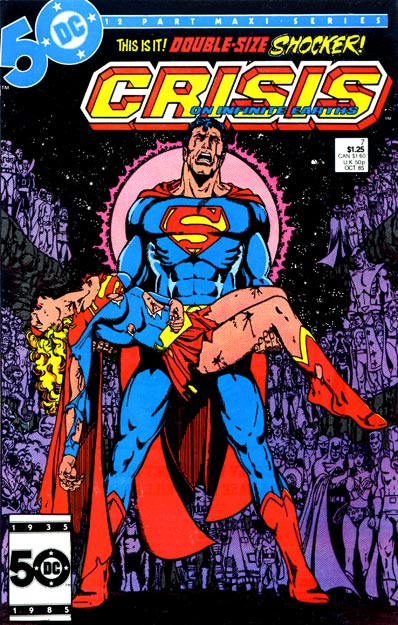 Alfred got a few minor tweaks but didn't change that much.  He was an actor as well as an intelligence agent and instead of introducing himself to a much older Bruce, he became Bruce's butler and confidant at a young age.
The new Alfred had some pretty awesome moments as well and a lot of writers love giving him some really badass lines and small fight scenes.
Seriously, the man's gone toe to toe with Superman both in quips,
and with fisticuffs.
So he's amazing in the comics but I would have to say that his film and television appearances deserve a special mention as well.
Alfred has appeared in every single movie, television, and cartoon adaptation of Batman since the beginning and has provided a steady stream of employment to classy senior British actors.
All of them have been fantastic, but special mentions go to the Alfred from Batman: The Animated Series,
where he was voiced by actor Clive Revill (who was actually the original voice of the Emperor from Star Wars)
and the gloriously named Efrem Zimbalist Jr.
Personally my favorite Alfred at the moment has to be the one from The Lego Batman Movie where he was voiced by Voldemort himself, Ray Finnes,
but if you ask me the best Alfred of them all would have to be the late great Michael Gough from Tim Burton's Batman, Batman Returns, Batman Forever, and the infamous Batman and Robin.
I would actually go as far as to say that Michael Gough was so good that he actually made Batman and Robin halfway watchable.
That's right, I'm defending Batman and Robin, fight me.
Alfred is one of the greatest comic book characters ever created.  He is wise and talented beyond even his considerable years and has been at Bruce's side through thick and thin.  Not only has he been a faithful and dutiful butler but he has been a kind, patient, and loving father to a boy who needed it most in order to become one of the greatest superheroes of all time.