Sigh, so we can all agree that these last couple of months have been pretty crappy right?
I'm not going to go into any great detail on this matter, you can watch the news for that, but I will say that if the heroes that I write about in this blog were alive and around today…I'd think they would be very disappointed.
I thought this would be a good place to put the picture of Captain America punching Hitler, but I thought this one would be more apropos.
Thank you Superman.
The sad truth is that the reality of the situation is, and always has been, complicated.  While these comic books were created to provide a morale boost to the men and women fighting against fascism,
fascism had a very real presence in America since it became a thing.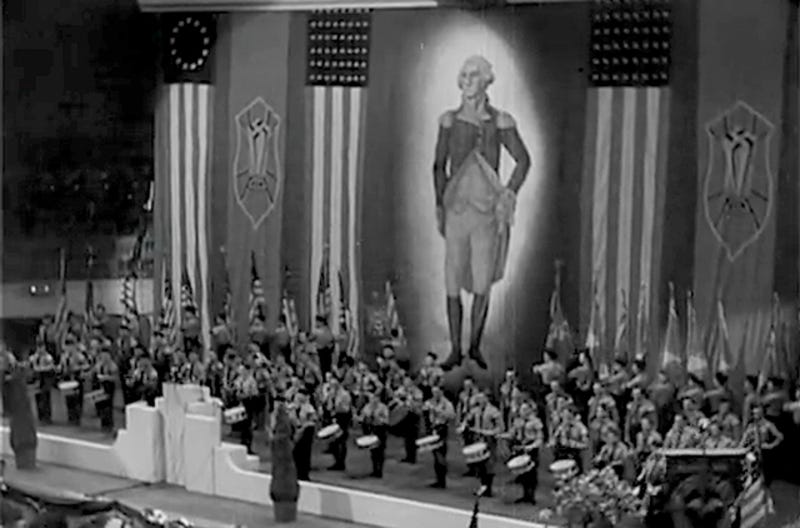 Yes, those are swastikas next to the American flag and a picture of George Washington.  This is a picture from 1938 at a Nazi rally in New York.  This was a thing right up to the point where we started fighting the Nazis.
One of the things that we've been seeing in a lot of these Golden Age comics are superheroes who don't go off to Europe to fight the Nazis, they find plenty of them here.  While there was a war to fight across the ocean a comic book hero could always find a spy ring, saboteurs, or enemy agents hiding around with plans to disable the war effort.
Maybe the heroes saw that there were other threats that were much closer to home, or maybe they just wanted to save money on air travel.
Either way, let's dive into some escapism and talk about a hero who held down the home front against the scourge of Nazi spies: the eloquently named Spy Smasher.
Origin and Career
Spy Smasher was first published by Fawcett Comics and was created by Bill Parker and C.C Beck, the two men who originally created Captain Marvel.
The hero made his first appearance in Whiz Comics #2 in February of 1940, an issue that was actually the first issue of the Whiz Comics title and has one of the most iconic covers in comic book history.
The story starts off with a literal bang, someone is sabotaging American military vessels.
Wait, $20 million dollars for an aircraft carrier?  What a bargain!
Naturally this worries a lot of very powerful men in Washington, and one man decides to share potentially dangerous information with his daughter and fiancee.
Nazi spies in America?  Preposterous!
Meanwhile, the spies themselves have been busy and decide to steal plans for a mine laying ship, only to be foiled by the timely arrival of the Spy Smasher.  They are led by a fairly creepy individual known as "The Mask".
The hero manages to pursue the villains in his Gyrosub.  This is a vehicle that serves as a helicopter, an airplane, speedboat, a submarine, and a completely ridiculous looking vehicle.
Eat your heart out Batmobile!
Long story short, the hero winds up defeating the spies, even though the main villain escapes.
The day is saved and the plans are returned.
In a fairly ballsy move, the creators didn't reveal the identity of the Spy Smasher in the first issue.  In fact, they didn't reveal the secret identity of the Spy Smasher for most of his stories.  Sure, it may have been a clever marketing ploy, but even children would have thought it was weird that Spy Smasher and Alan Armstrong were never in the same panel together, and how Alan disappeared whenever there was trouble, or how Spy Smasher had a strange fascination with the woman who was Alan's fiancee.
Spy Smasher was Alan Armstrong is what I'm trying to say.
It turned out that Spy Smasher's battles with his arch nemesis the Mask turned him into a pretty popular hero.  He was so popular that he actually had a crossover with Captain Marvel in Whiz Comics #16 where he turned evil and tries to hypnotize the hero into doing his bidding.
But it's okay because it turned out that it had all been a ploy by the Mask to hypnotize and brainwash the now dead Mask to do his bidding.
Spy Smasher continued to have a career after the war, although he did change his name to Crime Smasher to fit with the times.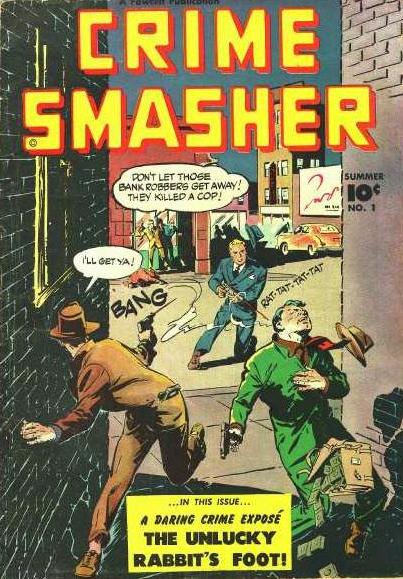 So what happened?
Alan Armstrong remained a popular staple of Fawcett Comics, right up to the point where they were forced to stop publishing comics in 1953 after losing a lawsuit to DC Comics that claimed they had ripped off Superman.
While Captain Marvel would go on to have a pretty successful career (he's called Shazam! now due to copyright issues) Spy Smasher fell by the wayside.  I guess when there are just no more spies to smash you don't really have a future.  Why they didn't decide to use him to hunt Soviet spies is beyond me.
Spy Smasher would go on to have a limited career, barely used but not forgotten.  One of his most notable appearances was in the excellent tv show Justice League Unlimited where he appeared in the opening of the episode "Patriot Act",
and in Gail Simone's Birds of Prey series she introduced a character named Katarina Armstrong, a highly skilled global anti terrorism agent with a costume that was heavily inspired by the original Spy Smasher.
While she looks like Spy Smasher and has his last name, any potential relationship the two may have had is not revealed.
In many ways Spy Smasher had the same career trajectory that a lot of Golden Age superheroes had.  He was popular in the 1940's and while he fell by the wayside after the comics industry crashed, he was fondly remembered by those who knew and would go on to be an influence for the superheroes of the future.
If you ask me it's a crying shame that nobody uses him any more, I'm sure he wouldn't mind coming out of retirement to fight a few more Nazi spies on American soil.