It's nearly Halloween, and if I had a better sense of timing and theme I would have done what lots of other comic book journalists and writers do and dedicated the entire month of October to horror comics.
The horror genre is an incredibly popular genre for comic books with plenty of opportunities for fantastic art with strange and shocking story material that is perfect for grabbing the readers attention and persuading them to buy the book. In fact, I would go as far as to say that if wasn't for superheroes, horror comics would be the most popular comic book genre today.
We've talked about how the post World War II comic book scene saw a boom in horror titles, particularly the rise of EC Comics with their shocking and grotesque morality tales such as Tales from the Crypt.
But the history behind the horror genre goes back a little farther.  These creepy and horrific stories have their roots in the pulp magazines and penny dreadful novels that were the ancestors of comic books and the first horror comics were simple adaptations of those works.  Many people consider Classic Comics' The Tale of Dr. Jekell and Mr. Hyde to be the first horror comic published in August of 1943.
But the first standalone horror comic, the one that would lay the ground work for the genre's explosion of popularity, would come four years later in 1947 and today we're going to talk about it.  It's title was Eerie Comics and it was the first standalone horror comic book ever published.
Origin
Avon Publishing was created in 1941 as part of the American News Company.  It was originally intended to be the publisher of a type of book known as "dime novels" which were cheap, exploitative works that enthralled readers with anything from lurid romance to exciting adventure.
These were the kinds of magazines that H.P Lovecraft published his stories in.
Naturally, Avon was the right kind of publisher for comic books, although they shied away from superheroes and stuck to the material that kept them in business, which led to the creation of Eerie in 1947.
Despite the inherent cheapness in the publisher and the medium it was created for, the comic actually had some pretty solid talent behind it.  While the writer was a relative unknown named Edward Bellin, the artistic team was amazing.  There was Fred Kida,
who created a Golden Age superhero named Air Boy and would go on to find steady work in comic strips, particularly in Marvel's Spider Man comic strip in the 1980's.
There was George Roussos,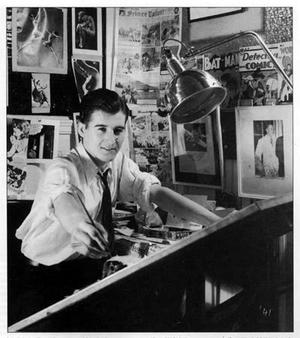 who worked for Marvel as an inker and helped Jack Kirby create some of the most iconic stories in Marvel,
(yes he inked that one)
and the whole thing was overseen and pencilled by comic book legend Joe Kubert.
While he is famous for his artwork, perhaps Mr. Kubert's greatest legacy is the school of  comic book art that bears his name.
Anyway, the book itself was an anthology series containing six stories of strange events and horrific consequences for the wicked.  The stories themselves are pretty tame, with such an amazing team of artists on this book it was only natural for the artwork to be gorgeous.
My personal favorite is the first story called The Eyes of the Tiger.
It follows a man who tries to get a life insurance policy but is rejected because of his poor health.
Apparently he wants to leave his policy to his cats, but the best part?  He threatens the doctor with a live tiger.
The man wakes up in the middle of the night to find himself being chased by a tiger and winds up suffering from a heart attack and dying.
I love this story for just how absolutely ridiculous it is.  Never mind that a man wants to leave all his money to his tigers, never mind that he hallucinates a tiger attack, the insane part of the story is that it treats an insurance company like they're the good guys.
So what happened?
For some reason the first issue of Eerie was pulled from newsstands after it was published.  However, as the horror genre continued to gain in popularity the series was brought back in 1951.
The title ceased publication in August of 1954, probably because of the backlash against comics in the 1950's.
Eerie would continue life as a science fiction anthology series called Strange Worlds,
and that lasted until 1955.
While audience's appetites for lurid and suggestive comic books would wane, Avon would do just fine.  They discontinued their comic book line in the mid 1950's and spent the rest of the century staying true to form, especially in the romance novel market.  Currently, they're operating as an imprint of Harper Collins and specialize in romance novels.
Eerie was a strange little comic.  On one hand, the writing was kind of crappy and it only had one issue for several years before someone decided it was popular enough to be rebooted.  On the other hand, it deserves its place in history as the first original horror comic ever published and the grandfather of all the horror comics that came after it.
Plus, it's amazing how something that old can look that good.