This Saturday is Veteran's Day.
For our non American readers, this is a holiday where America honors those who have served in the armed forces in conflicts past and present.  It's also an exciting time for this blog because it's a great time to talk about war comics!
When looking at the time period, it's easy to see why war comics became so popular.  America found itself at war and sent thousands of young men and boys to go off and fight in Europe and the Pacific.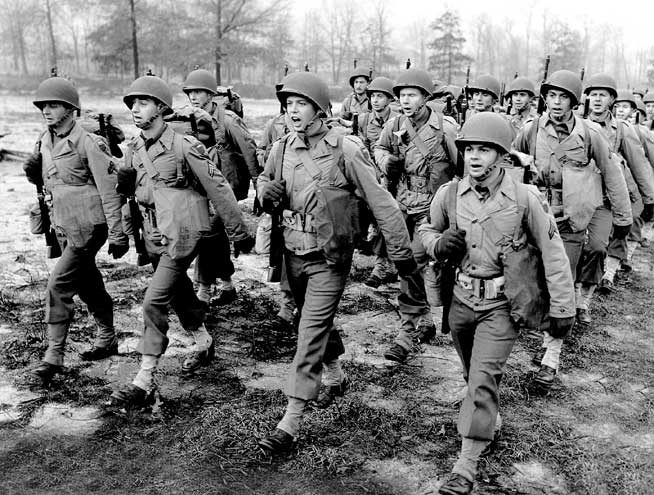 However, America had the advantage of being separated from the conflict by two massive oceans and it's people didn't have to come face to face with the true horrors of war.  With that being said, the United States became a military industrial powerhouse during the war and almost the entirety of American culture became obsessed with doing their part for the war effort and protecting the home front.
Comic books took advantage of this shift in popular culture, and stories about ordinary soldiers fighting against the forces of evil were quite popular during the Golden Age of Comics both during and after the war.  Many of the greatest artists and writers of the Golden Age of Comics made a living writing and drawing war stories which resulted in some of the most complex and interesting stories of the time, along with some absolutely breathtaking artwork.
The intent and purpose of the war stories that were written during this time was also pretty varied.  War and combat stories ranged from fantastical adventure stories for young boys staring ordinary soldiers fighting in fantastic situations,
to very thinly veiled propaganda stories promoting American patriotism and fighting spirit.
It's worth noting that most of these adventure and propaganda stories were created and published during the Second World War.  After that war was over and the Korean War began a lot of comics became much more realistic and brutal in their depictions of war.
So there's a brief rundown of the early history of war comics.  Unfortunately, since most of the early stories have so much talent behind them and were published by the big important publishers of the day, there isn't a whole lot of material out there for free reading.  However, today's comic is available in the public domain and is a pretty interesting look at the early days of the war comic genre.
Today we're going to talk about the thinly veiled propaganda hero The Unknown Soldier.
Origin and Career
The Unknown Soldier made his first appearance in Our Flag Comics in 1941.  He was published by a company called Ace Comics and was the title character of the series.
The funny thing is, despite the fact that he was popular enough to appear on the cover of his debut issue, I can't find any information on who created him or drew his story.
The hero himself has an interesting backstory, mostly because he really doesn't have one.
He's just a super being who appears out of nowhere firing explosive bullets and using his superpowers to defeat injustice and oppressive "gangster nations".
What makes this kind of interesting is that this has some pretty close ties to real world American military culture.  In Washington D.C you can visit a memorial at Arlington National Cemetery that honors the unnamed American soldiers who died in every war America has ever fought.
It's called the Tomb of the Unknown Soldier and while the comic doesn't tie the hero to the memorial, I like to think the creators of the story had this monument in mind when they wrote it.
Anyway, in his debut issue the Unknown Soldier helps defeat the Nazi invasion of Britain.
It's worth mentioning that in 1941 this was actually a scenario that was terrifyingly plausible.
However, in this comic the Nazis don't succeed because of superior tactics or planning, in fact their kind of idiots, but because of English traitors willing to betray their country to the Nazis known as Fifth Columnists.  We actually get to meet one and learn about his motives.  His name is John Jennings and he has made the classic mistake of believing that his country would be better under the rule of Nazism.
The Nazi war machine starts rolling and crushes everyone in its wake.
Thankfully the Unknown Soldier arrives just in time to murder every Nazi he can lay his hands on.
Naturally, the invasion is turned back but not before the story does something really unique and interesting.  Remember the British fifth columnist John from the beginning?  He has a change of heart when he and his gang of saboteurs attempt to blow up a hospital.
He actually redeems himself and dies a hero's death while protecting his mother.
All while the superhero stands by and does nothing.
So the story isn't actually about the Unknown Soldier, it's actually a story of redemption for a man who was once blinded by ideology and hatred and sacrificed himself for a noble cause.
Pretty good stuff for a Golden Age Comic.
After that first adventure the Unknown Soldier continued in a similar capacity.  While the stories were actually about ordinary people doing their part for the war effort, the Unknown Soldier would show up when it was time to knock heads or save someone from dying.
He wasn't a hero with a secret identity, he was a representation of America's fighting spirit.
Also, he got a costume change.
Despite all the murder done by our hero the creators were quick to make sure that the Nazis were just as bad if not worse.  Case in point, they invade Manhattan and use flamethrowers on civilians.
So what happened?
Our Flag Comics only lasted five issues, but The Unknown Soldier was popular enough to be moved to another title called Four Favorites where he did pretty much the same thing.
He lasted for over 16 issues until November of 1945 when he fell into the public domain.
While this Unknown Soldier would fade from the public eye, the idea and name would continue when DC comics published another character called The Unknown Soldier in Our Army at War #168 in 1966.
The comic was created by DC legends Robert Kanigher and Joe Kubert, two men who knew how to create a really good war comic.
This version of the Unknown Soldier was a lot more tangible and slightly more realistic.  Instead of a real superhero, the Unknown Soldier was an intelligence operative who was so disfigured that he had to bandage his face.
He was actually a master of disguise and in his final appearance, he kills Hitler and disguises himself as the dictator to end the war without further loss of life.
This iteration proved to be a bit more popular and he got a new limited series in 1997 under the Vertigo imprint at DC.
As for the original Unknown Soldier, he would make a slight comeback in 2008 when Dynamite Entertainment launched their Project Superpowers title to bring many of the Golden Age public domain heroes back into the mainstream.
He was renamed "Soldier Unknown" to avoid copyright issues with DC.
As a superhero the Unknown Soldier is not a very good one.  He's bland, he has no backstory or secret identity, and he's even more overpowered than Superman.  But that's not really important.  The Unknown Soldier isn't a hero, he's a symbol of something much greater than himself, the creators who made him, and any single person.  He is the personification of the fighting spirit that rises up against tyranny and oppression, and while it would be nice to have known his name, it's important that we know that he did his job so we could live.
Happy Veteran's Day everyone.