We all know who Jack Kirby is right?
Okay, so for anyone who doesn't know the name all you need to know is that Kirby was the main artist and one of the biggest creative voices behind many of Marvel's greatest superheroes.  The man had one of the most prolific art careers in comic book history (there are stories out there that said he could draw five to six pages a day) but  was sadly, and unfairly, overshadowed by his more famous counterpart: Stan Lee.
With such a legendary career you would think that Kirby created nothing but legendary stories.  Sadly, that wasn't the case as evidenced by today's hero: Stuntman.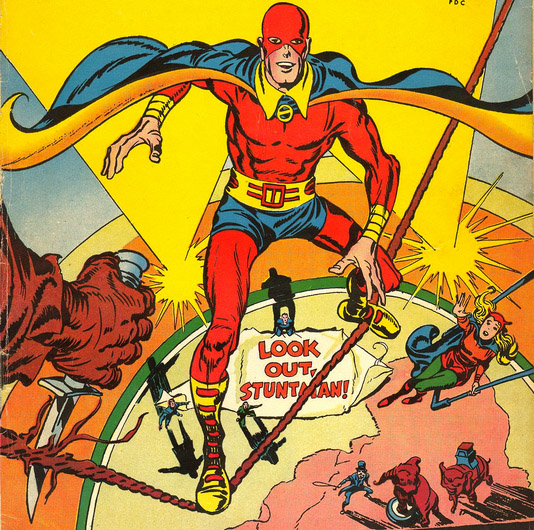 Origin and Career
Our hero made his first appearance in the self titled Stuntman #1, which was published in April of 1946.
A couple of things to note here.  First, the cover claims that it's not a comic book.  Instead, it's a comic novelette which makes me think the comic's creators were trying to create something a bit classier than the throwaway pulp that made up most of the comic book scene of the 1940's.  Second, you'll notice that the book was created by Jack Kirby AND Joe Simon, the creator of Captain America.
So we have not one, but two of the greatest comic book creators of all time working on single project.  This ought to be good.
The story starts off with a criminal gang trying to shake down a travelling circus, implying that there will be several accidents if management doesn't pay up.
Sadly, the criminals succeed in killing the circus' greatest act: a group of high flying acrobats known as "The Flying Apollos"
The only survivor is their young ward Fred who vows revenge and accidentally runs into a movie star/amateur detective named Don Daring.
What?  Is the origin of an acrobatic superhero who used to work for a circus before his parents were murdered starting to sound a bit familiar to you?  Shut up and focus on the excellent artwork!
Anyway, Fred takes a job as Don's stuntman in his pictures with the purpose of getting a new job and working with Don in order to solve the case by acting as bait for the killer.  Fred is eventually attacked and decides to don a costume to go after the killer
Hmmm, could use more black.
Don discovers that it was a circus manager who was behind the crime all along, but before he can carry out his dastardly deed he is ambushed by the Stuntman and the day is saved.
The rest of Stuntman's adventures would have a similar theme to them.  Don would do all of the detective work while Fred would swoop in as the Stuntman to do the fighting.  The two men were a duo, dynamic even, and their adventures all centered around the entertainment industry and the various people looking to fleece audiences and entertainers alike.
For a Golden Age comic the writing and artwork were fantastic.  But then again, that's what you expect from the minds and talents of Jack Kirby and Joe Simon.  Surely the Stuntman would go on to become one of the greatest superheroes of all time.
So what happened?
The Stuntman Comic only lasted three issues and the character would only make nine appearances for a single year.
Honestly, considering the talent behind the character and quality of the artwork and writing, I'm really surprised it only lasted that long.  Maybe it was the post war backlash against superheroes, or maybe it was Harvey Comics' decision to focus on licensed characters instead of original content.
but sadly we were deprived of more excellent stories.
However, it's safe to say that the legacy of the Stuntman superhero lives on in another circus performer who watched his family get murdered before his eyes and eventually wind up fighting crime under the guidance of a rich amateur detective.
Okay, so maybe Stuntman bears too much of a resemblance to Robin for comfort and maybe if the title had kept going Harvey would have found themselves on the receiving end of a DC lawsuit, but I honestly think that comic book fans and readers missed out on something fantastic with this Golden Age hero created by two of the greatest comic book creators of all time.