Last week we talked about a superhero known as "The Hand".
Everyone seemed to like it so here's a write up about another body part that decided to become a superhero.
Yes, there was more than one of these, and this one was actually a bit more successful.
Say hello to The Eye.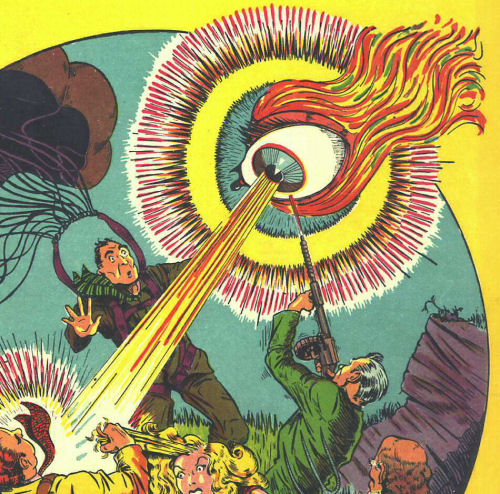 Origin and Career
The Eye made its first appearance in Keen Detective Funnies #12 in December of 1939.
The book was published by a company called Centaur Publications, one of the earliest comic book publishers in American history and the company that helped Bill Everett get his start in comics.
Bill Everett is the man who helped create Namor the Submariner and Daredevil.
The character itself was created by a man named Frank Thomas.
You may not know the man's face, but I'm willing to bet that if you're an animator or a Disney fan you know his his name and his work.
The man was one of the original animators on Walt Disney's creative team when the company was just starting out and helped produce some of the most recognizable classics in modern animation history.  One example?  He animated this scene from Snow White.
He also helped write a book with a colleague of his named Ollie Johnston called The Illusion of Life,
a book that remains one of the most important milestones in 2D hand drawn animation to this day.  In fact, the two men were so influential that they were given a cameo appearance in The Incredibles, one of my favorite movies of all time.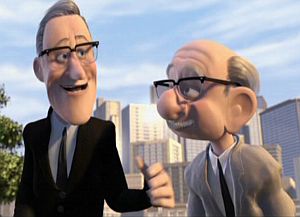 Basically Frank Thomas was a big deal, and The Eye was his contribution to the comic book world.
As for The Eye itself, his first adventure starts with the whitest Afghani family on the face of the planet.
The old man laments that he was once a prosperous businessman but had his livelihood stolen from him.  Suddenly, a disembodied eye appears in the room.
Meanwhile, in Kabul we're introduced to the vain and pompous villain of the story, a man named Herat, who wants the old man dead.
You know, I can't help but wonder how differently this story would play out if it was published today.
Anyway, the villain tries to hire two hitmen to take out his rival.  Fortunately The Eye stops them with his ability to travel anywhere and shoot heat blasts out of his…well eye.
Boy, I know red eye flights are a pain…but this is ridiculous.  (wait don't go…come back!)
The story resolves itself quickly and just in the way you would expect.  The villain is defeated, and justice is served.  The Eye has saved the day and the old man and his daughter are free to return to their business.
The Eye would go on to become something of a regular back up feature in the comic.  The stories weren't connected, it was more of an anthology tale where The Eye would drop in on a group of criminals committing a crime and use one of his many ill defined powers to save the day.
He was also given a sidekick, a young attorney named Jack Barrister who would assist The Eye whenever it needed a hand.
The Eye ran for eight issues in Keen Detective and must have been popular because he was given his own series in November of 1940.
So what happened?
The Eye may have been popular enough to get his own series, but his publisher wasn't so lucky.  While Centaur may have been one of the first comic book publishers ever, poor distribution and business sense saw the company go under in 1940.
While the company folded, it did retain something of a legacy.  In 1987 one of his stories was reprinted in a book called Mr. Monster's Hi Shock Schlock by Michael T. Gilbert.
And in 1992 a company called Malibu Comics revived a bunch of Malibu characters into a team known as The Protectors,
and the Eye was cast as a supporting character.
The Eye was a genuinely interesting idea and character for a superhero.  He had an interesting gimmick and he had a legendary creator behind him.  If it wasn't for his publisher going out of business I'm willing to bet it would have gone on to become a staple of modern comic book superheroes as well.
It's a real shame to see an idea like that go to waste.