You know what?  I think it's time to take a break from the Golden Age this week.
The Golden Age of Comics was an age of ridiculous comic book characters and a "well let's just throw things against the wall and see what sticks" attitude, which is the main reason why I started this blog in the first place, but I'd like to branch out and see if there might be other characters that could be just as ridiculous and crazy.
Sure, we've talked about comic book characters from different time periods before, but there has to be something there that's crazy, bold, and…
oh hello, where have you been all my life?
Screw tradition, this is the Flaming Carrot.
Origin and Career
The Flaming Carrot made his first appearance in a small comic called Visions which was published by a convention called the Atlanta Fantasy Fair in 1979.
A bit of context here: the early 1980's were a time when the independent comic book scene was really starting to take off.  Creators were often ditching the big publishers of Marvel and DC to self publish their own stuff or with smaller publishers who were much more generous with their checkbooks and willingness to share credit.
For a bit more context, this was the time period that gave us the Teenage Mutant Ninja Turtles.
The Flaming Carrot comic would later be self published through a company called Killian Barracks Press and then find different homes through various publishers over the next thirty years.
He was created by comic book author and illustrator Bob Burden.
The hero was meant to be a parody of superhero comics at the time.
he got his powers by suffering from brain damage after reading 5,000 comics in a single sitting.
Just goes to show you, comics are bad for you and will rot your brain.
How did his head turn into a carrot?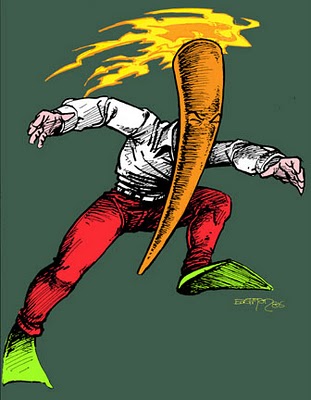 Don't ask such stupid questions.
The Carrot lived in the fictional neighborhood of Palookaville in Iron City.  He didn't have any superpowers but he would often win the day through grit, determination, and sheer dumb luck.  Also, he had a toy chest of gadgets to help him along with a gun, which he used without hesitation or remorse.
His enemies were equally ridiculous, as you can see below.
You'll notice that a lot of the interior artwork is in black and white.  It was like this to cut down on art and printing costs.  Believe me, I know.
Over the course of his career, the Flaming Carrot developed a cult following and became pretty popular.  He even found some time to create a team of working class heroes known as "The Mystery Men"
We'll touch on that later.
So what we have here is an independent creator, publishing a black and white comic, that parodies super hero stories, and is self published without any help or support.
Can't imagine why I would relate to something like that.
Side note: did you know that we actually have another web comic up and running?  It's called "Questing 9 to5" and it's on our Tapastic account which you can find here 
So what happened?
It's actually kind of difficult to pinpoint the exact time and moment when Flaming Carrot ceased publication ended.  Despite its success as an indie hit, it ceased being an ongoing title when issue #31 was released in 1994.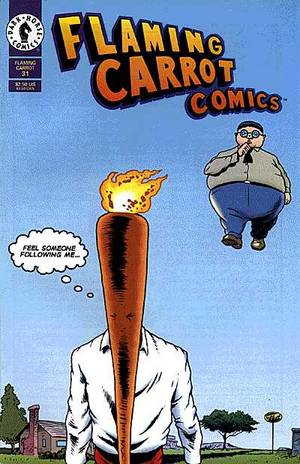 The hero would make various appearances in one shots and crossovers over the course of the 1990's, including a crossover with the Teenage Mutant Ninja Turtles in 1993.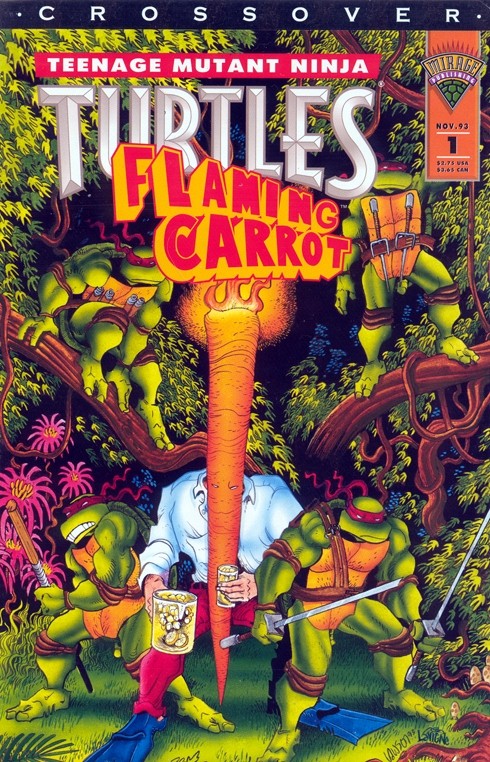 Sadly, this did not make it into the show.
In 2004, the character was picked up by Image Comics and four more issues were published.
His last appearance was in 2006 and to this date, Bob Burden hasn't published anything else.
Thankfully, Flaming Carrot was just crazy enough, and just popular enough, to garner attention from Hollywood, and in 1999 Burden helped create a movie based around Flaming Carrot's teammates.  The movie was called Mystery Men,
and it failed spectacularly.  It's actually kind of sad really, the movie has some great actors who would go on to better things, so it was clear that there was SOME effort put into it.  Although, it had Dane Cook in it which was just…
ugh.
However, there was one thing about the movie that has stayed with us and has gone on to pop culture immortality.
You know that one song by a band called Smash Mouth?  The one that was really REEEAAALY popular in the early 2000's and everyone knew as "that song that plays at the beginning of the first Shrek movie"?
Yep, this is the movie where that song came from and why the introduction has a whole bunch of ridiculous superheroes…and Dane Cook.
You're welcome.
I'm going to level with you, Flaming Carrot is that kind of ridiculous cheesiness that makes comic books the unique and wonderful medium that they are.  He was a rough and tumble, blue collar, scrappy hero with the kind of gimmick that would make you roll your eyes and groan.
But it was very clear that there was a lot of heart and effort put into The Flaming Carrot, and although he was ridiculous, he was drawn proof the the wonderful and heartfelt insanity that could only occur in comic books.