It's funny that popular culture doesn't associate women with the sciences, and it's especially interesting when you consider that women have been responsible for huge advances in science from early mathematics and astronomy,
to creating the genre of science fiction,
to taking us to the moon,
and basically inventing the whole idea of computer sciences and programming.
Interestingly enough, the comic book industry had a female science hero to call their own in the 1940's, and I thought it might be fun to talk about her today.
This is Jill Trent, Science Sleuth.
Origin and Career
Jill Trent made her first appearance as a back up story in Fighting Yank #6 in 1943.
She was created by artist Al Camy, a man who had done a lot of work for Standard Comics including work on one of their most popular heroes, the Black Terror.
The setup for each story followed the standard Golden Age setup with not a lot of attention paid to the backstory and not a lot of effort being put into explaining how Jill makes a living.  She's just a genius who invents stuff and solves crimes with them.
As you can see from the page above, Jill Trent was a genius inventor and scientist.  Not only did she develop a way to see through walls, she presumably figured out a way to defy gravity as well.
To help her with her adventures Jill had a friend named Daisy Smythe, who was her confidant and sidekick throughout her adventures.  This were their sleeping arrangements.
Sure those are double cots placed side to side and it's no different than what Batman and Robin were doing around this time,
but let's face it, your mind already went there didn't it?
Not only was Jill a genius, but both ladies were actually very capable fighters and had no qualms about defending themselves by any means necessary.
Also, they weren't above the use of guns either, especially in one particular adventure when they were fighting off a bunch of goons over a copper bedframe.
Granted, the crooks were trying to get the bed back because it had a large stack of money in it but still, it certainly puts a vicious spin on customer complaints.
Despite being a bit controversial Jill and company were actually reasonably successful.  They appeared in two issues of Fighting Yank and were then moved to a title called Wonder Comics where they appeared in twelve issues.
So what happened?
Her publisher suffered with the rest of the comic book industry in the 1950's and she was cancelled in 1956.
With that being said, she may have been cancelled but she hasn't been forgotten.  She's actually in the public domain and free for anyone to use, although the sources I've checked have said to be careful since there still might be some legal issues.
However, legal grey area or not, that hasn't stopped the independent comics scene from reviving the two heroines.  In 2015 a Kickstarter was launched to give Jill a modern update and it was incredibly successful.
Sadly, I have no idea where you might be able to buy this if you're interested.  If anyone knows, please post a comment.
Jill Trent isn't just progressive and potentially subversive, she's pretty awesome as well.  She throws down like Wonder Woman, she's dedicated to the pursuit of scientific knowledge like Einstein, and she has the ability to come up with more gadgets than Q from James Bond.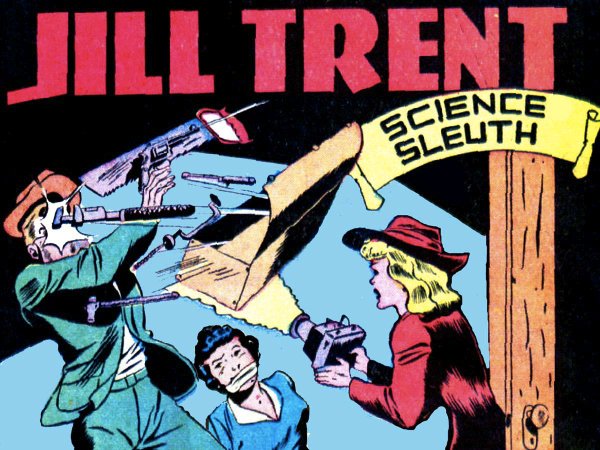 She would make a genuinely fantastic modern heroine and more people deserve to know about her.