As I was hunting around the internet for obscure comic books from the 1980's to talk about I stumbled upon this beauty:
It looked crazy, it was from a small publisher, and it only lasted three issues!
Sadly, it was so obscure that I couldn't find anything else about it besides who created it and who published it, not very good blog material.  There are copies of the comic available for sale on Amazon, but I am poor at the moment and shipping takes time.
I wouldn't mind taking a look at this later, but until then…let's look at a slice of life story starring an aspiring female artist living in New York City called Angel Love.
Origin and Career
Angel Love was created, written, and illustrated by a cartoonist named Barbara Slate.
Mrs. Slate rose to prominence in the comic book world with her character Ms. Liz, who appeared on greeting cards,
comic strips,
and the Today Show even commissioned a few animated shorts of Ms. Liz in 1982.
Here's an interview:
So Mrs. Slate was already a success before she decided to write for DC Comics, and in 1986 they published Angel Love #1:
The plot of the comic was pretty straight forward.  There was a girl named Angel Love who moved from Pennsylvania to New York City in order to become an artist, but her dreams had decided to stay behind for a bit so she wound up working as a roller skating waitress.
Since Mrs. Slate was from Pennsylvania herself, I can't help but think there was a bit of a biographical component to this story.
Anyway, the story was a slice of life comic chronicling Angel's adventures with romance,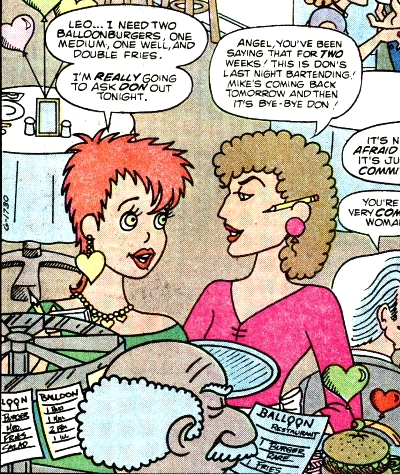 and family drama.
The story was often told with realism in mind, but wasn't afraid to throw in some fantasy elements like talking cockroaches,

and a rather disheveled looking guardian angel.
Now, looking at this comic you might be tempted to think that this is a child friendly story, that it's a modern rebirth of the old romance comics from the 1940's,
or an updated re imagining of the long running Archie comics.
The thing is, while the art style may have indicated that the comic was for younger readers, the subject matter of the story…
was not.
Despite the cutesy art style and low stakes romance, the story dealt with some very adult issues.  In the very first issue, Angel's romantic interest is found snorting cocaine, which causes her to break up with him.
Also, the family drama part of the story gets pretty deep when Angel finds out that her mother is dying from some sort of terminal disease,
and has to track down her long lost sister, who changed her name to Maureen McMeal, in order to try to convince her to donate bone marrow for a transplant.
The situation is resolved when Angel confronts Maureen and she reveals that yes, she is her long lost sister, but decided to leave home after their father raped her when she was young and decided to change her name and run for political office, refusing to acknowledge her old life for fear of causing a scandal.
So yeah…that's pretty dark.
So what happened?
Despite the reputation of the comics' creator and the quality story telling, nobody really knew what to think of this comic, and that was its undoing.
The art style made the comic book look like it was a book for children but the mature subject matter was very clearly for adults.  The comic was even published without the infamous Comics Code sticker on the cover.
The title lasted eight issues and had one special comic that wrapped up the story line.  This was where Angel's sister revealed she had been raped when she was young and the title included a "For Mature Readers" warning on the cover.
Angle Love didn't have much of a career after that.  She made one cameo appearance in Animal Man #24 where she was seen reading her own comic in the background.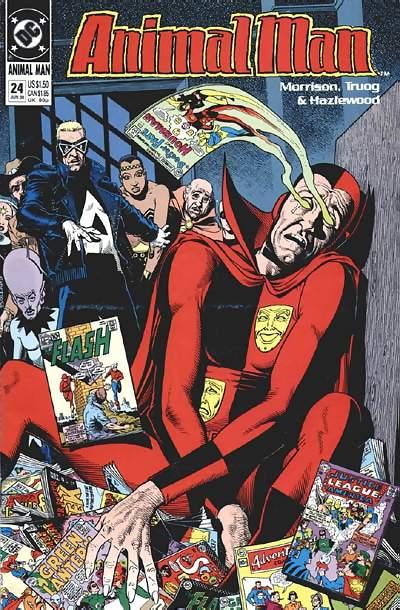 But that's about it.
Barbara Slate's career would continue to grow and she went on to become a very successful writer, artist, and speaker.
Some of her more recent works are You Can Do a Graphic Novel, which was published in 2012,
and in 2012 she wrote a book called Getting Married and Other Mistakes which was published by Other Press.
In the world of comics Barbara Slate's career, especially a comic like Angel Love, is an interesting one.  In an industry that is dominated by superheroes, spandex, and world shattering violence, Angel Love showed us that even small stories can have a huge emotional impact.
Angel Love was a small romance and slice of life story with big ideas and implications, and I think it definitely deserves more attention.