On November 12th, 2018 we lost the Walt Disney of comic books, a master of movie cameos, and one of the few comic book creators that almost every person in the world can name whether they're a fan of comic books or not: Stan Lee.
There is no denying that the man's legacy is immense and the impact he had on comic books as a medium and as a pop culture force was almost immeasurable.
Some cliff notes on his early life.  He was born in 1922 to a Jewish family in New York under the name Stanley Lieber.  "Stan Lee" was originally a pen name that he used when writing comics because he was saving his actual name for when he would start writing novels.
Stan was around for the very beginning of the comic book industry that we know and love when he first started working for Timely Comics in 1939 after graduating high school.  While his initial duties were small time stuff like filling inkwells.  His first bit of writing work was creating filler text for a Captain America story named "Captain America Foils the Traitor's Revenge",
Fun fact: this is the first story where Captain America throws his shield.
From there, Stan wrote a back up feature called "Headline Hunter",
and in 1942 Timely Comics launched the first superhero co created by their new upcoming writer and the hero we're going to talk about today: The Destroyer.
Ladies and gentlemen, here is the first superhero that Stan Lee ever created.
Origin and Career
Full disclosure, I've done a bit of research for this article, and I can't find a whole lot of images of the Destroyer due to copyright, so there's going to be a lot of text and not a whole lot of pictures.
The Destroyer made his first appearance in Mystic Comics #6 in August of 1942.
He was co created by Stan Lee and artist Jack Binder,
Jack Binder was the older brother of Otto Binder, the man who would develop a healthy portion of the Superman mythos.
The Destroyer's civilian identity is Kevin Marlow, an investigative journalist who was sent behind enemy lines to record and document Nazi atrocities.
He got a view that was a probably a bit too personal when he was captured, tried as a spy, and sent to a location known as Strohm Prison.  While he was there he was tortured met a Jewish scientist who was forced to work for the Nazis known as Eric Schmitt.
Schmitt had been forced to develop a super soldier serum for the Nazis (yes, it turns out he was a colleague of the scientist who gave Captain America his powers) and was beaten to near death.  Schmitt would wind up giving his heavily guarded sample of the super soldier serum to Marlow, who became incredibly strong and fast and used his abilities to break out of prison.
Marlow vowed to fight Nazism on his own an donned his black, grey, and red costume to strike fear to the Nazis behind enemy lines.
Of course, his actions did not go entirely unnoticed and the Destroyer's one man war drew the ire of the Gestapo under the command of Captain Fredrick von Banger.
Naturally, the confrontation didn't go very well for the Nazis and while The Destroyer was able to overpower the captain, von Banger managed to escape by cheating.
That was The Destroyer's first appearance and it turned out he was actually pretty popular during the wartime years.  Perhaps the one thing that separated The Destroyer from his other super powered colleagues was his willingness to accept help from other Germans and to accept the idea that the Nazis were more tyrannical despots rather than an entire nation of people.  Case in point, one of his earliest enemies was a psychotic scientist named Herr Scar,
who was tasked by the Nazi government to quell German dissenters.  Naturally, with a face and name like that Herr Scar was an evil man who died very quickly.
The Destroyer would continue to experience a fair amount of success during the war.  He made cover appearances in the last four issues of Mystic Comics and would go on to become one of Timely's most published characters, just behind the heavyweights of Captain America, the Human Torch, and Namor the Submariner.
So what happened?
Kevin Marlow disappeared in the late 1940's when comic book superheroes were on the decline and comic books were facing a significant backlash and public hatred.
Timely Comics changed its name to Atlas Comics, and Stan Lee managed to keep going by writing other stories.
What happened next is mostly hearsay and conjecture, but the story goes that Lee was just about to quit comic books forever until his wife Joan told him to write one last story that he wanted to write.  The result was the creation of a new group of superheroes: The Fantastic Four.
They're pretty obscure, you've probably never heard of them.
The book was a hit.  Coupled with the rebirth and revitalization of the superhero genre in the 1960's, comic books became cool again and Atlas changed its name again to Marvel Comics.
The Destroyer continued to exist, although it was no longer a heavy hitter in the Marvel lineup.  However, in the 1970's, then Marvel editor in chief Roy Thomas and artist Frank Robbins rebooted the story and made the new Destroyer a British agent named Brian Falsworth, and through a long and convoluted path of events (it's comics, this happens) Falsworth became the British hero Union Jack.
All previous continuity was retconned and the previous identity for the Destroyer known as Kevin Marlow was revealed to be a mistake by the FBI.  It was also revealed that Brian Falsworth died in a car crash in 1953.
The Destroyer name would eventually be adopted by Brian's close friend Roger Aubrey in a 2009 miniseries written by Ed Brubaker.
A final version of the Destroyer would make an appearance in Marvel's MAX imprint, which was the place where Marvel created its explicit and mature stories.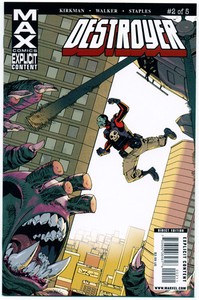 This series was written by The Walking Dead creator Robert Kirkman and featured an elderly Kevin Marlow in modern times.
This version of the Destroyer still had the strength and endurance of the super soldier serum, but unlike Cap he aged.
The story itself followed the Destroyer as he set off to kill his remaining rogues gallery and ensure the safety of his loved ones, by any means necessary.
So that's a brief rundown of the Destoryer.  If I had to describe him in one word it would be…standard.  During the 1940's he was a product of his times.  People wanted bright and colorful heroes to fight their battles for them, and the destroyer delivered.  And while he would go on to become a part of the Marvel Universe and was well remembered by people working in comics, he would never see mainstream success.
As for Stan Lee?  Well, he went on to help create some of the greatest and most popular heroes of all time,
become the public face of American comic books, and be well known and loved by millions of fans.
All in all, a pretty good life and a pretty good legacy.
Thanks for everything Stan, you will be missed.