Tag Archives:
destruction
So we lost one of the greats yesterday: George A. Romero.
While he did create other films and was a fervent activist throughout his life, the man will always be remembered as the founding father of the zombie movie.
Fun fact: after he made his first film Night of the Living Dead Romero screwed up some paper work with the copyright office and as a result, the film is now in the public domain.  You can watch it for free and I highly recommend it.
Yes, zombies are a pop culture staple nowadays.  While their time as the dominant force of pop culture has waned, they're still around making boatloads of money, especially in the comic book world.
So I thought it might be fun to talk about one of the earliest zombies in comic books, and how different a walking corpse from the 1940's was from the present day walking corpse.
Today we're talking about the Purple Zombie.
Origin and Career
The Purple Zombie made his first appearance in Eastern Publishing's Reg'lar Fellers Heroic Comics #1 in August of 1940.
The character was created by Tarpe Mills, which was a pen name for Golden Age writer and artist June Mills.
Mrs. Mills was actually the first lady to create a female superhero, a black cat costumed heroine named Miss Fury.
Let it be said that the early comic book scene wasn't entirely dominated by male New Yorkers, it was just mostly dominated by them.
When reading the Purple Zombie stories you can actually see a lot of tropes that plague (pun intended) the modern zombie.  He was created by a mad scientist named Dr. Malinsky who was seeking to create an unstoppable army in order to take over the world,
However, it's worth mentioning that there is no specific mention of how this zombie was created.
After establishing himself as an evil bastard, Dr. Malinsky realizes that he has the same problem Dr. Frankenstein had, that his creation realizes what it is and isn't all that fond of his purpose.  The creation bypasses years of therapy and emotional issues by strangling his creator.
You'll notice three things that make this guy different.  First, he's bulletproof and super strong, thus avoiding the trope of zombies that need to be shot in the head and who are only effective in large groups.  Second, he's surprisingly articulate for a zombie and has no need or desire to consume the brains of the living.  Third, his skin looks more black than purple which…raises a lot of very icky moral questions that are a bit more unsavory today than they would have been seventy years ago.
Nevertheless, this zombie sets out to find the people who backed his creation and remove them from the face of the Earth.
It's never mentioned who the backers were working for, but with a name like Otto Von Heim it's safe to assume they were working for the Nazis.
In a rather interesting twist, this zombie was actually captured and sentenced to death for the murders.
This is where he gets his purple skin, and his jailers realize that he can't be killed.
The zombie is released into the care of Malinsky's former assistant and swears to do nothing bug good from here on out.
Again, some kind of uncomfortable racial overtones here (it's worth mentioning that pre Romero zombies were often associated with African or "voodoo" religions) but as origin stories go it's pretty fleshed out and well done for the Golden Age.
Sadly, the zombie's brush with organized crime wasn't over.  Realizing that a large, bulletproof, super strong, nearly unkillable monster could be useful in committing crimes a gangster named Joe Coroza kidnapped the Purple Zombie in an attempt to use him as a weapon.
His human friend tries to rescue him, but is forced to contend with an army of mechanized skeletons as well as the gangsters.
However, it turns out that the man who created the moving skeletons was actually a good guy and the Purple Zombie decided to join forces with him and go off to fight in Europe for the forces of democracy.
It's nice to know that the idea of using creatures more often associated with horror to do good is older than a lot of people think.
The plan is a success and the Zombie and his skeleton pals successfully stop the death ray from killing thousands more.  Their solution…cold blooded murder.
After successfully defeating the death ray and single handily winning the war (I assume) the heroes find themselves forced to land in a mysterious lab.
It turns out that the scientist forced them to land there so he could show them their time machine and in the very next page… 
Jesus, this comic jumps around more than an over caffeinated toddler.
The two find themselves in 64 A.D in the middle of the Roman Empire.
The Romans do the surprisingly sensible thing and declare these two strangers to be madmen.  They also understand modern English.
Thankfully, lions are no match for the two.
Unfortunately, they now have to contend with the entire city of Rome burning.
Thankfully, they are saved by the actions of their colleagues in the present day who manage to transport them out of danger into the Medieval Ages.
It turns out they've landed straight in the middle of the Crusades and wind up meeting King Richard I of England.
They would have been on good terms if it wasn't for their sudden transportation to the court of Queen Elizabeth I.
Honestly, I don't know if the author is trying to be educational, or if she's just name dropping random historical figures who were popular at the time.
They meet up with Sir Francis Drake while he's bowling,
(fun side note: the story is that Sir Francis was supposedly bowling when he received news of the Armada so props for possible historical accuracy)
and the two men help him defeat the Spanish Armada until they're whisked away to the French Revolution.
I'm beginning to think the scientists controlling the time machine hate our protagonists.
The two suffer through one more trip into prehistoric times,
and then they're transported back to the modern day where it is revealed that the Purple Zombie wasn't actually dead to begin with.  He was actually faking his death in order to escape and wound up becoming an unwitting participant in the original experiments.
So I guess you could argue that the Purple Zombie wasn't actually a zombie.
Goddammit.
So what happened?
The page above is the last page we would ever see of the Purple Zombie.
We've talked about Eastern Publishing before and how it was going through a rather turbulent time in the late 1940's when it merged with a bunch of other publishers to become Standard Publishing and eventually stopped making comics in the 1950's.
But even if Eastern Publishing had survived, I think that the Purple Zombie would have been doomed anyway.  For starters there were companies in the 1940's who were using zombies and monsters much more effectively and with much better artwork.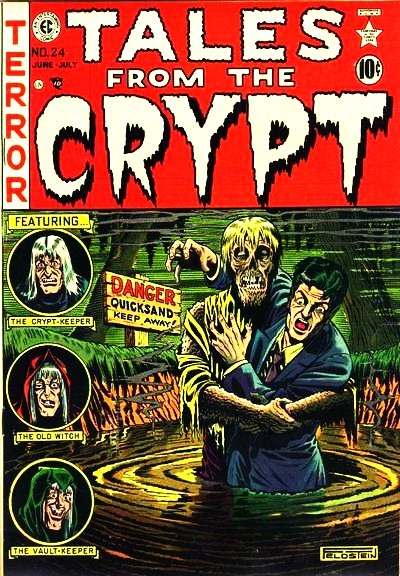 And even if the Purple Zombie had managed to become more popular, it stood no chance against the backlash against comics in the 1950's that wound up creating the Comics Code.
With that being said I actually like the Purple Zombie.  While he had a pretty average power set and wasn't technically a zombie, he had a pretty good back story and enough heart and dedication to be a pretty good superhero.
Before we begin, I just want to say thank you for two very big milestones.
First, last week's blog post on Truth: Red, White, and Black was the single most successful blog post we've ever had on this site.
I was absolutely blown away by the audience and the wonderful conversations that the article generated.
Second, yesterday was our two year anniversary as a blog and a website.  I'm not going to lie and say it's been easy, but watching people enjoy everything we've worked so hard for has made this little venture worth it.
Anyway, let's talk about a super hero that killed a whole bunch of Nazis and called himself the Grim Reaper.
Origin and Career
The Grim Reaper first appeared in Standard Comics' The Fighting Yank #7 in February of 1944.
As you might be able to figure out from the cover, the entire issue had something of a military theme to it, especially since the United States was in the last full year of the war in Europe.
The Grim Reaper was published by Standard Comics and was created by comic book writer and editor Richard E. Hughes.
The pictures above show Hughes' many pseudonyms which he used since he was an incredibly prolific comic book creator in a career that spanned the 1940's to the 1970's.
It's worth mentioning that the Grim Reaper is something of an oddity in Golden Age superhero comics.  While many of his fellow heroes started off fighting common criminals and spies, the Grim Reaper was thrust straight into the front lines of the war in Europe and got right down to kicking Nazi butt.
It's also worth mentioning that Richard Hughes was actually a pretty good writer, because The Grim Reaper's stories were pretty good.
In his first appearance our hero makes it very clear that he has no qualms about shedding German blood.
Also, he manages to save a concentration camp full of prisoners and captured Allied pilots so the Allied war effort can destroy a Nazi aerodrome.
Apparently, this story was so popular and well received that the Grim Reaper would be given his own title and cover appearances after his first story.
To be perfectly honest, I think that this is one of the greatest Golden Age covers I've ever seen.
The Grim Reaper's new adventures were more of the same deal with him fighting the good fight in Europe and killing Nazis left and right.
What's really interesting about these stories is just how human and normal they are. The Grim Reaper is actually more of a secondary character and the writer tends to focus on the plight and effort of normal humans actively fighting the Nazis across Europe.
Sure, the first page has a large picture of the hero, but the story itself is about the Greek resistance movement that sprung up to fight the occupying Nazi force.
It's also worth mentioning that while the first Grim Reaper story falls into the typical tropes of turning the hero's Nazi enemies into monsters who don't have a very keen grasp of English and like to talk "in ze stereotypical German akksent!"
The funny thing is that, during his first main story, the writer goes out of his way to actually humanize some of the Nazis by having a Gestapo officer actually save the Grim Reaper's life and reveal himself to be a German working against the Nazis.
They would eventually give the Grim Reaper an origin story in his second issue.
It was revealed that the Grim Reaper was actually an American student studying in France named Bill Norris who decided to stay behind in Paris in order to continue his studies.
The Nazis, in a blatant disregard for human rights and the Rules of War, sent Bill to a concentration camp when he tried to protect an old man from being beaten by a group of soldiers.
Sure, the soldiers had every right to arrest Bill for what he did, but you don't sentence someone to slave labor when they assault your men without weapons.
While in the camp, Bill meets a leader in the French Resistance and manages to escape.
He decides to help the French and dons the Grim Reaper costume to fight the Nazis out of patriotic duty.
The Grim Reaper would go on to have a couple more adventures fighting the Axis powers, but then the war ended.
The Grim Reaper was too popular to be cancelled, so he decided to go and fight gangsters and common criminals instead.
Honestly, the new stories were nothing special and the Grim Reaper found himself playing second fiddle to other stories and characters that were becoming more and more popular in post war America.
So what happened?
History and bad business happened.
Standard comics went out of business in 1956 as the comic book market dried up and left many of the smaller publishers bankrupt.
The Grim Reaper would have remained forgotten if it wasn't for the best beard in comics, the incredibly intimidating Alan Moore.
Moore had created his own publishing company in the early 2000's called America's Best Comics 
and he scooped up many of the Standard Comics' characters that had slipped into public domain which he used in a spin off series called Tom Strong.
The Grim Reaper would eventually be killed in the Tom Strong spin off series Terra Obscura.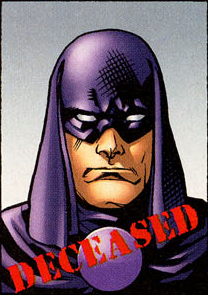 In the end The Grim Reaper was a pretty typical flash in the pan Golden Age superhero.  He existed, had a pretty short run, and faded into obscurity quickly and was only remembered by people who were truly interested in this particular time in comics.
With that being said, he was well drawn (for the time), had a pretty sensible backstory, and was surprisingly well written for the time.  Like many real life people who were fighting and dying in Europe and the Pacific during the war, the Grim Reaper did his part to beat back tyranny and evil and that is worth celebrating.