Full disclosure, I discovered this superhero after reading an article for Cracked.com.
The article was about crazy Golden Age superheroes and the author, a gentleman who goes by the name of Seanbaby, has a pretty cool list of obscure old school heroes.
Anyway, on to the article and if Seanbaby does wind up reading this, I just want to say thank you.
Today we're going to to talk about the most explosive superhero in all of comics, a man so explosive that his name combines the Norse god of thunder and a highly dangerous explosive: Dynamite Thor.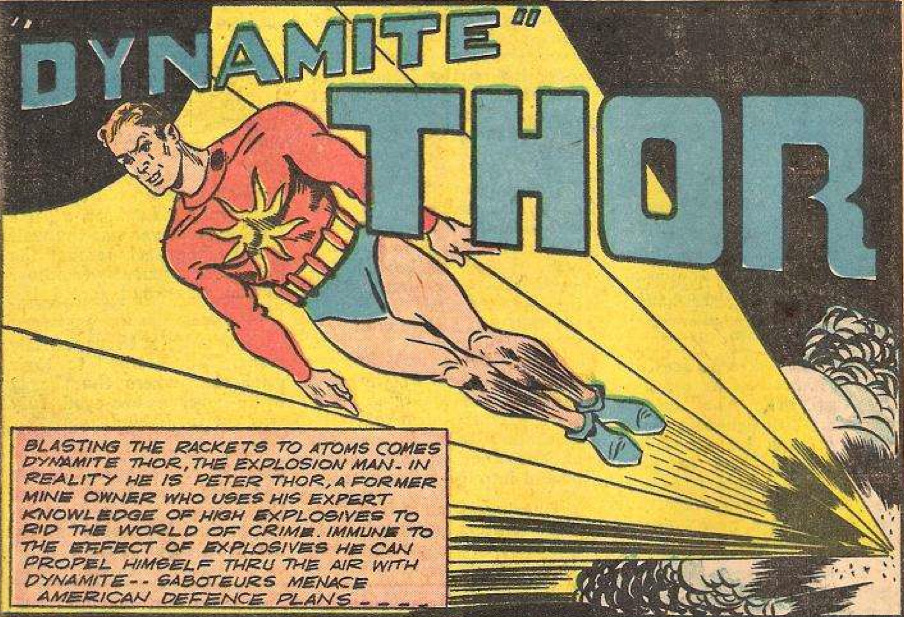 Origin and career
Dynamite Thor made is first appearance in Weird Comics #6 September of 1940.
He was created and written by a man named Wright Lincoln and is Mr. Lincoln's only credited superhero.
He was published by Fox Features Syndicate, a company that was famous for two reasons.  First, their owner was an incredibly outspoken and boisterous man named Victor S. Fox.
Apparently, before he became a comic book publisher he had made a living as the head of a shipping company, was arrested for stock fraud, and a book keeper for the company that would become DC Comics.  Also, he had a penchant for smoking cigars and calling himself "The King of Comics"
The man deserves his own article if we ever decide to do that.
Second, they were the original publishers of the superhero Blue Beetle.
But back to Dynamite Thor.
This hero's actual name is Peter Thor, a wealthy mine owner and apparent explosives expert.
Here is his origin story.
And that's it.
Say what you want about Golden Age comics, at least they're damn efficient with setting up their characters.
As you might be able to guess from the name, Dynamite Thor likes to use dynamite…a lot.
Does he need to get someone's attention?  Dynamite.
Destroy a ship killing and/or stranding countless numbers of people?  Dynamite
Need to put out a fire?  You guessed it…dynamite.
Believe it or not, this actually isn't as stupid as it seems, although to be fair it is pretty stupid.  It turns out that you can use explosions to put out fires so…good for the writer I guess.
Dynamite Thor was also seemingly impervious to explosives, something that is a pretty useful skill to have when you chuck dynamite everywhere.  Apparently this meant he was also immune to high G forces because his obsession with dynamite allowed him to do this,
which is probably the most unfortunate way to fly that I have ever seen.
You would think that this ability to resist explosions would allow him to be practically invulnerable but nope, he was just as injury probe as you and me.
His supporting cast is nothing really new or creative.
He had a girlfriend named Glenda who he had to keep in the dark about his secret identity for no other reason than that's what superheroes do,
and he fought your standard assortment of foreign spies and gangsters.
Really, aside from the obsession with explosives and the high death toll he must have racked up, he was pretty boring.
So what happened?
Absolutely nothing happened, he disappeared from the comic book scene entirely after five pretty standard and kind of boring stories.
Fox Comics would declare bankruptcy in 1950 and its most famous creation, the Blue Beetle, would be bought by Charlton Comics,
and eventually acquired by DC Comics into the hero we know today.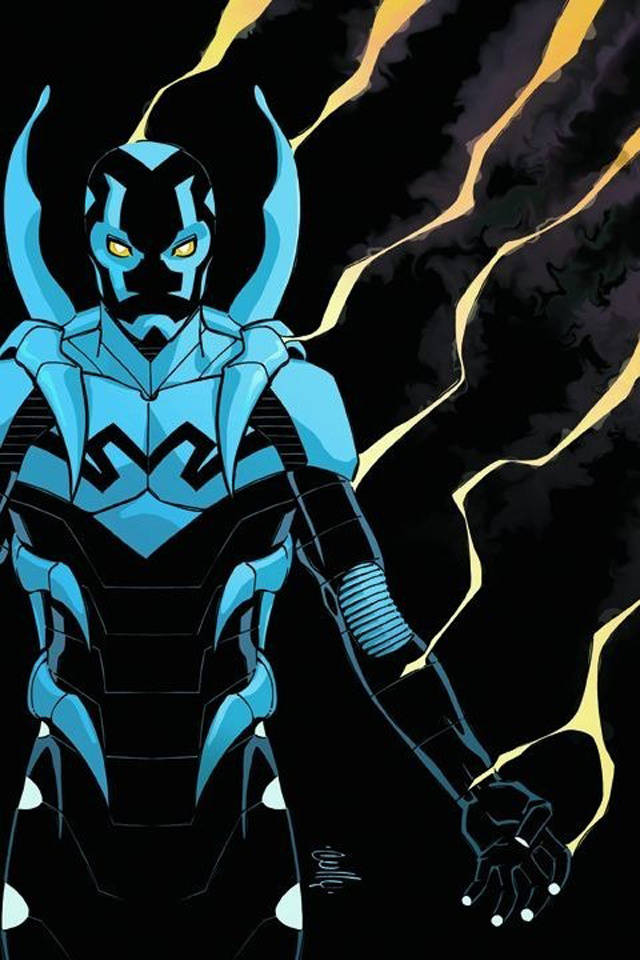 How could he be rebooted?
The question here really isn't "how can he be rebooted?" it's more "can he be rebooted in such a way to make him interesting?".
Sure, Dynamite Thor is an explosives expert and he seems to be invulnerable to explosives, but someone with that particular skill set would cause waaaay too much collateral damage to be considered a hero (although that could be an interesting theme to play around with), so he would more than likely be rebooted as a villain.
The problem here is that there are a lot of halfway decent super villains such as DC's Shrapnel,
and Marvel's Nitro,
who have explosion based powers, which means that Dynamite Thor would probably struggle to stand out.
Maybe he could be a business man who has advanced knowledge of chemistry and physics and uses it to develop better explosives which he uses to commit crimes?  Or maybe he could be a disillusioned military veteran who was in a bomb disposal unit and watched his entire squad die?  The trick isn't updating his powers, it's making that update interesting enough for modern readers.
Dynamite Thor was a strange, very obscure hero who lives on in articles like these.  He had a pretty interesting power, used it in hilarious ways, and only lasted a couple of issues before fading into obscurity.  Basically, it's heroes like these that make the comic book landscape vast enough and interesting enough to keep researching.