Quickly, when you hear the name "Bulletman", what's the first thing that comes to your mind?
Personally I image some sort of dark, brooding, Punisher type hero who lets his guns do the talking and they aren't taking "no" for an answer.
Kind of like what you might have found in a lot of comics from the 1990's.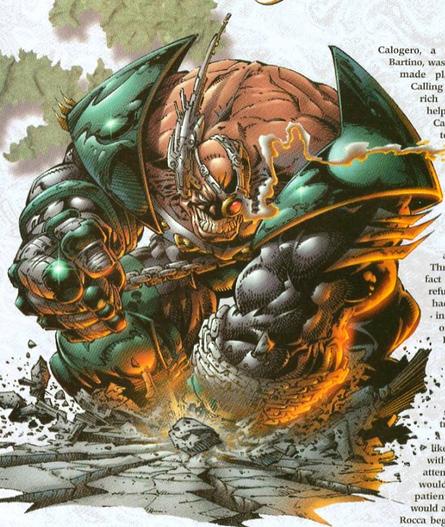 Side note: the above image is a character named Overtkill.  Yes, that is how you spell his name.
Well, in the 1940's a company called Fawcett Comics created a character named Bulletman and he looked like this:
Good Lord…that hat!
Origin and Career
Bulletman made his first appearance in Nickel Comics #1 in May of 1940.
He was published by Fawcett Comics and was created by writer/editor Bill Parker and artist John Smalle.
Bill Parker created Fawcett's most popular character, Captain Marvel.
Remember this, it will be important later.
As for origins, Bulletman's civilian identity is Jim Barr.  His story takes a welcome break from the "I'm just going to fight crime because I'm rich and I have nothing better to do" school of thought and takes its cues from the Batman school of crime fighting.  Namely, his parents get killed by criminals so he decides to fight crime at a young age.
No word on what happened to his mom.
A couple of things are interesting in this origin story.  First, the boy is a scientist and never had any aspirations to be an athlete, so that's a pretty good deviation from the norm.
Second, he develops a "crime cure" because he believes that crime is a disease that can be treated like malaria or small pox.
Wow, there's…enough to unpack in that last panel alone to fill an entire book.  So let's skip over that and save it for arguing in the comments.
Sadly, Jim suffers from the plight that all smart people seem to suffer from in fiction, having his career hampered by idiots and jocks.
Three things to note here on this page.  First, this is the best scan I could find.  Second, the only one who believes in him is a pretty lady named Susan Kent, who eventually becomes his girlfriend and wife.  Finally, notice how the cop in the second to last panel is openly justifying torture to extract a confession from a criminal using a rubber hose.
Meanwhile the "crime cure" works!  Sort of…
I mean, it turns him into a superhero so yeah…he gets to cure crime by punching things.
He continues his reckless use of using things without testing them by building a gravity defying helmet and leaping out a window before it can be tested.
Thankfully the helmet works, even if he looks hilarious in it, and he manages to stop the criminals and save the day.
Bulletman would go on to be one of Fawcett's most successful heroes, second only to Captain Marvel.  After his career took off (har har) he did something strange and actually didn't fight Nazis or Nazi spies.  Instead he fought criminals both with his superpowers and as a police scientist.
Of course, just punching people can get boring pretty quickly so in April of 1941 Bulletman appeared in Master Comics #12 and his lady friend Susan Kent wound up discovering his identity.
The police chief's daughter did in a matter of months what Lois Lane couldn't do in years and in the following issue she confronts him about it.
The two wind up reconciling after Susan saves Bulletman's life by giving herself the same powers and "finding an extra helmet lying around".
And the two became a crime fighting couple to be reckoned with.
So what happened?
By all accounts Bulletman and Bulletgirl should have survived into the modern day.  He was a popular character, he had an interesting backstory, and he was regularly seen with one of the most popular superheroes of the 1940's.
And that was the problem.  See, while Fawcett Comics had a huge amount of success with Captain Marvel it turned out that his greatest enemy wasn't a super villain, but legal action.
It turned out that DC Comics looked at the hordes of tall white guys with super strength, super speed, flight, and a secret identity and decided that a lot of them were a little too close to their big time money maker: Superman.
We can debate the truth to this statement all day, but what's not debatable is the results and in the case National Comics Publications v. Fawcett Comics National Comics won and Fawcett was forced to pay damages and cease publication of Captain Marvel.
It's worth mentioning that the case made its first initial court appearance in 1941 with the final decision made a decade later, making this one of the longest copyright cases in comic book history.
Fawcett was decimated by the case and ceased publishing comics in 1953, and while they would restart publishing comics in the 60's, they wound up handing their entire stable of superheroes over to DC comics in 1972.
Bulletman and Bulletgirl made the leap as well and appeared in a new superhero group called "The Squadron of Justice" to defeat the forces of a villain named King Kull.
They kept the helmets because why the hell not?  They make the costume.
The two would be moved into the All Star Squadron, a DC Comics superhero team that was placed in a universe where World War 2 was still happening.
The two would go on to have a fairly important supporting role in DC's SHAZAM! books. He got to meet Green Lantern mentor Abin Sur,
and at one point, Bulletman was actually accused of being a Nazi collaborator in 1998's Starman #39 although he was naturally cleared of all charges.
Bulletman and Bulletgirl would also have a kid!  In 1997 they had a kid named Deana who donned her mother's helmet and became the hero Windshear.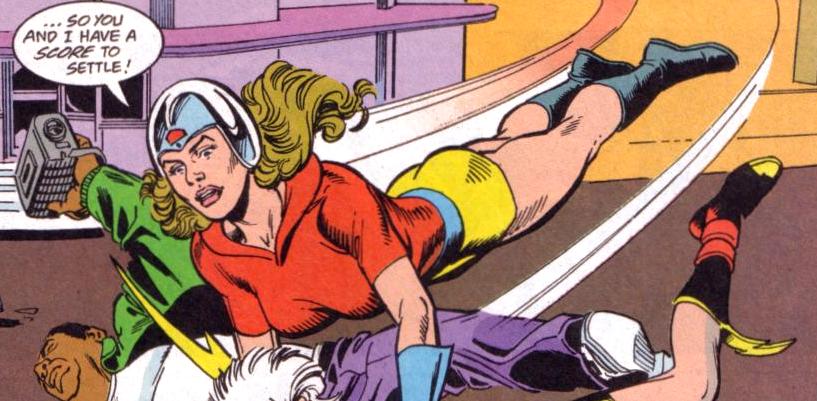 She dated Captain Marvel for a bit and helped her Dad rescue Marvel from a villain named Chain Lightening.
The group has even inspired copies of their own, although they were all published within DC Comics so there was no court case.  In 2005 Grant Morrison published a book series called Seven Soldiers, which was based on many of the old Fawcett characters.  Bullet girl became "Bulleteer" and she looked like this.
So nice to know the phallic helmets didn't just remain, they got bigger.
In a way I'm upset that Bulletman and Bulletgirl wound up where they are today.  By all accounts they should still be around today since they did hold their own with some of the big name heroes of the Golden Age of Comics and the fact that they were a capable pairing as husband and wife adds an interesting dynamic that you don't really see with a lot of comic book superheroes.
They were a solid team with a solid story and a solid power set and deserve a place right alongside their famous colleague Captain Marvel.