Full disclosure: this project contains work by Frankie B. Washington, an artist who has done work for this site.  No money or special favors were exchanged for the writing of this article.
Today we're talking about a Kickstarter project entitled Kaiju Gods.  
This is an anthology book featuring stories about the Japanese giant monster genre of movies known as "kaiju" movies.  At the time of writing this project has 20 days left and has raised $4,960 of it's $16,000 goal.  Funding ends on March 16th.
Kickstarter link: https://www.kickstarter.com/projects/208514895/kaiju-gods?ref=nav_search&result=project&term=kaiju
Why I like it
GIANT MONSTERS AND ROBOTS PUNCHING THINGS!
UNBELIEVABLE DESTRUCTION!
MONSTROUS ROMANCE!
HUMAN ANTS TREMBLING AT IN THE PRESENCE OF A VENGEFUL GOD!!!  ALSO…BANANAS!
Sorry…got a little carried away there.
I am a sucker for stories about big things punching other big things and yes, Pacific Rim was a great movie and I am eagerly awaiting the release of Pacific Rim Uprising.
As you can tell from the artwork posted above, there is a huge amount of creativity and passion on display here.  In fact, if you got to the campaign page and read it through, you'll find that the guy putting the anthology together had no trouble finding people willing to participate.
Now, while I am a big fan of big things being punched, I will admit that there is the possibility of it getting…boring.  Thankfully, this anthology has gathered a wide and diverse pool of talent utilizing different backgrounds, art styles, and story techniques to tell a wide range of stories that deal with the kaiju monsters.
There seems to be a story where a samurai fights a kaiju with nothing but a bow and arrow,
I don't know any of the specifics, all I know is that it looks awesome.
Why you should donate
Because kaiju are the perfect metaphor for our time.
We live in a massive, interconnected, and increasingly complicated world that is in the process of changing in ways that we can't possible imagine.
Don't get me wrong, I'd rather live here and now instead of anywhere else, but when times change the chaos can be incredibly destructive.
The internet and social media may have given the individual a greater voice and reach bigger and bigger audiences, but all that noise and activity and be so overwhelming that it drives us to become more and more isolated and withdrawn.
Globalization has allowed millions of people to be lifted out of poverty, but has reduced millions more to jobs where they are nothing more than cogs in a very large machine that is nearly impossible to comprehend.
To top it all off, the Earth's climate is changing, creating an uncertain future where we are unable to sustain our current lifestyle and doom entire countries to ecological and environmental disaster.
If it all seems a bit overwhelming it's because it is.  Our brains are incapable of processing tragedies that affect so many people, so we simply shrug our shoulders and write off the suffering of millions as just "something that happens".
That sort of dehumanization is terrifying, and it is that kind of horror that the Japanese knew all too well as they watched their cities being bombed into oblivion by the seemingly overwhelming and alien force that was the United States military.
One man who understood that horror well was a little known director named Ishiro Honda,
and in 1954 he gave that horror a name: Godzilla.
We can look back at the past and admire how far we've come, we can look towards the future and eagerly await what's to come, but it is important to look at where we are in the present and realize just how small and insignificant we really are.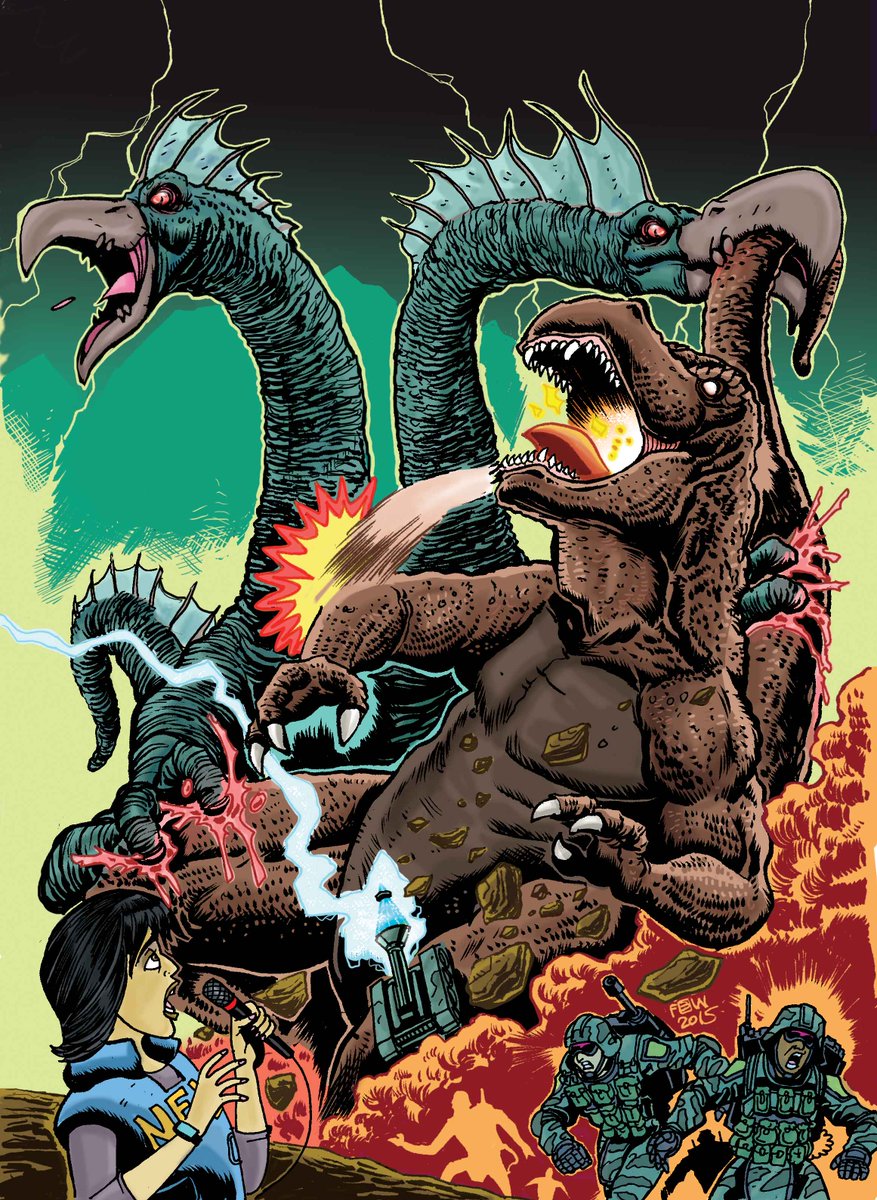 Kickstarter link: https://www.kickstarter.com/projects/208514895/kaiju-gods?ref=nav_search&result=project&term=kaiju