So this show just came out on Netflix.
I freaking love it.  The actors are awesome, the soundtrack is phenomenal, and while it's probably the least "comic booky" of all the shows Marvel puts out, it is a fantastic homage to the 1970's blaxploitation films that the comic took influence from.
Luke Cage was a product of the 1970's, a time when American black culture was really coming into its own, and comic books responded with a whole bunch of new and interesting black characters, including Luke Cage himself.
While black people and culture would come into its own in the late 60's and early 70's, black people were actually part of comic book culture from its very beginning.
In a lot of the Golden Age Comics I've read over the course of this blog I've come across a lot of black characters.  The downside is that the overwhelming majority of these characters were not exactly culturally sensitive.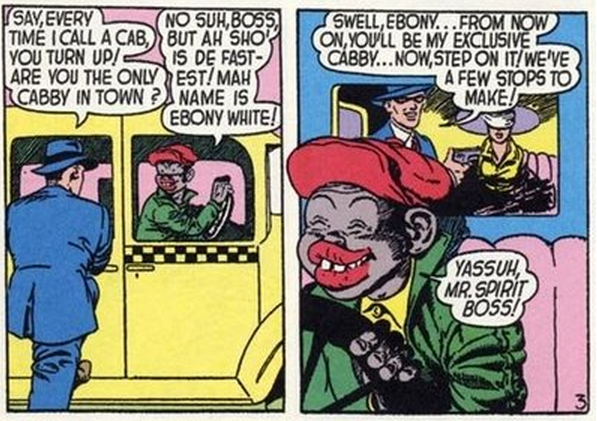 However, that didn't stop black people from looking at the racism and stereotypes prevalent in the early days of the comic book industry and trying to do something about it.
It a time when it was still illegal for a black man to use the same restroom as a white man.
there were black people who took a look at comic books, this new form of mass entertainment that was capturing the hearts and minds of millions, and said,
"we deserve our own comic books and we're going to make them ourselves."
Today we're going to look at the first comic book created by black people, for black people.
Origin
Despite what you might think by looking at the cover, this comic has a hell of a pedigree behind it.
The idea for the comic came from a man named Orrin C. Evans.
Mr. Evens was a reporter from Philadelphia.  Not only was he a reporter, he worked for a paper called the Philadelphia Record
and was the first black reporter to work for a mainstream newspaper.
When the Record went out of business in 1947 he teamed up with several of his former co workers from the newspaper and published All Negro Comics #1 in 1947.
Evans was a member of the NAACP and a strong advocate for racial equality and it shows in the very first page of the comic, where he explains that the comic was created to educate people about the contributions and accomplishments of black people in America, celebrate those achievements, and "to give American Negroes a reflection of their natural spirit of adventure and a finer appreciation of their African heritage".
This was a comic written by black people, drawn by black people, for black people and the stories and artwork are pretty darn good.
It was a 52 page anthology comic that had a bit of everything.  Besides the introductory letter there were prose stories along with a collection of diverse stories from crime mysteries and comedies.  There were even some PSA's and "crime doesn't pay" advertisements.
Some of the more notable characters were figures like Ace Harlem, a detective who managed to chase down and capture a pair of thieves who held up a barbecue restaurant and killed its owner.
the man was intelligent, observant, and capable of dishing out a beating when he needed too.
Another story was a single page comedy featuring a character named "Lil'Eggie" who suffered at the hands of his over bearing wife.
and then there's my personal favorite: "Lion Man"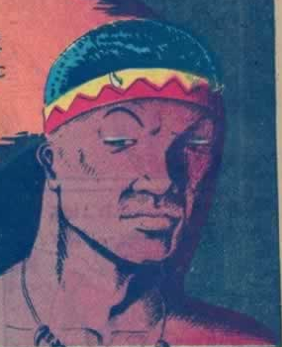 Lion Man was an American college educated man who was sent to Africa at the behest of the United Nations in an attempt to safeguard a large natural deposit of uranium in order to prevent evil men from seizing it to make a bomb.
He had a sidekick named Bubba, who was often more trouble than he was worth.
He tried to be helpful.  After Lion Man stopped the evil Dr. Sangro from seizing the mountain,
Bubba tries to help by using a machine gun to attack the assailants.
the plot is foiled, but Dr. Sangro survives to fight another day.
What I really like about this comic is how it portrays the traditional "African savage" with a lot more respect than other comics from the time.  Granted, Lion Man is American and Bubba does fall into a lot of the tropes that belong to annoying, mildly racist sidekicks, but when all is said and done it is probably the fairest and most reasonable portrayal of black men in Africa in the 1940's.
The comic had good writing, good artwork, and a heartfelt message behind it.  It was a great representation of what black people could do for comics and deserves a place in the history books as the first comic of its kind.
So what happened?
While there were plans for an All Negro Comics #2 but the title was doomed from the start.
For starters the comic was only distributed to segregated African American communities
which meant that the audience for the comic was sadly limited.
Second, the price for the comic was 15 cents during time when every other comic was selling for 10 cents.
And finally, good ol' fashioned racism reared its ugly head when everyone from the people selling the newsprint the comic was printed on to the distributors who put the comic on newsstands refused to do business with Evens and his business partners.
All Negro Comics would only last a single issue, even though we don't know how many comics were sold it's safe to say it didn't sell very well.  However, I like to think that this comic represented an important moment in comic book history and the history of race in America.
For the first time, a group of black people looked at an industry that was overwhelmingly created by and for white children and said "No, we can create comic books and stories that deserve to be told too" and they did.
There's no way of telling what the impact of All Negro Comics had on the black community at the time, but it's important to recognize and acknowledge it as a foundation for black people in comics.