I did some thinking over the Memorial Day weekend and I came to the realization of just how different this blog is going to have to be.
Talking about superheroes from the 1940's was much easier than talking about comics from the 80's.  For one thing, there were more resources and easier access to scanned copies of books from the 1940's.  Plus the business was much newer and simpler back then with the centralized distribution through newsstands and a small group of publishers, the lack of censorship from the Code, and less media to compete with for viewers.
But then again, if it wasn't for the wild and kooky business practices of the 1980's I don't think we would have had anything as bizarre as Fish Police.
Origin and Career
Fish Police was created by comic writer and artist Steve Moncuse, whose image I cannot find.  He first started Fish Police as a self published title under the name of Fishwrap Productions.
This lasted for eleven issues until it was picked up by a small indie publisher called Comico in 1987.
Comico is the kind of publisher that this blog was built for and you better believe this will not be the first time we talk about them.
Fish Police is a comic about Gil,
Gill is a hat wearing, hard nosed, gun packing detective who allegedly used to be human and now solves fish related crimes in a sort of film noir style, complete with an authority figure that's had enough of his loose cannon ways.
One would assume that it would be easy to solve a murder when everyone is "sleeping with the fishes".
The comic even continued the film noir tropes by including a dame named Angel,
who gets Gil mixed up in a strange drug case involving her uncle but that's all I was able to find on that.
So what happened?
Everything was hunky dory for 17 issues until Comico went bankrupt in 1986 after trying to distribute their comics directly and through newsstands.
The comic was almost immediately picked up by Apple Press,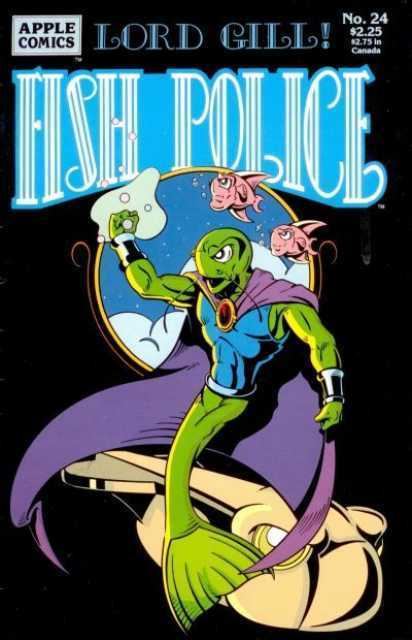 That lasted for a few years until 1991 when Apple let the series go.
Despite the comparatively short print run and carousal of publishers, the idea still had some life to it.  In 1992 Steve Moncouse and artist Steve Haulk launched Fish Shticks, a six issue series that told some new stories and was more gag focused than the original.
Also, joy of joy and wonder of wonders!  They made an animated tv show!
Hanna Barbara (you know, the Scooby Doo guys) adapted the comic into a regrettably short lived animated show that took a much darker and hard broiled (preferably with a nice white wine sauce and lemon) turn than the comic.
For God's sake, the show had Tim Curry voicing a shark lawyer!
Which is funny considering that this wasn't even close to his weirdest role.
The cartoon was created as an attempt to compete with the new and hip show on Fox The Simpsons,
but since you probably know all about The Simpsons and next to nothing about Fish Police, it's safe to say we can guess what happened.
The show only lasted 6 episodes, which I am sure you can find online if you look hard enough.
The series has continued to live on in reprints.  Marvel reprinted the title in the early 90's and IDW reprinted the story as late as 2011.  Plus, there was a new Fish Police story that made an appearance in Dark Horse Presents in 2013.
Fish Police was a story that could have only gone as far as it did in the 1980's.  It was a self published book that managed to make it all the way to prime time television before dying a painful death wrapped in newspaper.  It was quirky in all the right ways and i love it.
Although, I am disappointed at the lack of fish puns I was able to fit into this article.