So let's close out the "Gold Key to Valiant Trilogy" (a name I just made up) with the final hero that was published by Gold Key Comics that made its way to Valiant Comics in the 1990's: Magnus, Robot Fighter.
Origin and Career
Magnus, Robot Fighter was first published by Gold Key Comics in February of 1963.
He was created by comic book writer and artist Russ Manning.
There are a couple things that should be noted about Russ Manning.  First, while Magnus, Robot Fighter was his single greatest creation, he rose to prominence in the comic book world with his work on Tarzan comics.
You will also notice that his artwork is jaw droppingly amazing.
Magnus, Robot Fighter was a man born in the future society of North Am, a futuristic mega city that spans the entire continent of North America in the year 4000 A.D.
While humans are nominally in charge of North Am, they have slowly become more and more dependent on a massive robot workforce.  One of their own, a robotic police chief named H-8, hates humanity to the point where he wants to take over North Am and rule over the humans.
Into this story steps Robot 1-A, who appears to be a much older and wiser robot than his companions.  He raises a boy named Magnus to fight robots with his bare hands and protect humanity from evil robots and humans who seek to use robots for their own wicked plans.
The adventures of Magnus were pretty straight forward.  He would find a robot, or group of robots, that was doing something wrong or detrimental to humanity and beat the ever loving piss out of said evil doers with his bare hands.
Magnus had a girlfriend who would assist him in his adventures named Leeja Clane.
She was the daughter of a North Am senator and possessed telepathic powers that she used to help Magnus from time to time.
Magnus, Robot Fighter was a success and I think there were three reasons why he sold as well as he did.
First, the early sixties were a heyday for some of the greatest science fiction ever written.  The scene was dominated by "The Big Three" of Arthur C. Clarke, Robert Heinlein, and Issac Asimov.
One of Asimov's greatest contributions to the world of science fiction was his work on robotics, specifically one of his most famous books: 1950's I, Robot.
In the book he introduced his now famous Three Laws of Robotics,
This was important to Magnus, Robot Fighter because Robot 1A, Magnus' teacher and mentor, mentions the Three Laws and believes in them so strongly that it serves as Magnus' origin.
The second cultural event in the early 1960's was the introduction of karate to every day Americans.
American soldiers who had been stationed in Japan and Okinawa had learned karate from Japanese/Okinawan masters and brought it back to the States.
Since it looked cool and was just exotic enough to impress a lot of Americans it found a home in Hollywood where it was used by Frank Sinatra in 1962's The Manchurian Candidate,
and by Elvis.
when you have a comic that combined popular science fiction with a martial art that was used by two of the coolest men to ever walk the Earth, you know you've got a hit.
Also, I mentioned at the top of the article that Magnus had been created by a man who made his mark in the comic book industry by drawing Tarzan stories.
When you put Magnus side by side with Tarzan there are a lot of pretty striking similarities.  They were both raised by non human parents, they fight other worldly threats, and they both have a pretty lady friend they get to save and treat as arm candy.
Magnus was basically a futuristic version of Tarzan, and I'm okay with that.
So what happened?
Magnus may have been a popular Gold Key character (I guess people just really like robots and karate) but he fell victim to a force more powerful than any mindless robotic automaton: low sales figures.
The series was cancelled when Gold Key started suffering in the 1970's.
However, the rights were published by Jim Shooter's Valiant Comics in the late 1980's along with Turok and Doctor Solar.
The Valiant version of Magnus was pretty faithful to the Gold Key version, although there was a pretty popular issue where Magnus fought the Predator in 1992.
After Valiant's parent company was bought by Acclaim in 1995, Magnus was rebooted two years later in 1997.
The series was more of a self parody of the original creation and it was not very well received.  Acclaim would close its doors in 1999.  It was not sorely missed.
Magnus was picked up by Dark Horse Comics and his original stories were reprinted in 2002.
A new original series was announced in 2010 with Jim Shooter writing which lasted four issues until it was cancelled in 2011.
Currently the series is owned by Dynamite Entertainment which bought the rights in 2013 and began publishing a new original series in 2014.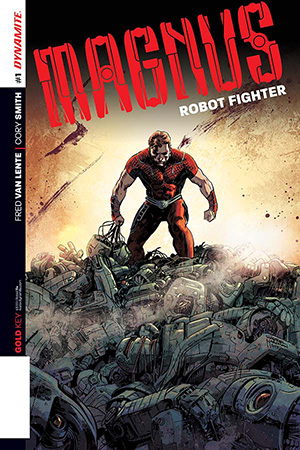 I have the first volume on my phone.  It's a good story, the artwork is fantastic, and I would highly recommend it.  In it's own special way I think it's come full circle.
Magnus, Robot Fighter was a silly idea with a silly name and only the most basic story lines and motivation.  However, the endearing nature of such a wonderfully simple concept (coupled with the fact that it borrowed heavily from established characters and jumped on the two major bandwagons of karate and 1960's science fiction), made the comic a classic of the medium and ensured that it would be several times better than it had any right to be.
Next week we're going to be talking about the little comic book publisher that became one of the great icons of horror but was squashed by the ever rolling tide of history.