Today is Martin Luther King day.
Now, we've been writing this blog series for a long time and when an important holiday happens to fall on a Monday, we like to find some sort of superhero and/or comic book that fits within the theme for that holiday.
When it's the 4th of July we like to do a patriotic superhero,
when it's Halloween we like to do a horror themed blog post,
and for holidays such as Martin Luther King day, we like to talk about black superheroes.
We've briefly talked about the history of black men and women in comic books before, but today I thought we could break tradition and talk about an actual comic book series that was published in 2003 and uses one of the worst events in American history to tell a damn good story.
Today we're going to talk about Truth: Red, White, and Black.
Origin and history
WARNING: We are about to discuss a historical event that involves some very questionable ethics, upsetting imagery, and a rather frank discussion of race relations in America.  It may cause some people discomfort but talking about this is necessary in order to make sure something like this never happens again.
Between 1932 and 1972 the United States Public Health Service conducted a long running experiment known as "The Tuskegee Syphilis Experiment" where they purposely infected 600 black men in rural Alabama with syphilis in order to study the long term effects of the disease.
As if that wasn't bad enough, the people running the study never told these men what was going on.  Instead, all the test subjects were informed that they were simply receiving free healthcare and medical treatment.
This vile experiment continued until the program was shut down in 1972 after the project was discovered and public outcry grew too strong.
Although the study was shut down and $10 million dollars were paid out in reparations after a class action lawsuit in 1974 it remains one of the darkest chapters in American history.
The Comic
In January of 2003 comic book writer Robert Morales pitched an idea to Marvel's editor in chief Joe Quesada that told an alternate story behind the serum that turned Steve Rogers into Captain America.
As many of us know, the true recipe for the super soldier serum was destroyed after creating Captain America, but that didn't stop the Allies and the Nazis from trying to replicate it and making more super soldiers.
What followed was as series of experiments to see if the formula could be replicated.  In the case of the Allies, they forced a regiment of African Amerian soldiers to act as human guinea pigs for the serum, because people are awful and mid 20th century America didn't really care about black people.
The results were catastrophic and disturbing.
However, five test subjects did survive to be sent off to the war and one manged to come home.  His name was Isaiah Bradley and he was the first black Captain America.
Despite having every right to be pissed off at the people giving him orders, Isaiah did his job and did it well.  He managed to swipe one of Captain America's spare shields and uniforms and kick a lot of Nazi butt.
He was even captured by the Nazis but was rescued before he could be dissected and studied.
His country decided to reward his bravery and accomplishments by court marshaling him and throwing him into prison in 1943 because sometimes life just takes a steaming dump on you and there is nothing you can do about it.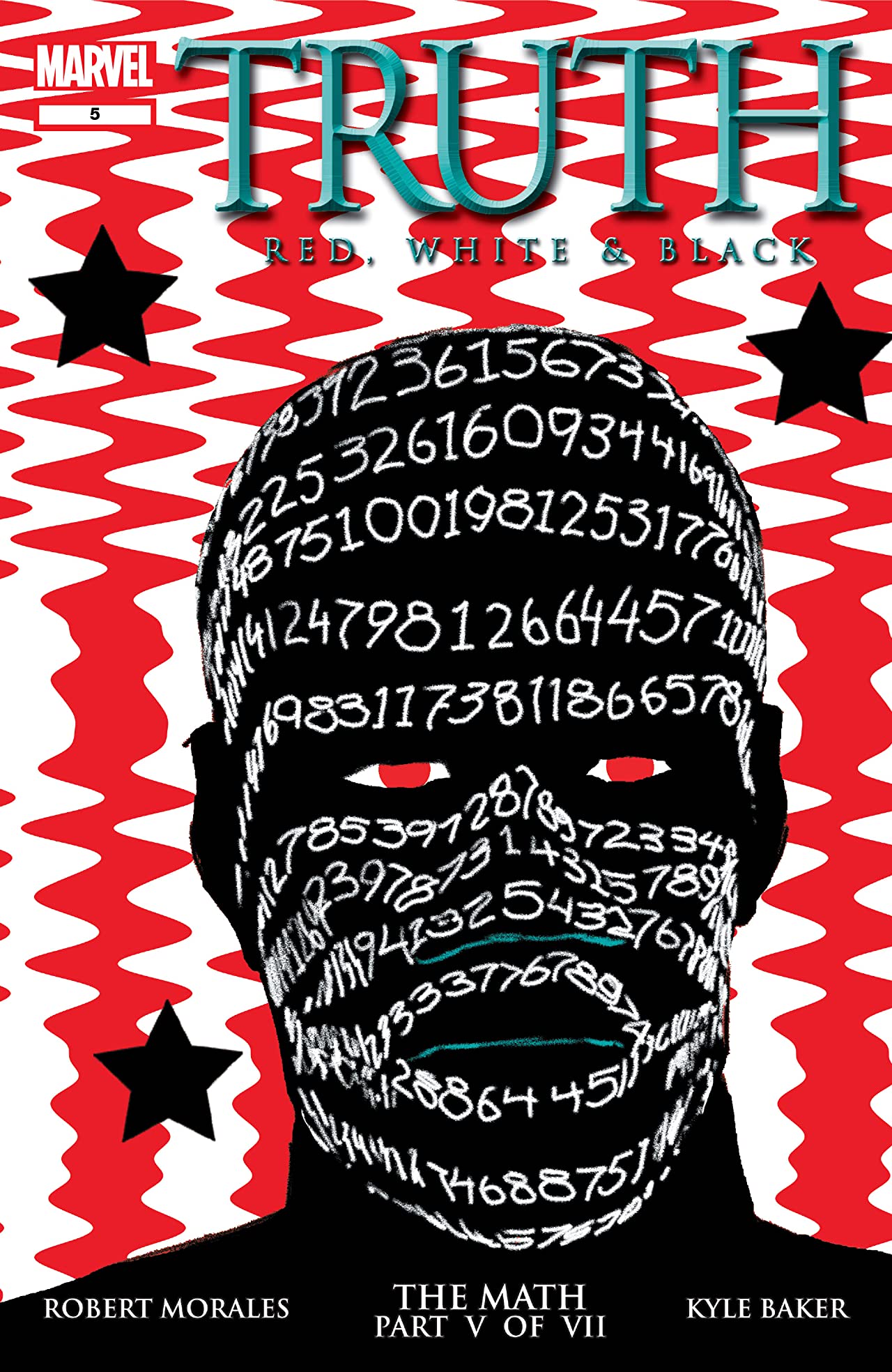 He was later pardoned by President Eisenhower in 1960.
At the end of the series, Steve Rogers managed to find out about the program that created Isaiah and tried to make things better.  Unfortunately, the serum had a debilitating effect on Isaiah's mind and he suffered Alzheimer's like symptoms until he had the mental capacity of a child.
The last panel of the series is one of the most heartbreaking and sweetest panels I've ever seen.
Impact of the comic
Within the Marvel Universe, Isaiah Bradley became a symbol and a living legend within the black community.
Also, he served as a grandfather like figure and inspiration to many of Marvel's black superheroes.  Even Black Panther gives him a massive amount of respect.
While he was immensely popular with other black heroes he remained unknown by many white superheroes
Sadly, even after he did his time and served his country the United States government tried to use him and duplicate the experiment.  They wound up creating a clone that was born from a surrogate mother.  The child managed to escape and named himself Josiah X.
Isaiah also had a grandson named Elijah Bradly who would go on to become the superhero Patriot.
I've talked about race relations in comic books before.  When the industry really started taking off it was not kind to men and women of color.  While I do think things have gotten  better there is still a wide discrepancy between black creators and superheroes and white creators and superheroes in terms of audience and exposure.  But, thankfully things are getting even better and I believe only good things are in store for the future.
Truth: Red, White, and Black is one of the most brutal and uncompromising comic books out there and it is well worth your time and money.  It takes one of the ugliest events in American history and manages to turn it into something that is not only educational but one of the sweetest and most important comic book stories in the past twenty years.
Thank you for reading this article!  Besides weekly blog posts about comic books and superheroes Cambrian Comics also publishes a bi weekly web comic called "The Secret Lives of Villains" and the first volume is up for sale on Amazon here!  If you enjoyed this article please feel free to support us by picking up a copy.  Thanks again!
Happy Labor Day everyone!
For our international viewers Labor Day is an American holiday where a lot of working people get the day off in order to relax and for the nation to honor the people working in the shrinking number of manufacturing jobs in this country and no, service workers usually don't get the day off.
Sadly there aren't a whole lot of Golden Age superheroes who worked in factories during the 1940's, most of them were off actively punching Nazis or saboteurs.
Still, honoring the men and women who worked in American factories during the Second World War is a pretty patriotic thing,
so let's look at one of the most patriotic superheroes to ever come out of the Golden Age.
Meet the Fighting Yank: a hero who bleeds the red, white, and blue so hard he makes Captain America hide his face in shame.
Origin and Career
The Fighting Yank first appeared in Neodor Comics' Startling Comics #10 in September of 1941.
He was created by writer Richard E. Hughes,
and artist John L. Blummer.
Fun fact: Richard Hughes was a pseudonym for his real name, Leo Rosenbaum.  Hughes would go on to be the editor for the American Comics Group from 1943 to 1967.
The origin story is a doozy, and in order to understand it we have to go all the way back to the American Revolution where a man named Bruce Carter is tasked by George Washington to deliver dispatches through enemy lines.
sadly the mission fails and Bruce is killed by British spies.
fast forward a couple of centuries later and Bruce Carter III is being yelled at by his family and fiance for being lazy and day dreaming about his long dead ancestor when he should be doing something.
In what must have been one heck of a mind trip the ghost of his ancestor comes back to life and tasks the modern Bruce to find his ancestor's cloak, which will give him incredible power.
It turns out the cloak was hidden in his house all along and after donning it Bruce has the power to bend steel and punch through walls.
after discovering the extent of his powers the Fighting Yank goes on his first adventure where he manages to save the life of a United States Senator named Walton.
It's worth mentioning Bruce's fiancee, Joan, is actually a pretty developed and capable character for a superhero's girlfriend.  She's the one that discovers the plot to kidnap the Senator,
and she handles herself in a fight while Bruce is busy admiring himself in the mirror.
But perhaps the most impressive feat is that she manages to figure out the Fighting Yank's identity within seconds of meeting him.
It turns out that the people who kidnapped the Senator were Nazi agents who sought to undermine America's war efforts.
The Fighting Yank rescues a man who he thinks is the Senator but turns out to be a Fascist decoy.
The fake Senator shoots the Fighting Yank, but the hero is saved by the ghost of his ancestor after surviving the wound.
It turned out that the impostor was actually the real Senator's twin brother (groan) and the Fighting Yank manages to stop the villains in time before they can do anymore damage.
The Fighting Yank would go on to be one of the most popular characters that the Standard Comics organization would publish.  He was so popular that he was given his own comic book title in September of 1942.
The rest of his adventures were very similar to his first.  The Fighting Yank and his girlfriend would be confronted with some sort of fantastic threat posed by enemy soldiers or saboteurs and they would save the day.
It's worth mentioning that this comic is a pretty good look into some of the more unsavory aspects of American wartime culture, including some really uncomfortable portrayals of Japanese soldiers and people.
He does get to punch a shark though.
It's also worth mentioning that there was another hero named the Fighting Yank who was published by Timely Comics during the war as well.
This version was a slightly more believable character who was a secret agent sent to China in order to fight the Japanese.
He wasn't nearly as cheesy or as popular as Standard's version.
So what happened?
Standard Comics reorganized in the late 1940's and the Fighting Yank disappeared in 1949 after a stint in Nedor Comics' series America's Best Comics.
The hero would be revived in the 1990's with a publisher called AC Comics reprinting some of his titles.  He would later receive a new costume, which was a homage to Jack Kirby's hero the Fighting American, in 2001.
The Fighting Yank would also play a part in Alan Moore's publishing venture America's Best Comics where it was revealed that Bruce Cater had a daughter named Carol, who wound up inheriting her father's powers.
While Carol received her powers in a way similar to her father she was uncomfortable with the name "Fighting Yank" and decided to call herself "Fighting Spirit".
The Fighting Yank is pure World War 2 American super cheese.  He was created as wartime propaganda, he helped promote some of the worst stereotypes of Japanese people I've ever seen, and he was half a bald eagle short of bleeding red white and blue.
That being said, it was obvious who he was from the get go and he made no apologies for being one of the most American characters in an industry filled with dozens of heroes wearing the red white and blue.